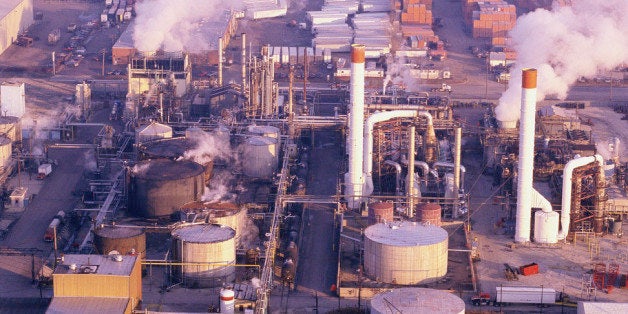 For a week this April, a number of Harvard alumni will return to campus to support the undergraduate fossil fuel divestment movement, and to voice our own support for a change in Harvard's investment policy. Last Friday, a number of alumni released the following letter to call for action at Harvard:
We write in hopes that you might come to Cambridge for a couple of days this spring to join in the fight against global warming--in particular, to help students press our alma mater to divest its stock in the fossil fuel industry.
Those students have done a remarkable job in garnering overwhelming student support for divestment, and the faculty too have delivered a strong message. But so far the Corporation has not just refused to divest, they've doubled down by announcing the decision to buy stock in some of the dirtiest energy companies on the planet.
So the students have asked alumni to join in the cause. In particular, they've asked that we join in a teach-in on Sunday April 12, and then a rally in the Yard on the morning of April 13. Some of us will join the students in highly civil civil disobedience, sitting in peacefully and politely but firmly around Massachusetts Hall; others will rally in support alongside; and others of us, constrained by infirmity or schedule, will join in support on social media and via the phone and email.
We'll make a few points that weekend:
1. As Harvard's own researchers have done so much to show, global warming is the greatest threat the planet faces. In fact, it's less a threat than a growing reality, as 2014's record temperatures demonstrated. And as Desmond Tutu (honorary degree, 1976) said last year, it's not just melting ice and acidifying ocean, but also the worst humanitarian crisis on earth. From the typhoon-battered Philippines to the disappearing islands of the Pacific to the water-starved towns of California's drought-ridden Central Valley, this issue demands we all make changes to business as usual--especially those of us who have prospered from the systems driving climate change.
2. Divestment is effective. After the fall of the white regime, Nelson Mandela (honorary degree, 1989) made clear that the pressure on financial systems when colleges and universities sold apartheid-tainted stock was a key part of South Africa's liberation. Similarly, while we can't bankrupt the oil companies, we can start to politically bankrupt them, complicating their ability to dominate our political life. This fossil fuel divestment campaign--according to an Oxford study the fastest growing such campaign in history--has already helped persuade one of the nation's largest utilities to turn to renewables.
3. "Engagement," which the University says is its preferred strategy, hasn't worked. For a quarter century the fossil fuel companies have shrugged off shareholder efforts for major change because, as Bevis Longstreth (HLS TK, and twice a Reagan appointee to the Securities and Exchange Commission) points out in a recent series of essays, history shows that companies simply won't shift out of their core businesses without the much greater pressure that comes from divestment.
4. Happily, Harvard can meet its scientific and moral obligation without financial risk. Every study shows that fossil fuels have been a drag on endowments for more than a decade; if Harvard had heeded student's' divestment call 18 months ago they would have avoided the recent crash in oil stocks. Indeed, prudent investors are starting to steer clear of fossil fuels because, if the world ever acts to limit climate change, these companies will be stuck with huge reserves of unburnable carbon. In that case, an HSBC study concludes, they will lose half or more of their value. As Mark Carney '87, governor of the Bank of England, recently described this massive 'carbon bubble' as a 'tragedy of horizons' that investors should help avoid.
We will come to the Yard in the spring filled not with rancor but with hope. We know from long experience that Harvard eventually does the right thing. In 1869, for instance, President Eliot said, "Only after generations of civil freedom and social equality will it be possible to obtain the data necessary for an adequate discussion of woman's natural tendencies, tastes, and capabilities." 138 years later, his first female successor was nominated, the accomplished historian Drew Faust. And in her engaging installation address, she said something that we firmly endorse:
The essence of a university is that it is uniquely accountable to the past and to the future - not simply or even primarily to the present.
"Accountable to the future" in the present case means acting boldly to divest from fossil fuels, just as Harvard eventually divested from apartheid, from tobacco, and from the genocide in Darfur. We don't have a spare century--we need Harvard to do the right thing now, and not just in its physical plant or its research labs. The endowment is as much a part of the institution as the dining halls or the swimming pool; if we wouldn't build a polluting power plant on campus, we shouldn't be in the pollution business anywhere. So we . We need the Corporation to announce, before the world's leaders meet in Paris later this year for key climate negotiations, its plans to divest Harvard's direct holdings in the 200 companies with the largest fossil reserves on earth. This is not a radical step--already colleges, universities, cities, and denominations around the world have joined in. This summer the World Council of Churches announced plans to divest; in September the Rockefeller brothers, heirs to the first great fossil fuel fortune, announced they would do likewise, arguing that holding on to those stocks would be both financially imprudent and morally unsound.
So please join us. We realize that a trip to Cambridge is asking a lot, and that for those willing to sit politely down in front of Mass Hall the outcome is uncertain. But if anyone is to be led away by the University Police, surely it's easier for those of us with stable and secure lives than for students at the start of their careers. If you can join us, or want more information, please respond here.
Craig Altemose
Darren Aronofsky
Al Boright
Margaret Bullitt-Jonas
Susan Faludi
Todd Gitlin
Neva Goodwin
Rev. Dr. Ray Hammond
Gloria Hammond
Robert F. Kennedy, Jr.
Winona LaDuke
Maya Lin
Bevis Longstreth
Bob Massie
Ricken Patel
Natalie Portman
Gay Seidman
Rev. Fred Small
Rev. Dan Smith
Betsy Sowers
Rev. Burns Stanfield
Wen Stevenson
Rhea Suh
Rev. Liz Walker
Cornel West
Timothy E. Wirth
Kelsey Wirth
Bill McKibben
P.S. Though climate change is the grimmest of subjects, we don't want anger to be the prevailing tone. If you can't keep yourself from boiling over, please find other ways to help the cause. And please come wearing your favorite Harvard sweater, jacket, tie or t-shirt. We want everyone to know we act out of affection for the university that helped teach us the importance of acting on our beliefs.