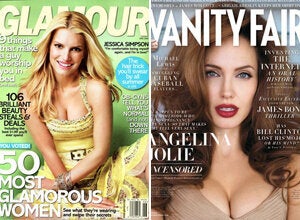 I admire Caroline Kennedy. Her dignity and her character are striking. So when she made the remark to the New York Times' David Halbfinger the other day, "Have you guys ever thought of writing for a woman's magazine or something? ...You're supposed to be crack political journalists," I was surprised -- and disappointed. Then I had a wider concern: Why, 40 years after the advent of second-wave feminism, are the words "women's magazine" still so automatically a term of mild ridicule? Maybe it's a good occasion for a little public education.
First, a couple of general points.
(1) Women's magazines not only regularly break news, but many of them require "enterprise journalism." Many of them mandate exclusive stories. Any story that's been on national TV or in any national (and in some cases, big-city local) publication is automatically out of the question, even for a small feature. Writers and reporters have to hunt, hard and constantly, for fresh, never-told stories. That means keeping in touch with lawyers, prosecutors, defense attorneys, private eyes, doctors, whistleblowers, vice cops, shelters, NOW chapters, rape clinics, and the multidinous NGOs, small do-good orgs, and foundations whose press events the magazines's reporters are always running out to cover.
(2) Women's magazines have created whole categories of news. Ever since Ms. (a women's magazine) coined the term "Battered Women" on an early cover, the entire domestic violence field, with its many side-issues and offspring, has been a signature beat for these magazines. I remember first reading about the brand-new ruling Thurman vs. Torrington CT (the case that -- in the late year of 1982 -- made police departments liable if their members stood by and watched while men tried to kill their wives) in McCalls magazine. Women's magazines indefatigably (but not rashly or gratuitously) cover violence against women, a term that owes its salience to that publication genre. One example of many recent hard-hitting and creative responses: Several years ago, a proliferation of wife-and girlfriend killings led Glamour Editor in Chief Cindi Leive to commission a multi-part package that opened with two whole pages of mug-shot-like pictures, painstakingly culled from virtually every police precinct in the country -- of disparate women killed by intimate partners in that one-year period.
Women's health is second case in point. Breast cancer's existence as the gold-standard in medical charity and research owes a lot to the unflagging, cutting-edge coverage in women's magazines. Says Lucy Danziger, who's been Editor in Chief of Self for seven and a half years. "The life-saving breast cancer coverage in Self started with our co-founding of the Pink Ribbon for awareness and activism (specifically, breast health awareness and cancer research fundraising) back in 1992, and then continued with 16 years of award-winning coverage of the disease, including risk reduction through healthy lifestyle changes, the latest technologies for screening, early diagnosis, advances in treatment and ultimately cures. Now, if caught in the first stages, breast cancer is 98 percent treatable to a cure. That's something all women's magazines can be proud of."
Women's reproductive freedom is another. Says Wendy Naugle, Glamour's Deputy Editor (Health): "Historically, Glamour -- and other women's magazines -- have been champions of women's reproductive rights, not just in terms of abortion" -- Editor in Chief Leive grilled John McCain on his stand on the subject before the election -- " but also emergency contraception, contraception coverage, insurance issues and more." For example, a May 2006 Brian Alexander piece "The New Lies About Women's Health" was a comprehensive look at how local, state and federal policies (including those of the Bush administration) were affecting women's health care, including how doctors in some states are forced to lie to their patients about the fake abortion-breast cancer link." It was cited by the Medill School of Journalism at Northwestern for public interest journalism and, recalls Alexander, "also broke news about how the military first accepted Plan B [the "morning-after" pill] and then withdrew it -- an unprecedented move." Former Planned Parenthood President Gloria Feldt recalls that during her tenure "we found most insurance plans didn't cover contraception, so we secured bipartisan sponsorship of the Equity in Insurance and Contraceptive Coverage bill in Congress and started a campaign to pass similar legislation in states. Glamour jumped on the story even though most of the mainstream media ignored it for over a year. Glamour's coverage was extremely important to increasing public awareness. Today, half of states have contraceptive equity laws, it's part of the federal employees' health plan, and contraceptive coverage has become more the norm than the aberration. "
As Peggy Northrop -- who's now the Editor in Chief of Readers Digest after decades in high posts at women's magazines -- three and a half years as EIC at More, before which years spent at Redbook, Real Simple, Glamour, Mirabella and Vogue -- puts it, "Every issue that touches women has been dealt with first and often only in women's magazines."
Okay, so women's mags serve women's needs. But what's hard news do they break, or feature in particularly thorough and hard-hitting ways? Here are just a few examples among many:
Essence had its own contract photographer exclusively follow Obama on the campaign trail, taking amazing pictures no one else had seen. Good Houskeeping did a powerful piece, "You Can't Live Here Unless You're White," (by K.C. Baker) on illegal housing discrimination that still exists, in 2007. Marie Claire had an exclusive interview with Debra Ryan, the wife of financier-turned-fugitive Sam Israel III, the hedge-fund manager who tried to fake his own suicide to escape a 20-year fraud sentence and an exclusive interview with the wife of a Belgian terrorist who went to jail for aiding the Madrid train bombers; she shed new light on how young people are recruited into jihadist circles in Europe. Elle's profiles by Lisa DePaulo are always news-breaking. O has featured long, revealing interviews with Nelson Mandela and Elie Wiesel. Glamour accomplished what the U.S. government had trouble doing: in 2005 bringing Pakistani women's rights activist Mukhtar Mai (who had been raped on the orders of her village counsel) to the U.S. for the first time, and arranging for her to speak at the U.N. And its piece on "The War's Deadliest Day for Women," by Susan Dominus--about an ambush in Iraq that left three US military women dead and 11 badly injured--showed the war: from the women soldiers' point of view, in all its brutal, patriotic and painful detail. More's "Leslee Unruh's Facts of Life," by Amanda Robb, exclusively revealed the deceptions and the money trail of a foremost abstinence-only and anti-abortion activist.
Assistant journalism professor Patti Wolter, of Medill, is proud of her former occupation as senior features editor for news (and head of an investigative unit) at Self magazine. She recalls how her stories won awards and how a piece she assigned and edited helped deepen the understanding of obesity as a national health problem. Of her sending a writer to Peru to investigate the impact of Bush's funding cuts to international health clinics that suppported abortion, Wolter rhetorically asks, "Would any other kind of publication [but a woman's magazine] would devote those resources to pursuing a story on global women's health?"
Women's magazines have foreign correspondents. Jan Goodwin has covered conflicts and crises in Afghanistan, Angola, Bosnia, Cambodia, Congo, El Salvador, Ethiopia, Iran, Iraq, Kosovo, the Middle East and Gulf, Northern Ireland, Sierra Leone, South Africa, Sri Lanka and Uganda (and U.S. prisons) for Marie Claire (as well as for O, Harpers Bazaar and Glamour). And regular award-winners: National Magazine Award winner Stephen Fried, says, that, for Glamour, "I did the first-ever interview with the Justice Department's lead prosecutor on sex trafficking; the piece I did on addiction to Paxil was one of the very first (if not the first) piece on the subject of a drug side-effect which is now very commonly known but at the time was being disputed; and last year I did the first major piece on the psychological and financial issues facing widows of Iraq war soldiers." David France says, "For Ladies Home Journal, I spent a year following the a family whose son had committed suicide, the only piece of its kind, trying through forensic journalism to understand" the death. "For Glamour " -- aside from getting the then-yet-to-be-elected George W. Bush to admit he didn't know who the Taliban were --" I wrote an investigation on mandatory minimum drug sentences, which impact women more than men. Bill Clinton gave clemencies to each of the women I profiled." He adds, "I've always found women's magazines ideal places to write `justice journalism.'"
"Justice journalism." That's a good term for the work many of us do, and I agree with David about where it usually is most welcomed and fits best. For Self, I unearthed, through confidential Pentagon transcripts leaked to me, the known-to-the-military higher health risks to women of the mandatory Anthrax vaccine; and I learned of several hushed-up hospital deaths due to the 2001 U.S. nursing shortage. For Glamour I've done the first or exclusive stories on: a landmark victory of sweatshop workers, the travails (and shocking findings) of an FBI whistleblower Attorney General John Ashcroft was trying to silence, the 40-year-later aftermath of one of the most brutal murders of the Civil Rights era, and an abortion doctor's sexual assault on 32 of his patients. Sometimes having the cover of "women's magazine" is an advantage. Years ago, for Redbook, I sleuthed out biased judges, resulting in one being booted off the bench and official investigations being launched on two others. I was looking for America's "most sexist" judges, but a couple of my flattered prey thought I'd said "sexiest judges," and the best way to get a source to talk, of course, is to think you're calling him handsome.
In fact, saying "women's magazines" with an implicit eye-roll is, these days, like calling Brooklyn a hip residential "frontier" or using a VCR: transparently passe. As the earnest compliance with the requests for sit-downs with as many women's magazine EICs who requested them by McCain and Obama made clear, "politicians understand that they can't get elected without women," says Cindi Leive. "So they give us access they never would have two decades ago. Anyone who doesn't get that is sort of trailing the boat, anyway."
Peggy Northrop has it right, when she says: "I'm waiting for the day when a woman's magazine editor runs for office. Now that would be a candidacy I could get behind. A smart businesswoman, in touch with women's everyday concerns, resourceful, committed, well-informed, a communication genius, and, damn it, brave about stuff that really matters.
"I can name ten women off the top of my head who fit the bill. Let's start a movement."
Calling all HuffPost superfans!
Sign up for membership to become a founding member and help shape HuffPost's next chapter