Over the past few years, the artistic talent and creative drive has been on the rise in North Jersey. Young filmmakers are producing high quality content with nothing more than a few pieces of necessary production equipment and some passion to bring stories to life through picture and sound. North Jersey is full of young, creative entrepreneurs combining their talents to build something much larger and more meaningful than one artist might produce alone. New Jersey creative is on the rise with no plans to slow down any time soon.
Over the last four months, I have been collaborating on a documentary film entitled "To Be Strong" with Mike O'Brien, a talented filmmaker from Westwood, New Jersey. We grew up in the same town and played Little League baseball on the same team. Baseball was once the medium that brought us together. Today, twelve years later, that medium is filmmaking. Teamwork has always been the foundation for whatever we did and now we are using that foundation to create a very powerful film that has the ability to change someone's life.
"To Be Strong" chronicles the struggles of Anthony Daniels, a 22-year-old man from Ridgewood, New Jersey, who is battling Lymphoma for the third time. Daniels is currently in search of a 'ten-out-of-ten' or perfect bone marrow match for a transplant that would ultimately save his life. His condition is so rare that in the registry of some 20 million people not one match has been found thus far. The ultimate goal for the film, "To Be Strong," is not only to find Daniels his perfect match, but also to inspire other individuals who may be going through their own battle with cancer.
The film depicts Daniels' unique and rather unorthodox way of fighting his illness. As he undergoes numerous cancer treatments that drain his mind and body, he trains in boxing and weightlifting. He goes to chemotherapy in the morning and when he is finished with his treatment, heads straight to the gym to start boxing. Daniels uses the power of positive thinking and physical exercise to fight off his illness. As he defies the odds, his doctors look on in disbelief because three years ago, he wasn't supposed to be alive.
As filmmakers, we get a front row seat into Anthony's life. We see his struggles. We see his success. We see his capability to inspire others. It is an eye opening experience to tell his story- a man fighting for his life inside, and outside of the ring.

Screening Date:
Where: Montclair State University: Yogi Berra Museum
When: Wednesday, June 11th.
Time: 7pm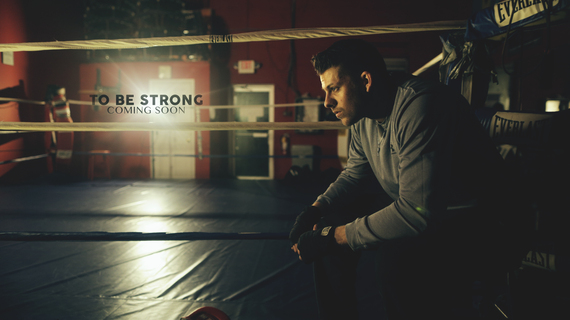 Popular in the Community