WASHINGTON -- An unexpected procedural maneuver by hawkish freshman Sen. Tom Cotton (R-Ark.) on Thursday threatened to torpedo the delicate effort to pass a bill granting Congress oversight of the nuclear agreement with Iran.
The Arkansas Republican invoked an obscure parliamentary procedure to compel a vote on a package of amendments widely considered to be "poison pills" that would destroy the bill's chances of passing. The measures include language that further limits the president's ability to provide sanctions relief to Iran and cements "anytime, anywhere" inspections of Iran's nuclear facilities. The package also includes an amendment pushed by Sen. Marco Rubio (R-Fla.) that requires Iran to recognize Israel as a Jewish state -- a condition that Iran is unlikely to accept.
"It's fine if you want to vote no," Cotton said on the Senate floor Thursday, harshly criticizing his colleagues for blocking previous efforts to introduce similar amendments. "But we need to vote. If you don't want to vote, you shouldn't have come to the Senate. If you're in the Senate and you don't want to vote, you should leave."
As parliamentary moves go, this was a bold one, seeming to catch lawmakers off guard. Senators had been expecting a carefully managed floor process on a bill that would give Congress a 52-day window to voice its approval on the lifting of economic sanctions against Iran in exchange for curbs on its nuclear program. Cotton's gambit seems designed to disrupt that.
If passed, the "poison pill" amendments would likely sabotage the bipartisan coalition in favor of the bill, which is being pushed by Senate Foreign Relations Committee Chair Bob Corker (R-Tenn.) and Ben Cardin (D-Md.), the ranking member on the committee. That's because President Barack Obama would likely veto the revised bill, viewing it as irreparably damaging to ongoing negotiations with Iran. At that point, the Senate would need to muster up 67 votes to override his veto.
And while some Senate Democrats may be reluctant to oppose the amendments -- in particular, voting for Rubio's would be seen as a show of support for Israel -- they are unlikely to want to undermine their own president's diplomatic agenda.
"Our stance is we are not going to shoulder the burden of defeating poison pills," said one senior Senate Democratic aide.
It may not get to that point. By Thursday afternoon, Corker was telling reporters he expected Majority Leader Mitch McConnell (R-Ky.) to squash the Cotton amendments and bring his bill straight to the floor. McConnell has a few days to weigh that decision, and it's unclear how he will proceed. Since assuming the majority leader role, he has advocated for an open amendment process, often criticizing Senate Minority Leader Harry Reid (D-Nev.) for restricting the amendment process when his party held the majority in the Senate. To keep the Iran oversight bill alive, however, McConnell may end up having to restrict amendments through a process known as "filling the tree."
There is certainly support in the chamber for leaving the bill as is. Earlier this month, it sailed through the committee with a 19-0 vote. And though Republican members have since tried to tack on amendments that will further constrain Iran's actions, Democrats, along with a handful of other Republicans led by Corker, have urged their colleagues to not meddle with the language.
Nonetheless, Republicans had still filed over 60 amendments as of Thursday. Of these, only two have come up for a vote, and both have failed. One of the failed amendments would have deemed the nuclear agreement to be a treaty, subject to the approval of 67 senators. The other would have reinserted previous language requiring the president to certify that Iran is not supporting acts of terror against Americans.
What made Cotton's gambit different is that it seems to have gone around his own party's leadership.
On Thursday, Corker expressed disappointment with the junior senator's effort to disrupt the ongoing bipartisan process of determining which amendments to bring up for votes. "I've been working with numbers of senators on some really controversial votes that we're willing to make, as we already have," Corker said. "Matter of fact, the only two votes we've had thus far were considered poison pill votes. I have the sense that the context of this has just changed. So I regret that."
The turn of events didn't just leave Republican leadership in a tough bind. Democrats, too, were forced to frantically plan for an unexpected legislative outcome. While some in the party have remained committed to voting down controversial amendments, several have balked at being put in a situation in which they are forced to vote against pro-Israel language simply for procedural reasons. Earlier this week, Reid accused Republican presidential hopefuls of "want[ing] to use this good, bipartisan piece of legislation as a platform for their political ambitions."
By Thursday afternoon, however, there was suspicion that far from being a last-ditch effort, Cotton's maneuver was a well-orchestrated attempt to put the party in a bind.
"No one knows where McConnell actually stands on this," said the senior Senate Democratic aide. "His long-term goal may actually be to scuttle the talks, in which case he doesn't give a hoot if the bill fails and may in fact want it to."
While the majority leader has repeatedly spoken in support of passing the bill, he voted for the two amendments that failed earlier this week -- both of which were known deal-breakers for Democrats.
Don Stewart, a spokesman for McConnell, rejected the suggestion that his boss secretly aimed to sabotage the bill.
"Apparently that shy aide hasn't seen any of the leader's speeches this week. They're on his website. Nice try by that kid, though," he said.
Michael McAuliff contributed reporting.
Before You Go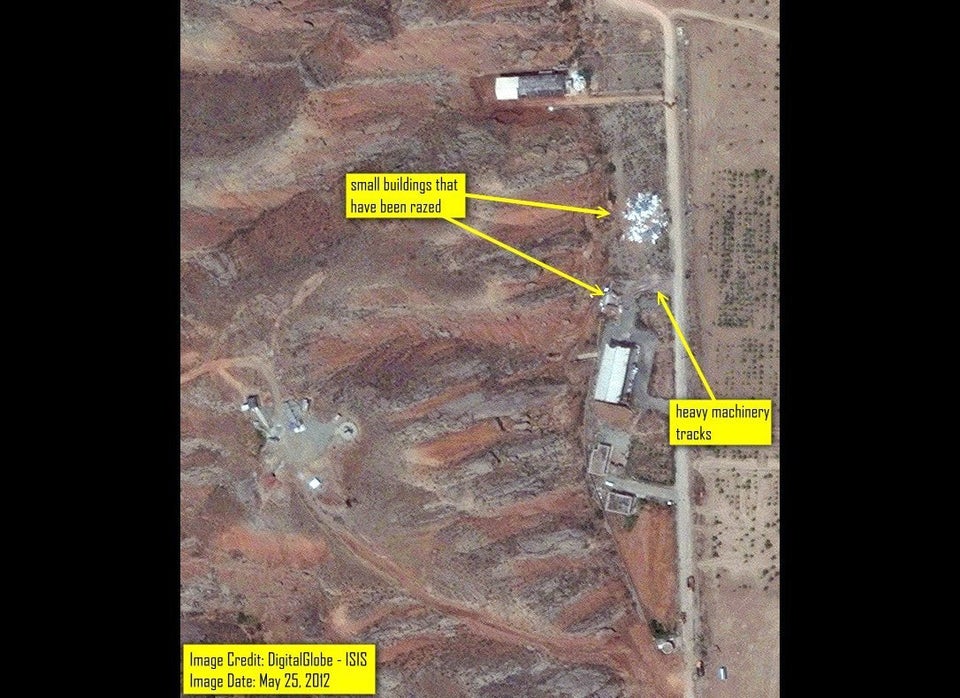 Iran Nuclear Satellite Photos
Popular in the Community