India's increasing population of differently abled individuals means that the need for educational and employment resources is apparent now more than ever. With majority of the differently abled population living in rural areas, the issue of accessibility is not getting the attention it needs.
In its efforts to create user-centered solutions for education and employability for the visually challenged, ARISE Impact (Act to Rise for Innovation in Special Education), a non-profit organization founded by Abhishek Syal, is conducting field research at establishments that are working to impact the careers and futures of these individuals by developing self-confidence, self-learning methods and life-skills. The SMART + (SMART stands for Skill For Market Training and the plus stands for Persons with Disabilities) Center at National Institute of Technical Teachers Training and Research (NITTTR) in Chandigarh is one such institution that is looking to tackle the issue head on by providing training and employment resources to those who are differently abled, giving them a beacon of hope for a brighter future. Mentored and guided by Prof. J.S. Saini, the SMART+ Center is funded by the Corporate Social Responsibility (CSR) initiative of the Tech Mahindra Foundation (TMF).
The highly talented trainers for the Center are provided by the Delhi based NGO Sarthak Educational Trust. Sarthak Educational Trust was founded in 2008 with the soulful mission of addressing the lack of resources and opportunities that persons with disabilities face. Since its inception, Sarthak has strived to promote inclusive education, skill development and sustainable employment. Under the leadership of Mr. Arun Sharma, Regional Project Manager at the SMART+ Center, the instructors are trained by other experienced trainers, some of whom are differently abled themselves. They are required to undergo rigorous testing before undertaking their duties. At the Center, the trainers go the extra mile by working with the differently abled students to help them introduce themselves more confidently, a skill that becomes highly useful during job interviews.
Thanks to TMF's generous funding, the services at the SMART+ Center are provided free of charge to the students. Training materials, software, computers and the salaries of trainers are all provided by TMF. The Center focuses on providing comprehensive courses in life skills, computers and English. Chandra Bushan, a 33 year old visually challenged individual from Narayangarh, is one of many differently abled hopefuls who have joined the SMART+ Center. He spoke to Renuka Sharma, Partnership Manager at ARISE Impact, about training and resources that he obtains from the SMART+ Center. 'I got to know about NITTTR few months back from another blind person, so I joined 3-4 months ago. I learned PowerPoint and many other software such as Word. I also learned Life Skills and English. I use the internet to search for jobs and I download sample question papers over the internet. '
The screen reading software NVDA (NonVisual Desktop Access) is used by the center to accommodate those with visual challenges. NVDA screen reader is a popular software that is usually preferred by users due to the fact that it can be downloaded free of charge. NVDA has capabilities to support web browsers, email, instant messaging and Microsoft Office Programs such as Word and Excel. NVDA, once opened, remains open until closed by the user, a feature that many visually challenged individuals appreciate. The SMART+ Center contains a total of 6 computers equipped with the NVDA software.
Accessibility to the right resources remain a major pain point for the differently abled individuals. Lack of accurate content, understanding difficult words in audio resources and a shortage of self-learning materials were identified as key problems faced by students and trainers at the SMART+ Center. Moreover, they say that there is an apparent lack of on-the-job training for people with certain disabilities such as visual and hearing impairments. Therefore, the institution undertakes the task of training these individuals at the Center. They believe that the best way to increase employability among the differently abled is to equip the individuals with the best set of skills to excel at the work place, despite the challenges.
Renuka Sharma (Partnerships Manager) and Cyandra Carvalho( Promotions Manager) of ARISE Impact, asked the students and instructors what they propose would be vital in tackling the employment issue faced by the differently abled. They believe that it is vital to educate Human Resource departments regarding the challenges faced by the individuals when seeking employment. They also feel that learning material for government jobs must be made available and such content must be compatible with software such as JAWS (Job Access With Speech) and NVDA. Unsurprisingly, they also stressed the importance of access to motivational and life skill lessons.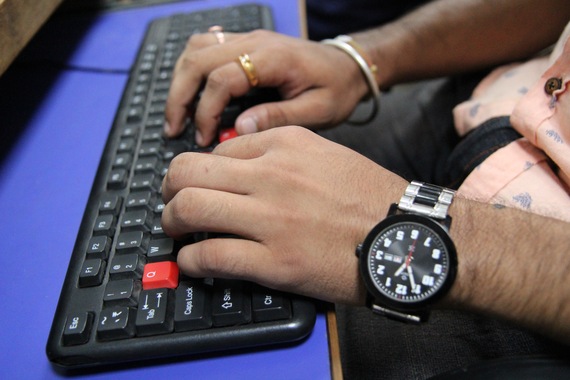 At the SMART+ Center, the students find employment through several different avenues. They have job fairs, interviews conducted by companies that are called to the Center and Mini Job Fairs that happen more frequently than other job fairs. Although priority is given to SMART+ Centre students, individuals from outside are also welcomed. Companies that have recruited individuals from the SMART+ Center include: Lifestyle, Max, Being Human, Dominos, KFC, Hotel Lemon Tree, Tata Business Service, Dr ITM, Competent Synergies, Alpha India LTD, Youdeva Plastics and Gilard Electronics. The Center has an employment placement rate of 80% and above in the last two consecutive years with a retention rate of 72%.
There is no doubt that the SMART+ Center is creating ripples of positive change in social entrepreneurship. Out of all the courses offered at the Center, Life Skills is regarded as one of the most important as it helps in relieving stress and prevents the students from going into depression. This along with training in computing and language proficiency, will give the hopeful students the chance at a life that they deserve.
REAL LIFE. REAL NEWS. REAL VOICES.
Help us tell more of the stories that matter from voices that too often remain unheard.