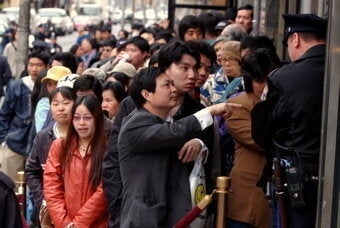 http://farm4.static.flickr.com/3258/2434427299_7fb0f00450.jpg
PHILADELPHIA-- Centre City Chinatown is an Asian neighborhood located in Philadelphia. The local residents showing up to vote is increasing as the afternoon comes to a close.
The weather is sunny and warm, which is great for voting, considering the line of voters trails out the the doors of Engine Company Ladder 23, where the polls are located.
However, some of the polling has posed some challenges for local voters, according to Xu Lin, an election observer.
The problem, he said, is a shortage of translators. Some voters, he said, who speak Chinese, are becoming frustrated with the polling process.
Lin said a significant number have not voted and left the polls, because of their frustrations.
Lin has been surveying members of the community at a table as they approach the polls since 9 a.m. He said he had to go to other polling locations in the area, just to try and help with translation.
There are several volunteers with the Barack Obama campaign, who are out front of the polling location holding signs. Hillary Clinton signs are out too, however I saw none out doing visibility.
James Wu, a Democratic district leader from Flushing Queens New York, drove down to support the campaign and help get out the vote. "He represents hope for a new generation," said Wu.
Obama is favored to win Philadelphia. He has an office right around the corner, and volunteers are continuing to make phone calls.
Pete Wong, who is undecided, said both candidates can do a good job, and he is voting to try and do his part. "I'm glad this line is long, it may have to be a coin toss."
Popular in the Community