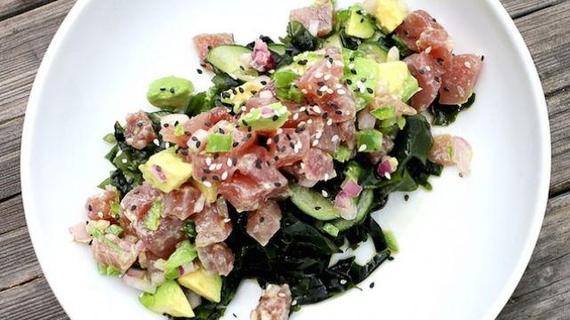 Poke, the raw fish dish pronounced "po-kay" that is the hallmark of Hawaiian cuisine, typically stars yellowfin tuna -- although less common, salmon gets the spotlight too -- marinated in soy sauce. But devouring it doesn't require a trip to Oahu; chefs across the U.S. are realizing the power of its bright, refreshing appeal. Whether in the form of a fiery taco or served over a mound of brown rice, this dish is definitely trending. Here are eight different versions to try around the country.
LA is in the midst of a thriving poke culture, flaunting a number of joints devoted to the fish dish. One such shrine is Big Daddy's Poke Shack in Venice, known for its bowls teeming with rice and sesame-soy-Hawaiian sea salt tuna or salmon. Decked out with green onions and sesame seeds, the made-to-order concoctions may also feature the likes of avocado and charred pineapples. The newest addition to the menu is garlic poke (pictured above), a savory contrast to the quenching mango smoothie.
79 Windward Ave.; 310-804-5734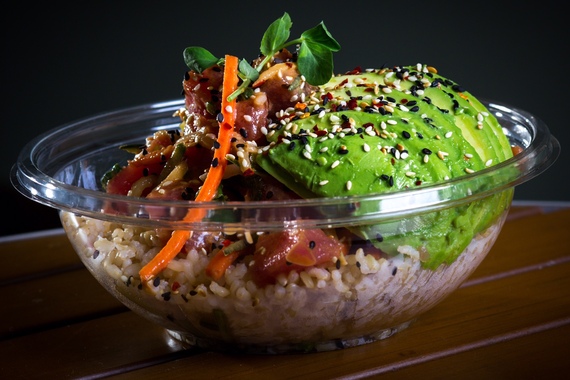 Boston: Tuna Poke With Mung Beans at Uni​
Mung beans make a cameo in Tony Messina's poke creation at Uni, inside Back Bay's posh Eliot Hotel. Here, he marries the concept of Japanese-style sashimi with Mediterranean flavors by uniting the beans with bigeye tuna, Vidalia onion and seaweed.
370 Commonwealth Ave.; 617-536-7200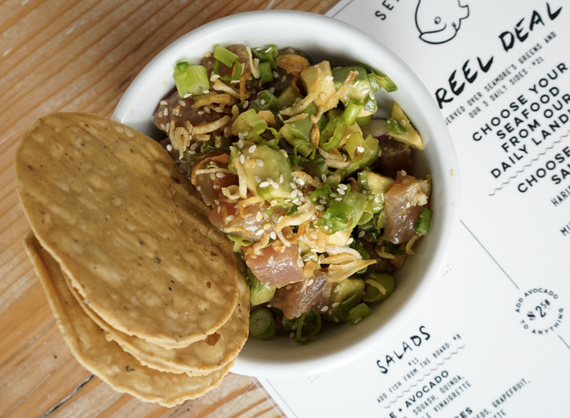 New York City: Tuna Poke With Peanuts, Avocado and Ponzu at Seamore's
Michael Chernow of The Meatball Shop fame now has a light and breezy NoLita den that puts fresh seafood in the limelight. Before tackling, say, porgy with harissa cashew, settle in with the addictive tuna poke (pictured above). A trifecta of ponzu, peanut and avocado ensures gorging despite the temptation of postprandial soft-serve.
390 Broome St.; 212-730-6005
At paleo-minded HG Sply Co. in lower Greenville, there are hefty short ribs and cauliflower steaks to choose from, yet for a lighter alternative Danyele McPherson whips up a cucumber-wakame seaweed salad, topped with a heap of lemon, red onion and jalapeño-amped fresh raw tuna (pictured at top). Avocado combined with Bragg vinaigrette and sesame adds another zippy dimension.
208 Greenville Ave.; 469-334-0896
Its iconic sibling, old-time steakhouse RingSide, may often get the glory, but RingSide Fish House at Fox Tower elevates seafood with just as much panache. Cue the ginger-soy-lime-marinated tuna poke accentuated by avocado-wasabi aïoli and invitingly crunchy fried taro root.
838 SW Park Ave.; 503-227-3900