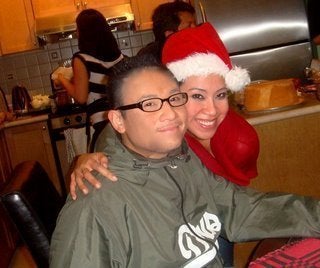 Two weeks ago, Eat The Press' founder/blogmother Rachel Sklar took to these pages to describe the ongoing effort to procure a much needed heart transplant for Eric de la Cruz, brother of former CNN anchor Veronica de la Cruz. Today, on her own blog, Rachel reports on some good news -- emerging as a major fundraising hero is Trent Reznor, best known as the brains behind the dystopia-rock outfit Nine Inch Nails:
Reznor raised over $260K in the first day -- and as of now he has raised over $850K. He announced on his site that he had sold out of all the VIP packages in North America (and that's a lot of cities!), so he's offering something else awesome instead: One hundred collectable, signed skateboards from Tony Hawk (737,211 Twitter followers -- and another #ERIC supporter). A $1,000 donation wins you the skateboard plus a copy of NIN's rarest CD release, STILL, signed by Reznor. Here's a Twitpic of Hawk doing the signing; here's Reznor's appeal for a more help:
Please consider helping if you haven't already -- we're showing the WORLD the power of a strong and committed community, and we're quite possibly saving a life in the process. We still have a ways to go financially. Thank you all.
This is all truly excellent news, and hopefully this means that the dawn is breaking on a happy ending for Eric de la Cruz and the people who care about him. At the same time, I'd encourage people to go back to Rachel's post today and dig into the specific red-tape issues that put the de la Cruzes into this bind. It's a difficult thing to cite a single tale of health care system bafflement as the test case for fixing health care -- to bastardize Tolstoy, each unhappy American health care story is unhappy in its own way. Nevertheless, while we should celebrate the success of the powerful rock star/Twitter fundraising complex (just as Washingtonians did various blogger-to-blogger outreach plans), this case underscores the urgent need for structural reforms in the health care industry. I think that if you're walking around with the luxury of thinking about health care in the abstract, it's only because these issues haven't yet impacted someone you care about. Sooner or later, they will.
Calling all HuffPost superfans!
Sign up for membership to become a founding member and help shape HuffPost's next chapter