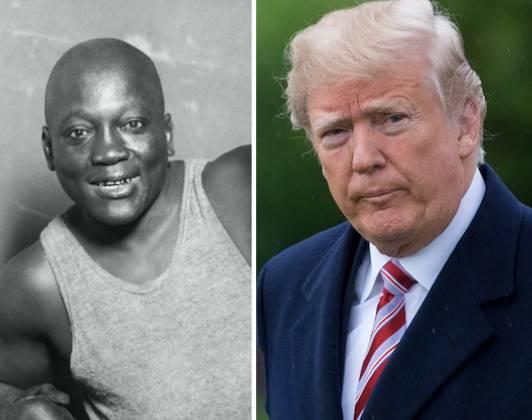 President Donald Trump is considering pardoning the late heavyweight champion boxer Jack Johnson thanks to actor Sylvester Stallone.
The president tweeted about the potential posthumous pardon on Saturday, saying Stallone called him to tell him the story of the legendary boxer.
Johnson's "trials and tribulations were great, his life complex and controversial," Trump said, adding, "Yes, I am considering a Full Pardon!"
The White House did not immediately return HuffPost's request for comment and representatives for Stallone declined to comment on Trump's tweet.
Johnson, whose parents were former slaves, made history in the early 20th century as the first black man to earn the title of heavyweight boxing champion of the world. A powerhouse in the ring, Johnson rose in fame and wealth throughout his career ― even at a time when vicious violence against African Americans was the norm.
The boxer's image was controversially smeared when he was convicted of violating the Mann Act, which banned traveling with a woman across state lines for an "immoral purpose." Johnson fled the country, continuing his boxing career overseas for years before he eventually surrendered to federal authorities and served time in prison.
In 1946, he died in a car crash.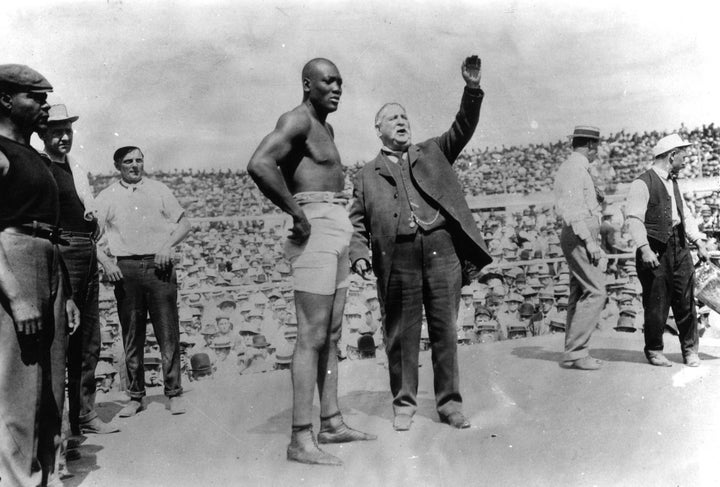 Johnson won against Burns with a technical knockout in the 14th round, becoming the first black heavyweight champion. His fame, however, still didn't earn him respect from his white peers.
Lawmakers, including Sen. John McCain (R-Ariz.), have asked past presidents to posthumously pardon Johnson for years. McCain has supported a pardon for Johnson since 2004.
In a 2016 letter to President Barack Obama, McCain, the now-retired Sen. Harry Reid (D-Nev.), Rep. Pete King (R-N.Y.) and Rep. Gregory Meeks (D-N.Y.) called Johnson's conviction "improper and unfair," claiming that Johnson was "transporting his white girlfriend across state lines."
"While it is unfortunate that this unjust conviction was not corrected during the boxer's lifetime, a posthumous pardon today represents the opportunity to reaffirm Jack Johnson's substantial contributions to our society and right this historical wrong," the lawmakers wrote.
The U.S. Commission on Civil Rights also urged Obama to pardon champion boxer that same year. 
Johnson "was a fierce critic of Jim Crow laws and the prevailing enforced customs of racial segregation," the commission wrote in a June 2016 letter.
Rep. King urged Trump to absolve Johnson on Saturday, tweeting, "Obama wouldn't do it. Trump ... now considering it. Would correct a terrible injustice."
In an interview with the Los Angeles Times earlier this year, Johnson's great-great niece Linda E. Haywood suggested that a posthumous pardon would allow Johnson's past to be corrected.
"Knowing that he was treated unfairly, and unfairly convicted and targeted because of his choice of companions, who happened to be Caucasian, that's wrong," Haywood told the Times.
"The last thing you want to do is die and have your name tarnished. That's wrong. You don't want it to be tarnished if you're living."
CORRECTION: A previous version of this story misidentified Tommy Burns as Australian. He was Canadian.
Calling all HuffPost superfans!
Sign up for membership to become a founding member and help shape HuffPost's next chapter
BEFORE YOU GO
PHOTO GALLERY
Powerful Photos Of Black History