WASHINGTON ― A bipartisan group of senators offered President Donald Trump and his homeland security secretary a chance to put their money where their mouth is by supporting a measure to give protections to young undocumented immigrants through Congress, rather than through an administrative program the president opposes.
The administration isn't taking it.
Before Sens. Dick Durbin (D-Ill.) and Lindsey Graham (R-S.C.) officially unveiled a new iteration of the Dream Act on Thursday, White House officials had already indicated Trump wouldn't sign it, McClatchy reports. Department of Homeland Security Secretary John Kelly, who has urged Congress to act on reform for Dreamers, won't back it, either ― a spokesman said he "supports the president's position."
That puts so-called Dreamers ― young undocumented immigrants who came to the U.S. as children ― in an even more tenuous position than they were in already under a president who has promised to ramp up deportations. Trump hasn't ended the Deferred Action for Childhood Arrivals program, which gave nearly 800,000 of them temporary work authorization, even though he promised to do so. But his administration may let that program die in the courts without defending it. Now Trump has indicated he won't defend Dreamers through this legislation, either ― in spite of his stated sympathy for them.
"These kids are running out of asphalt ― they're running out of runway," Graham said Thursday at a press conference announcing the bill. "They came out of the shadows at the invitation of their government. They've identified themselves and their legal standing is now in question. It becomes, I think, almost a moral decision."
The problem with DACA, according to Trump and many other Republicans, is that former President Barack Obama created it administratively rather than going through Congress. That means the best way to protect Dreamers, if the administration actually wants to do so, would be to support legislation that gives them a chance to stay in the country legally.
The White House did not respond to HuffPost's request for comment on the bill, but officials told McClatchy that Trump will likely oppose the Dream Act and wants an enforcement-first approach on immigration.
Kelly, despite urging members of Congress to change the law rather than criticize his agents and officers for enforcing existing statutes through arrests and deportations, has indicated he will not break with the president.
"The president has indicated he will not sign [the bill] and the Secretary supports the president's position," DHS spokesman David Lapan said in an email.
Dreamers are under imminent threat. A group of state politicians led by Texas Attorney General Ken Paxton threatened the administration with legal action last month if Trump does not end DACA by early September. If the group does take action, it's possible the Trump administration wouldn't defend DACA ― Attorney General Jeff Sessions is one of the biggest critics of the program, and the Department of Justice declined on Thursday to say whether it would make an effort to defend it. Kelly told members of Congress last week that lawyers had informed him DACA wouldn't withstand a legal challenge.
Trump, meanwhile, is still equivocating about what he will do about DACA if it is challenged in court, and about his plans for dealing with recipients in general.
"It's a decision that I make and it's a decision that's very very hard to make. I really understand the situation now," Trump told reporters last week. "I understand the situation very well. What I'd like to do is a comprehensive immigration plan. But our country and political forces are not ready yet."
Still, the Dream Act could show that at least some political forces are ready to act. The bill passed the House, then majority-Democrat, in 2010, but Republicans blocked it in the Senate the same year. However, the Senate passed a comprehensive immigration reform bill in 2013 ― one that contained measures of the Dream Act ― with a strong majority, including 14 Republicans.
Durbin said he hoped the Republicans who voted for the 2013 comprehensive immigration reform bill would support the latest version of the Dream Act. The two initial co-sponsors of the bill are Sen. Jeff Flake (R-Ariz.) and Senate Minority Leader Chuck Schumer (D-N.Y.), both of whom worked with Durbin and Graham on the 2013 reform effort.
Under the new Dream Act, undocumented young people who came to the U.S. at age 17 or younger could earn lawful permanent residency if they graduated from high school or obtained a GED document; passed a background check; served in the military, worked legally or attended college; spoke English and demonstrated a knowledge of U.S. history; and paid a fee. The new act would extend beyond the current pool of DACA recipients, because that program has an earlier cutoff date for arriving in the country. The latest Dream Act would require recipients to prove they'd been in the country continuously for four years prior to the law's enactment.
Graham said he thinks many Republicans would be in favor of allowing Dreamers to stay, especially if Kelly presented them with a plan to secure the border and deport criminals and other bad actors. If Trump assured the public the border was secure, Graham said, Republicans would believe him and be more willing to move forward.
"I am hoping we can find a pathway forward with President Trump," Graham said. "Wouldn't it be ironic if the man who started his campaign talking about illegal immigration in a very tough way would be the man who started the country on the path of solving the problem?"
Before You Go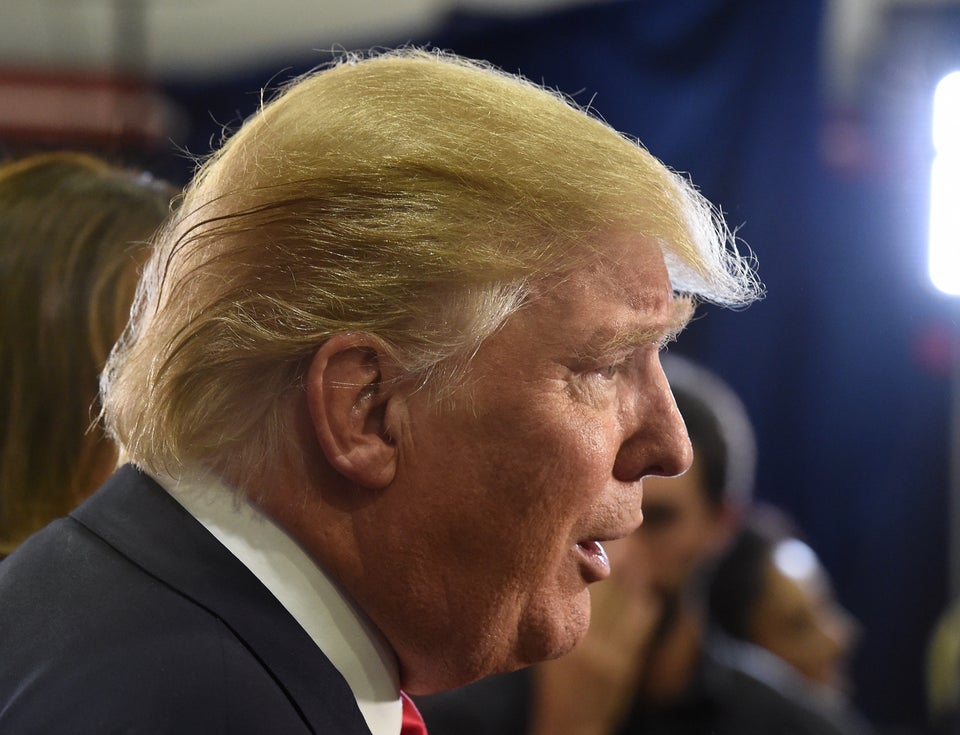 How Donald Trump Talks About Undocumented Immigrants
Popular in the Community