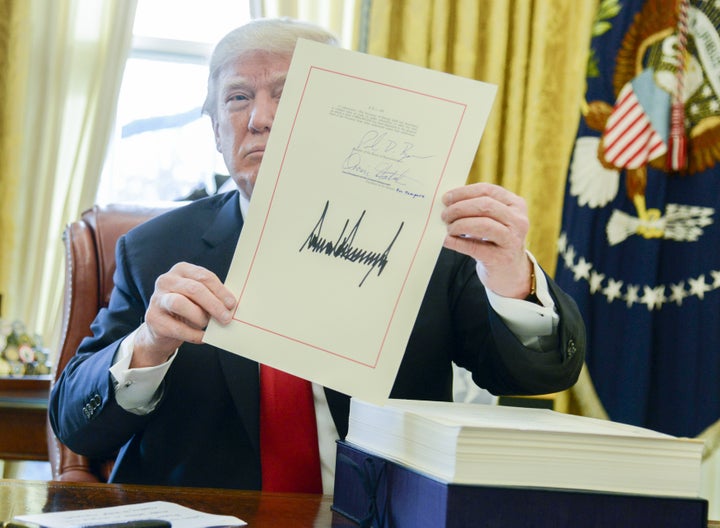 WASHINGTON – President Donald Trump's falsehood-rich style appears to have come back to bite him as he brags about his only major legislative accomplishment.
Having passed tax cuts that provide modest help to most Americans, Trump and GOP leaders are finding that most Americans just don't believe it.
A CNN poll earlier this month found that only 21 percent of respondents believed they would be better off under the tax plan, while 37 percent believed they would be worse off. Another 36 percent thought they would not be affected much either way.
In reality – at least until the individual tax cuts expire at the end of 2025 – the vast majority of families will benefit from the cuts, although not necessarily that much for the typical middle-income family. While the overall benefits skew toward the wealthy because of the dramatic 40-percent reduction in the corporate income tax rate, some 80 percent of taxpayers will see a tax reduction next year, according to the non-partisan Tax Policy Center, while 5 percent will get a tax increase and the remainder will see little difference.
That disconnect is not surprising to Neil Newhouse, a prominent Republican pollster. "The data you're seeing is measuring voter reaction to the Trump-GOP tax plan, and neither of those brands is scoring particularly well right now," Newhouse said. "Voters are responding less to what's actually in the tax plan and more to who's taking credit for it."
Trump ― as he has done regularly whenever confronted with news he does not like ― blamed the media for the plan's unpopularity. "The Massive Tax Cuts, which the Fake News Media is desperate to write badly about so as to please their Democrat bosses, will soon be kicking in and will speak for themselves," the president tweeted on Thursday. "Companies are already making big payments to workers. Dems want to raise taxes, hate these big Cuts!"
"Republicans are correct to assume that the bill will become more popular when people see it in their paychecks," said Rory Cooper, once a top aide to former Republican House Majority Leader Eric Cantor.
But Cooper and others acknowledge that some of the public's skepticism is based on Trump's apparent inability or unwillingness to communicate truthfully – a trait that has extended to the tax cut bill as well.
On Wednesday, for instance, on a day that Trump might have simply stated the facts about the bill's final passage and the benefits it contained, he instead decided to embellish, so that the first three statements he made about the bill were all untrue.
Trump claimed that tax legislation "really hasn't been done" before – which was false.
He then claimed that the bill was "the largest tax cut in the history of our country" – which was also false.
And then he claimed that the tax cuts for individuals totaled $3.2 trillion – which is not remotely close to true. The bill cuts taxes in all by about $1.8 trillion over 10 years, of which $1.2 trillion goes to individuals and households.
"Completely unnecessary," said Republican political consultant Rick Tyler about Trump's string of falsehoods. "He thinks that just because he says something, people will believe it. He probably believes it. Because he exhibits all the symptoms of a pathological liar."
Tyler, like most Republicans, supports the tax cuts. He argues that the wealthy pay most of the federal taxes that are collected, so it's not unreasonable to see them benefit the most from a tax cut.
"I think the administration and the Republicans made a communications error by saying it's going to be a huge break for the middle class," Tyler said, adding that families will be able to make their own decision about the law once they start seeing changes in their paychecks.
But Republicans counting on the tax cuts to give them a big political boost come next Election Day may be in for a disappointment.
President George W. Bush's 2001 tax cuts were larger than the ones just passed, and even included $600 "rebate" checks mailed to taxpayers. Yet just two years later, only 19 percent of Americans believed their taxes had gone down, while 32 percent believed their taxes had risen.
President Barack Obama and a Democratic Congress passed a payroll tax cut in 2010 that saved the typical family $1,000 through reduced payroll deductions. Voters again did not seem to notice it, and believed their taxes had gone up.
Whether Trump's tax cuts are viewed the same way remains to be seen, said Peter Brown, assistant director of the Quinnipiac University Poll.
"Does this help him or not? We're going to find out," Brown said. "If people start seeing their paychecks start getting bigger, and they make the connection between their paychecks and Trump's policies, that would be good for Trump."
Popular in the Community