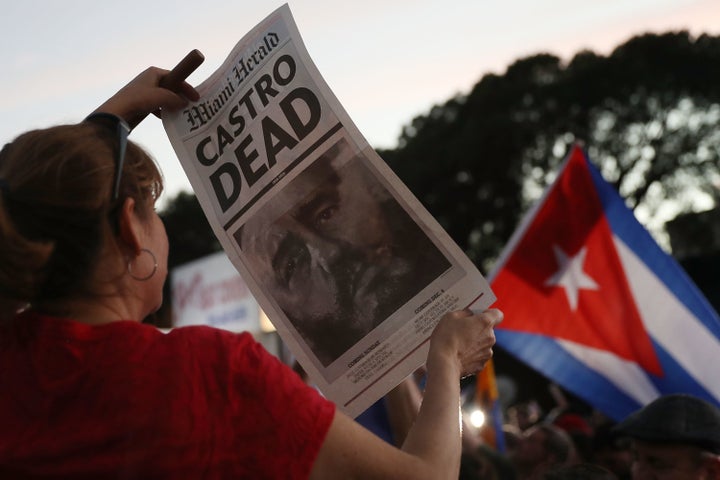 With his customary sense of drama, Fidel Castro managed, finally, to exit the stage in Cuba just as Donald Trump emerged to take the spotlight of U.S. politics as president-elect. After taking power in Havana in January 1959, when Dwight D. Eisenhower was president of the U.S., Castro went on to outlast 10 U.S. presidencies.
Since his illness in 2006, Fidel has been gradually moving off center stage, but he has still written occasional commentaries, sniping at hints of economic reforms and rapprochement with the U.S., making occasional ceremonial appearances and meeting with foreign dignitaries.
Now, finally, Fidel has passed away. Cubans as well as Cuban Americans and others around the world wonder how Cuba will evolve after him, and what role the U.S. can and should play in Cuba's transition to a post-Castro world. Immediate reactions in Miami to Fidel's death suggest that there are still a few Cuban refugees who cling to the dream of returning, reclaiming their property and perhaps living there much as they did before the Cuban revolution. But this mirage is ever receding. Others, both in the younger Cuban-American community and in the general U.S. business community, hope for a rapid transition to a new Cuba, open to democratic politics and attractive business prospects.
Trump could reverse Obama's measures to open up communications between Cuba and the U.S.
Some, from both these groups, have begun to press President-elect Trump to move things along faster by reversing some of the rapprochement that Cuban President Raul Castro and U.S. President Barack Obama initiated, and conditioning any further expansion of U.S.-Cuban interchange on Cuban concessions to the U.S., both economic and political. They have been urging Trump to insist on immediate and clear steps to open democratic politics, to protect human and political rights and to release the remaining political prisoners, including those convicted of treason against the state. They also call for improved conditions for capitalist investment and the recognition of property claims.
Trump has responded by indicating that if Cuba does not make concessions along these lines, offering Cuban Americans and the whole American people "a better deal," he will reverse the Obama administration's measures to open up communications. As president, Trump could do that quite easily, as Obama used executive orders, which Trump can reverse, to move normalization along.
Although it would be relatively easy for Trump to upend normalization of relations with Cuba and to win kudos from an important voting bloc in a perennial battleground state, it would be a bad mistake for the administration to take this course, one a pragmatic and innovative leader should resist. The idea of using economic sanctions and political pressures to force Cuba to reverse its revolution and bow to U.S. preferences undergirded the U.S. policy of denial and isolation against Cuba for five decades without any positive result.
Cutting off these trends would give the Cuban government every incentive and argument to repress and further close its society.
It is only in the past couple of years, since the bold initiatives by Raul Castro and Obama to turn the corner together and seek a mutually respectful relationship, that there has been significant movement toward greater travel, exchange of people and ideas, cultural and educational exchange and measures to open Cuba to new thinking and influences. Expanding these openings will predictably accelerate Cuban reforms over time, not as concessions to Washington, but because of the dynamics Cuba's opening unleashes. Cutting off these trends would give the Cuban government every incentive and argument to repress and further close its society.
Fidel Castro is reviled in many circles in the U.S., to some extent for good reason, a dictator who substituted his ego and ambitions for public consultation and decisions. But he is still a revered figure among many Cubans, especially of a certain age, partly because of his personal charisma, partly because of social and educational programs, but mainly because he stood up resolutely to the Yankees, insisting vehemently on Cuban national sovereignty and rooting out pervasive U.S. influence and domination. Even among young Cubans, Castro is admired for resisting Yankee bullying and interference, so salient in the country's past. As history evolves, Fidel's name and legacy in Cuba will not be primarily about the construction of "socialism," which is bound to give way over time, but rather about the building of a sovereign Cuban nation, able and willing to stand up to Uncle Sam and others.
The only way Fidel Castro can be resuscitated as a truly important political influence on Cuba's future at this point is if the Trump administration attacks or undermines Cuban sovereignty, disrespects its nationalism and offends Cuban sensibilities in ways that unite Cubans against contacts and exchanges with the people of the U.S. That would be a tragic and colossal unforced error, one that Donald Trump can and should avoid.
Calling all HuffPost superfans!
Sign up for membership to become a founding member and help shape HuffPost's next chapter
BEFORE YOU GO
PHOTO GALLERY
Fidel Castro 1926 - 2016