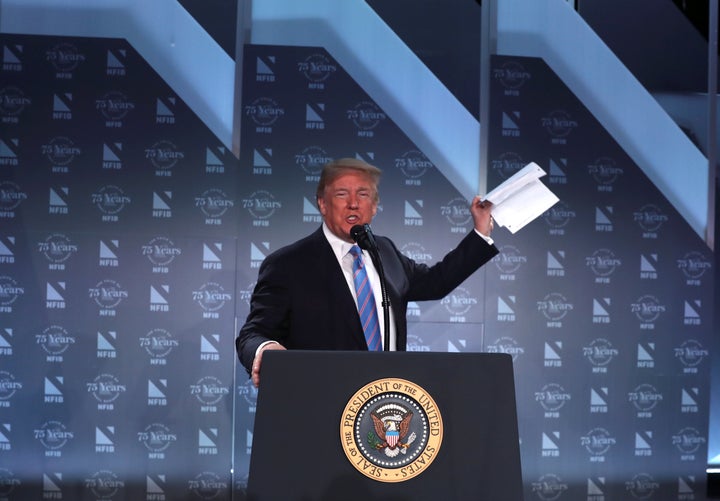 The practice of separating thousands of immigrant children from their parents at the U.S.-Mexico border has little support from the American public ― but there are some who are in favor.
Voters who supported Donald Trump in the 2016 Republican primary approve of family separations by a 45-point margin, 68 percent to 23 percent, according to YouGov/Economist polling conducted earlier this month.
The fact that nearly a quarter of Trump primary voters disapprove is, if anything, an unusually high expression of discontent for an action taken by the administration. By contrast, in the same poll, only 6 percent of Trump primary voters disapprove of Trump's job performance overall, and just 5 percent oppose the GOP's tax law.
But their backing for family separations does stand out as especially staunch. Republican primary voters who supported other candidates also approve of family separations, but by a smaller 8-point margin. The majority of Democratic primary voters, as well as those who didn't participate in the process, disapprove.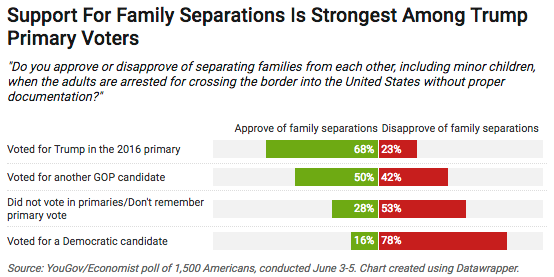 Trump's primary voters are also significantly more intense in their support for family separations than any other voting (or non-voting) bloc. Nearly half say they strongly approve of children being separated from their parents at the border ― a level of enthusiasm shared by fewer than a quarter of other Republican primary voters, and just 9 percent of Democratic primary voters.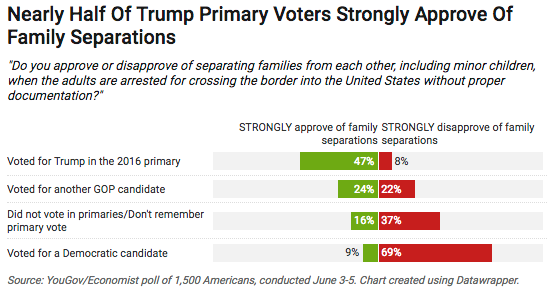 In the time since the YouGov/Economist survey was conducted, family separations have ballooned into a far more prominent issue, dominating front pages and cable news. It's possible that views on the issue may have shifted.
The initial results, though, are the latest addition to an already sizable body of evidence that the core group of voters who propelled Trump to the GOP nomination hold a nativist streak that distinguishes them even from other Republicans. The president's initial backers, researchers have found, were considerably more likely than other Republicans to consider immigration a very important issue and to hold hostile attitudes toward immigrants.
As the rest of the YouGov/Economist poll shows, that divide has persisted since the 2016 primaries. GOP primary voters, as a whole, take hard-line views against undocumented immigrants, but the president's earliest supporters are among the most likely to do so. Trump primary voters are also notably averse to legal immigrants: They're nearly twice as likely as other GOP primary voters to say that the government should curb legal immigration, and that immigration has made the U.S. worse off.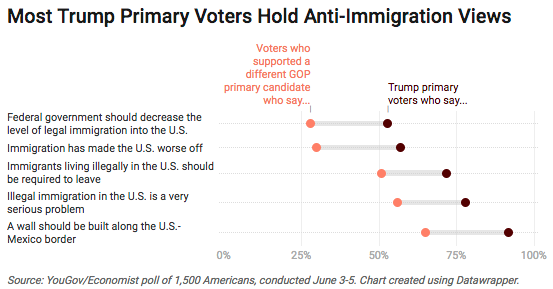 The YouGov/Economist poll consisted of 1,500 completed interviews conducted June 3-5 among U.S. adults using a sample selected from YouGov's opt-in online panel to match the demographics and other characteristics of the adult U.S. population.
Calling all HuffPost superfans!
Sign up for membership to become a founding member and help shape HuffPost's next chapter