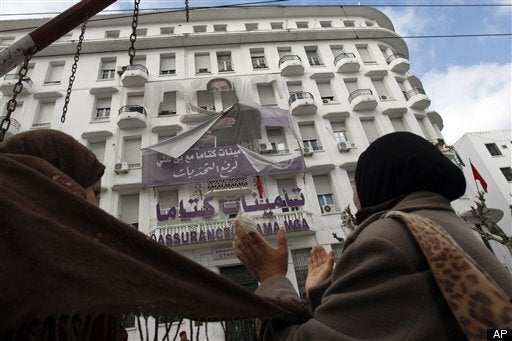 TUNIS (Reuters) - Tunisia's prime minister promised to announce a new coalition government on Monday and called for calm after security forces fought street battles with gunmen loyal to the ousted president.
Overnight, shooting could be heard in parts of the capital, following clashes between Tunisian special forces and the former president's security men on Sunday.
President Zine al-Abidine Ben Ali's hurried departure on Friday after weeks of violent street protests sent shockwaves through the Arab world, whose autocratic leaders preside over similarly repressive governments.
A Reuters reporter in the El Omrane suburb of Tunis said shooting could be heard until about 3:00 a.m.
Residents reported seeing people in cars, on motorcycles and on foot firing shots apparently at random and then disappearing. People searched the roofs of their apartment blocks after reports that gunmen were firing on people below.
"There are snipers on the roof. We don't know where. We are asking for immediate help from security forces," one caller to state television said.
Prime Minister Mohamed Ghannouchi promised rapid action to rebuild the government after Ben Ali fled to Saudi Arabia in the face of a street revolt against unemployment, corruption, poverty and repression.
He pledged to announce a "new government which will open a new page in the history of Tunisia".
Speaking on state television late on Sunday, he said, "I call on Tunisians to remain calm. These are difficult moments we are going through. The military and security forces are in the process of ensuring people's security.
"We are making great efforts for our beloved Tunisia. We ask the people, the residents to continue their support. It is a pleasure to see people like this, all united behind one goal, and everything will be fine, God willing, in the days to come."
Three opposition leaders would take posts in the new coalition, two sources close to negotiations on building the new government told Reuters. But the interior and foreign ministers in the old administration will keep their jobs.
While die-hard Ben Ali loyalists fought the army at the presidential palace, elsewhere two gunmen on a rooftop near the central bank were killed by fire from a helicopter.
Tanks were stationed around the capital, Tunis, and soldiers guarded public buildings.
There were long lines outside bakeries in Tunis on Monday morning as people started buying provisions after several days when shops were shut and most people stayed inside their houses.
Traffic was moving around as normal. At Place Pasteur, in the city's diplomatic quarter, police and military were stopping goods vehicles and checking inside.
Government offices were open for the first time since Thursday, though some employees said they would stay at home because they did not think traveling was safe.
While the protests that forced Ben Ali to flee have died down, the politicians, many of them his former supporters, need to maintain the momentum toward promised elections or face a renewed challenge from the street.
There were indications that the formation of the coalition government, with several ministers from the previous government likely to be re-instated, could trigger renewed discontent.
"I will be the first to go out on the streets," said one Tunisian man, who did not want to be named. "It is just all the same people as before."
Najib Chebbi, founder of the Progressive Democratic Party (PDP), which opposed Ben Ali, will become regional development minister in the new government, the sources close to the negotiations said. Opposition leaders will also get the education and health portfolios.
Ahmed Friaa, a former academic and junior minister appointed interior minister only last week when Ben Ali fired the previous incumbent during the rioting, would stay in his job, they said.
Speaker of parliament Fouad Mebazza, sworn in as interim president, had asked Ghannouchi to form a government of national unity, and constitutional authorities said a presidential election should be held within 60 days.
Opposition parties wanted assurances that presidential elections would be free, that they would have enough time to campaign, that the country would move toward greater democracy and that the power of the ruling RCD party would be loosened.
Chebbi said on Saturday that elections could be held under international supervision within six or seven months.
(Writing by Giles Elgood; Editing by Louise Ireland)
Calling all HuffPost superfans!
Sign up for membership to become a founding member and help shape HuffPost's next chapter