A small act of kindness had a big impact on a teen with Down syndrome -- and his family.
Every morning for 10 years, bus driver Scott Reynolds greeted Ty Coppola, who has Down syndrome, with a smile and a fist-bump when he picked him up for school.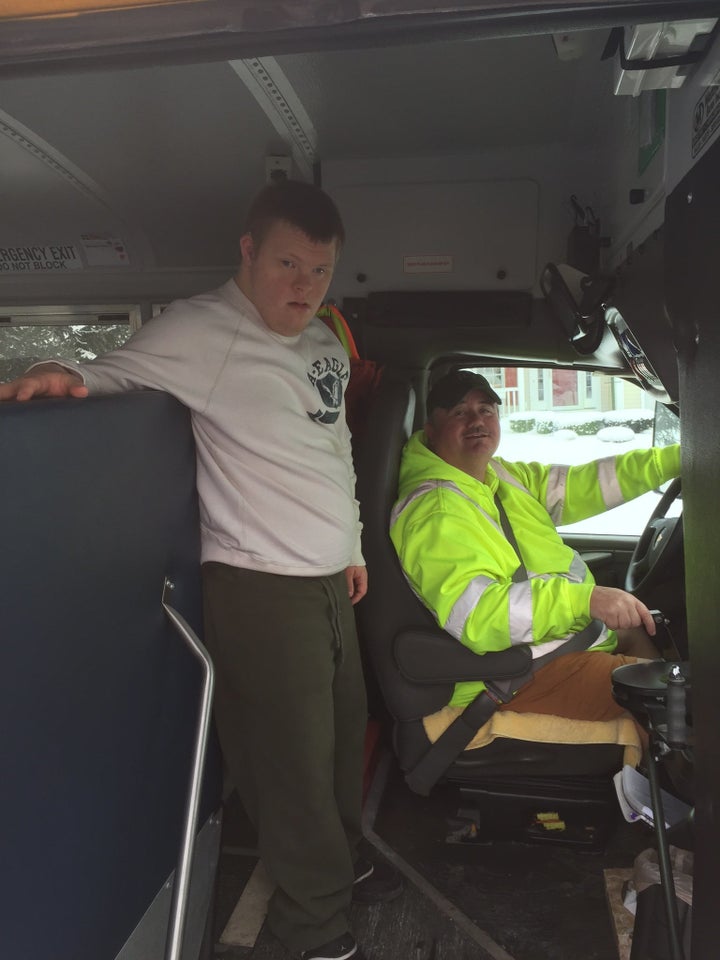 "It would get his day off on a positive start," Michael Coppola, Ty's father, who walks his 19-year-old son to the bus stop every morning told The Huffington Post. "I know he left smiling."
Ty understands verbal communication and can speak and communicate his basic needs, but Michael explained that his son doesn't have typical conversations like most do.
"Instead, he senses things about the way people treat him whether its eye contact, a handshake or a fist bump," Michael said.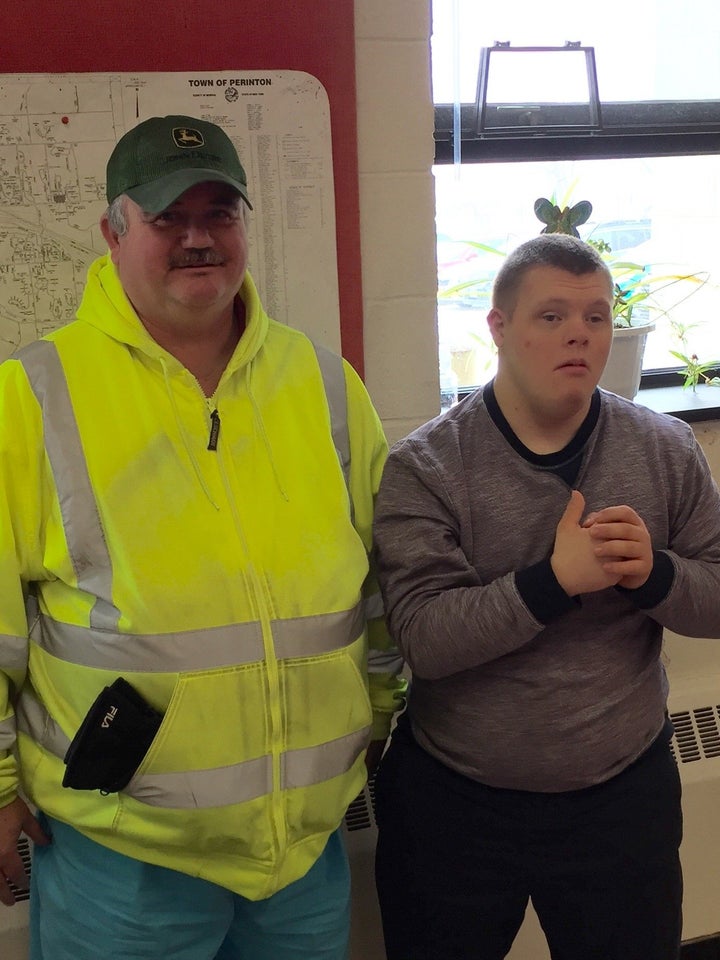 Michael admits that many people, despite their best intentions, do not know how to approach someone with disabilities -- including him.
"I was kind of like that myself before I had a son with a disability of my own," Michael said. "I'm kind of ashamed to say that, but I think that people don't always understand and treat people with disabilities the same."
It's precisely why Michael and his wife, Cheryl, decided to enroll Ty in Holy Childhood, a school on Rochester, New York, that serves children and adults with disabilities. Michael credits the school with teaching his son to be independent and confident despite his disability.
Yet, although Ty has learned to do things on his own, it doesn't mean he doesn't long for affection from others.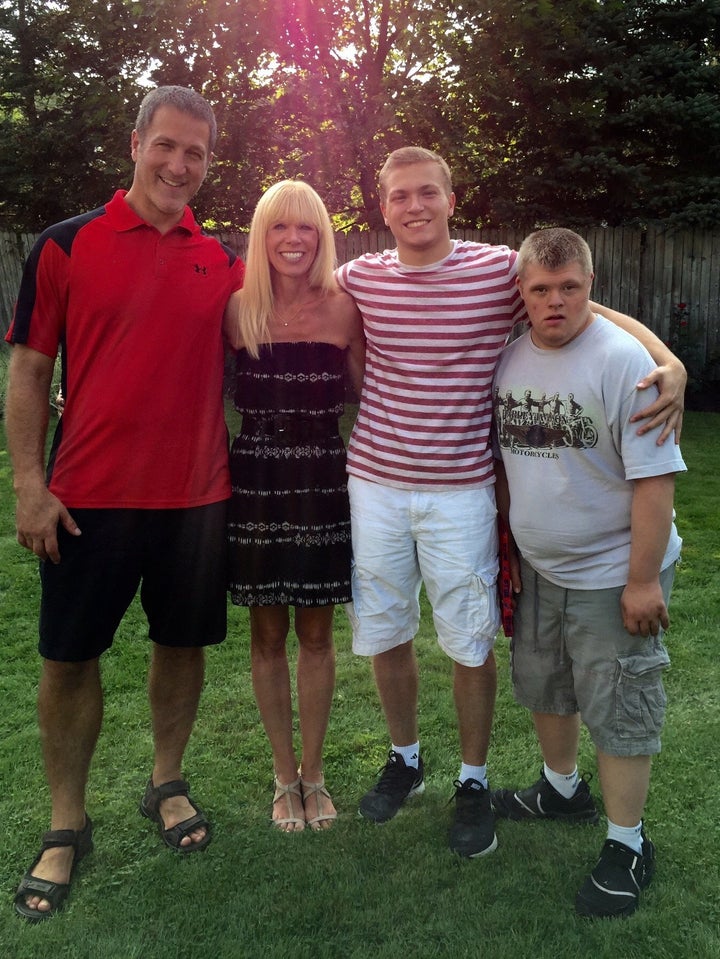 "The actions mean a whole lot more than words to him," Michael said. "That's true for everyone, but especially for a kid who has alternate ways of communicating -- and Scott got that."
Reynolds' kindness didn't end there. He also cracked jokes with Ty, learned things about his life and asked him questions about his family.
When Reynolds told the Coppolas that he planned to retire in February 2016, after 35 years of driving, the family was heartbroken. But they knew they had to show Reynolds how much he meant to their son, and the entire family.
With help from Peter Lawrence, director of transportation for the Fairport school district, the Coppolas did something very special for Reynolds.
On Feb. 11, after Reynolds finished his morning route, the school called him back for an important meeting. When Reynolds showed up, he was shocked to find a surprise party in his honor, filled with people who wanted to pay their respects for his years of service, including the Coppolas. Michael read a heartfelt letter to the bus driver.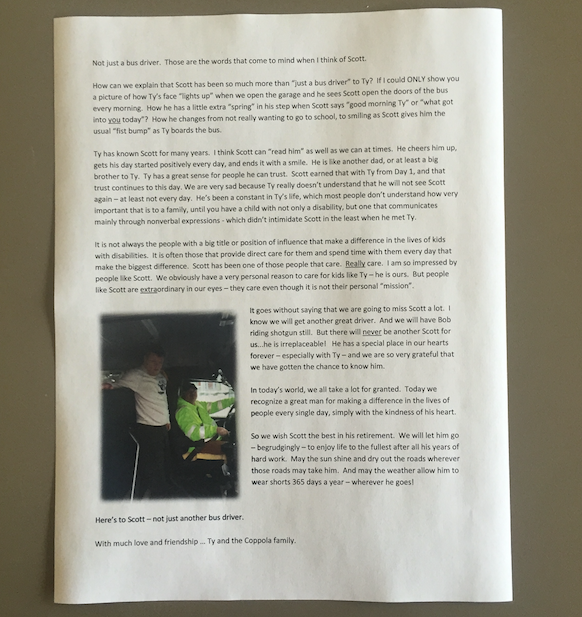 Part of the letter, which Coppola wrote with his wife, read:
It is not always the people with a big title or position of influence that make a difference in the lives of kids with disabilities. It is often those that provide direct care for them and spend time with them every day that make the biggest difference … But people like Scott are extraordinary in our eyes -- they care even though it is not their personal 'mission' ... Today we recognize a great man for making a difference in the lives of people every single day, simply with the kindness of his heart.
"I got choked up while reading it," Coppola said.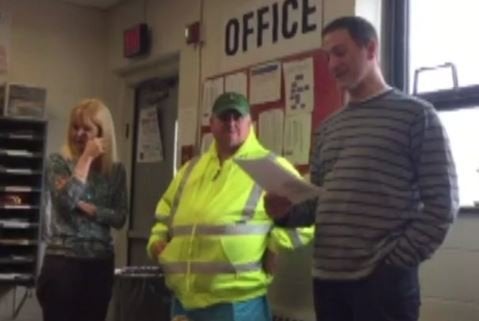 "I wanted Scott to know how much he meant, and how do I say that to him in 10 seconds in the morning when I see him? 'Hey Scott, you meant a lot to Ty. Thanks a lot and have a nice life?'" Coppola said. "That wasn't enough. I didn't want everything he did to be taken for granted. He wasn't just a bus driver."
Related
Before You Go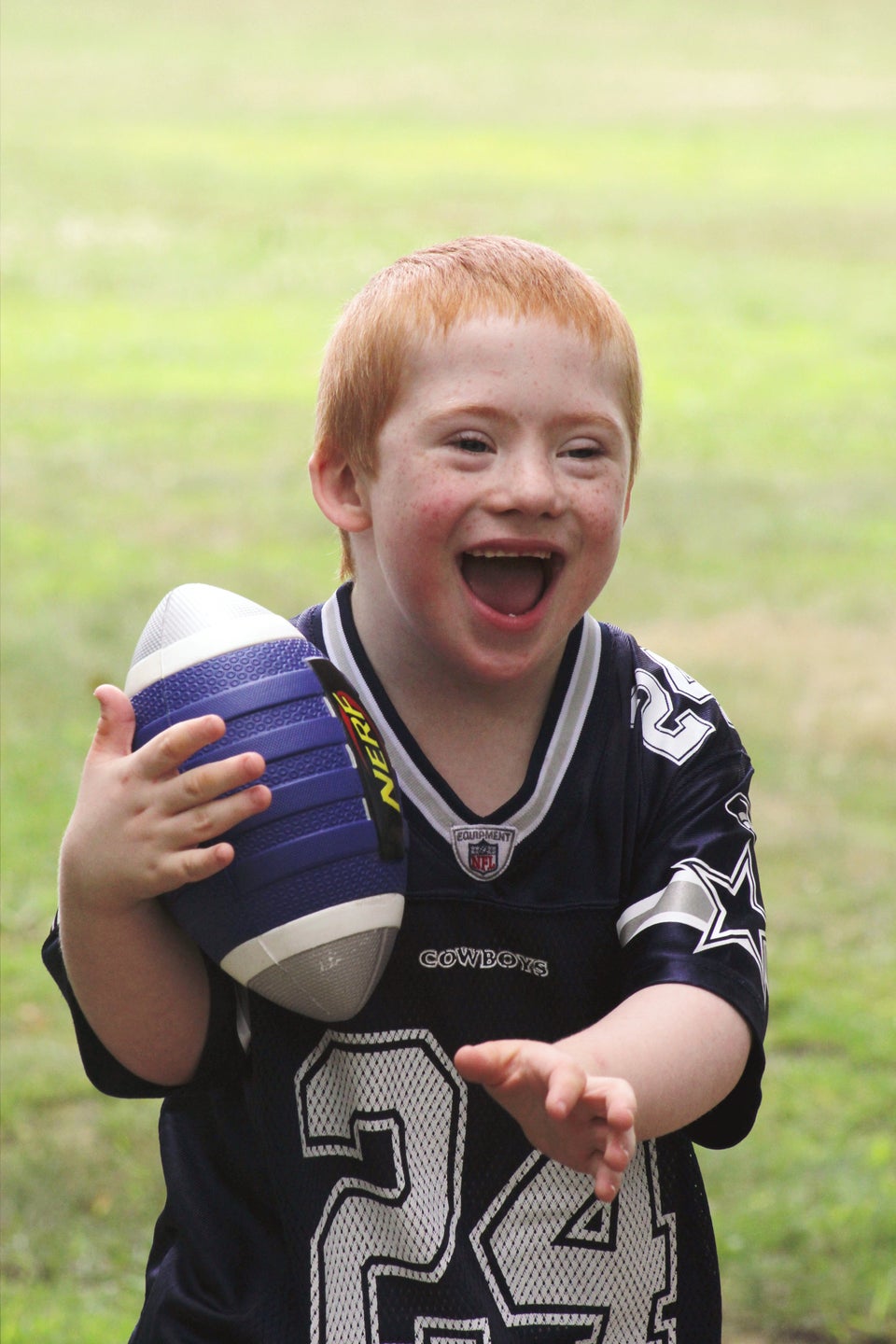 Kids With Down Syndrome In Everyday Life
Popular in the Community