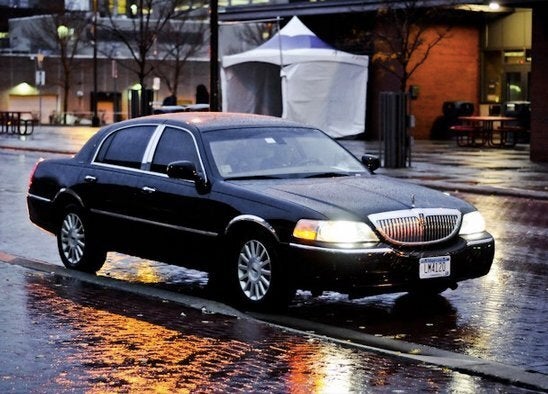 With New York City's public transit system crippled by flooding caused by Hurricane Sandy and taxicabs in high demand, Uber is trying to make itself indispensable transportation for New Yorkers.
Though New Yorkers still have to deal with nightmarish gridlock, Uber, a San Francisco-based startup that lets users request town cars using a smartphone app, has doubled pay for its fleet of livery and black car drivers -- while keeping fares constant for customers -- in an effort to increase the number of cars picking up passengers.
Uber faced its own nightmare immediately following the storm after high demand caused its "surge pricing" to kick in, doubling fares for riders, as well as pay for drivers, and setting off a round of angry tweets and accusations of price-gouging. Much as airlines and hotels charge more during peak seasons, Uber has adopted a dynamic pricing model that increases fares as demand for rides rises. Customers are notified when surge pricing is in effect and, as the New York Times reported, the same ride might quintuple in price over a few hours.
Following the outcry from customers who thought Uber was taking advantage of misfortune, the company said it would reduce fares to normal levels, but would nevertheless double driver pay to get more vehicles on the road.
It worked, according to Uber New York's general manager Josh Mohrer, who noted the supply of Uber drivers has gone from "far below normal" on Wednesday morning (before the higher fares were in place), to "above the normal range" on Wednesday evening.
"We decided to not pass on the cost to drivers for the time being to help do our part in our city's recovery," Mohrer told The Huffington Post in an email. "There are huge losses for the business in doing this, but will continue as long as we can today while we figure out more sustainable ways to keep supply up while the city is in need."
Mohrer explained that the company adopted its surge pricing system because "increasing the opportunity for our driver partners to earn money results in more drivers coming out."
In response to a customer query, Uber tweeted on Sunday night that surge pricing would be enabled because the company "want[s] to provide you w/ a reliable service."
There's no word whether Uber will re-enable its demand-sensitive pricing policy and increase fares again.
UPDATE: Uber announced Thursday that it is reinstating higher prices and a "surge pricing" system for its New York fleet, but will waive its fees. The move marks a reversal of Uber's plan to keep fares at their normal level for riders and double them for drivers while eating the cost.
Uber noted that increasing driver pay -- while holding prices steady for customers -- had tripled the number of vehicles ferrying passengers, though had come at a significant and unsustainable cost to the company.
"[F]ooting the bill for higher driver costs came at a significant expense to Uber with over $100,000 in additional payments to drivers in a single day – something we can't continue indefinitely without breaking the bank," Uber wrote on its blog. "Without raising the price, there will be less than 1/2 the number of drivers on the system with several times more demand on far fewer drivers. Without Surge Pricing, Uber would become essentially unusable this week. For those needing a ride this week, it's going to be expensive; there will be a clear pricing notification in the app at the time of request."
*************************
The Huffington Post is eager for insights from our community, especially people with experience in power, infrastructure and engineering, on the adequacy of emergency preparation in advance of Hurricane Sandy, and the degree to which past disasters have informed adequate planning and construction. Please send a note to sandytips@huffingtonpost.com with insights and suggestions for the important questions that need to be asked of relevant private sector and government officials, and point us toward stories that need to be pursued.
Related
Popular in the Community