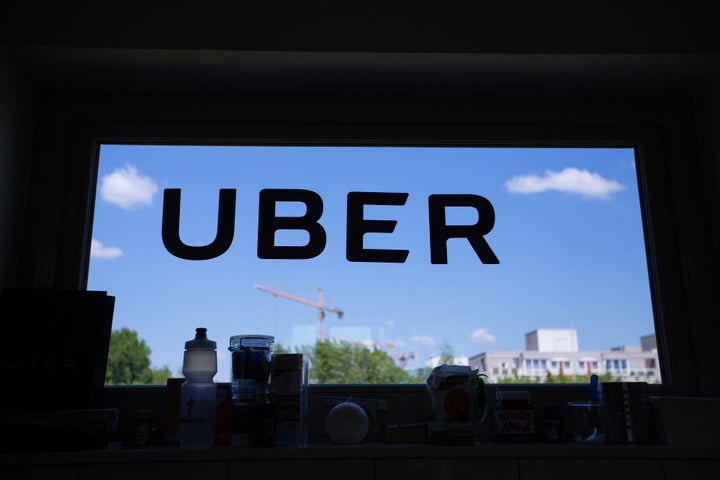 Uber is about to get a lot cheaper in New York City -- that is, if you don't mind sharing your ride with a stranger and walking a few extra blocks to catch a car. The new offer, which is supposed to make routes more efficient, comes during a time of hot debate over the economic and environmental impacts of ride-hailing services.
Uber announced Monday that it will start charging some New Yorkers a $5 flat rate for using the app's UberPool option. While UberPool has been around since 2014, letting multiple riders in an area share a car and split the tab, the update aims to streamline the feature even more.
The deeply discounted fare will apply only to UberPool trips below 110th St. in Manhattan during peak hours (7-10 a.m. and 5-8 p.m.) on weekdays. To take advantage of discounted UberPool trips, riders will have to walk several blocks to what is effectively an Uber bus stop to catch their ride. They'll also likely have to schlep another few blocks to their destination once they've been dropped off.
"Corner pickups and drop-offs make driving routes more direct, so you'll save time and arrive at your destination faster," Uber said in a blog post, per The Verge.
While the original UberPool often sees drivers taking long, circuitous routes to pick up their riders, having more direct routes could mean less fuel burned per trip.
$5 UberPool trips are part of a pilot program the company is testing. Uber hasn't said when the pilot will end.
So how many people will actually hump it several blocks out of their way for a cheaper fare? Take our poll (below) and let us know whether you'd be willing to give up convenience for a lower UberPool rate:
Uber and rival tech companies and ride-hailing apps are making personal car ownership less and less necessary -- in cities, anyway. Car-sharing options, like UberPool, could be key to solving the twin problems of clogged roads and automobile pollution plaguing major urban areas, according to a 2015 report from the consulting firm McKinsey and Company.
Uber says UberPool already cuts down on carbon emissions, compared to the app's UberX option, which functions more like a traditional taxi service. If other companies that offer ride-sharing services can encourage riders to walk a short distance to catch their car, they could help reduce emissions even more.
But not everyone thinks advancements in the auto world, like self-driving cars and more efficient ride-sharing services, will reduce pollution. Self-driving cars, for instance, make it easier to travel by car. And if drivers have to do less work behind the wheel, they might drive longer or more often, upping the amount of energy they consume and pollution they generate. In addition, efficient carpooling services could discourage people from using public transit.
"Even car-sharing services could increase energy demand if the ease and convenience pulls people away from mass transit, walking or biking and into cars," Jason Bordoff, former energy adviser to President Barack Obama, wrote in a Wall Street Journal op-ed in April.
Questions also remain about how carpooling services affect drivers. Some Uber drivers have complained that they don't like UberPool because it requires them to shuttle multiple passengers without receiving any extra pay. Drivers have also said that UberPool hurts their ratings.
Shorter routes could result in drivers making less money per trip, although it could also allow drivers to pick up more trips during a shift.
Note: The Huffington Post's Editor-in-Chief Arianna Huffington is a member of Uber's board of directors, and has recused herself from any involvement in the site's coverage of the company.
Popular in the Community