KYIV, Ukraine (AP) — Russia deployed multiple drones overnight to attack parts of Ukraine and dozens were shot down, Ukrainian officials said Monday, in a series of relentless attacks through the weekend that killed three civilians on New Year's Eve.
Kyiv Mayor Vitali Klitschko said that 40 drones "headed for Kyiv" overnight, according to air defense forces, and all of them were destroyed.
Klitschko said 22 drones were destroyed over Kyiv, three in the outlying Kyiv region and 15 over neighboring provinces.
Energy infrastructure facilities were damaged as the result of the attack and an explosion occurred in one city district, the mayor said. It wasn't immediately clear whether that was caused by drones or other munitions. A wounded 19-year-old man was hospitalized, Klitschko added, and emergency power outages were underway in the capital.
In the outlying Kyiv region a "critical infrastructure object" and residential buildings were hit, Gov. Oleksiy Kuleba said.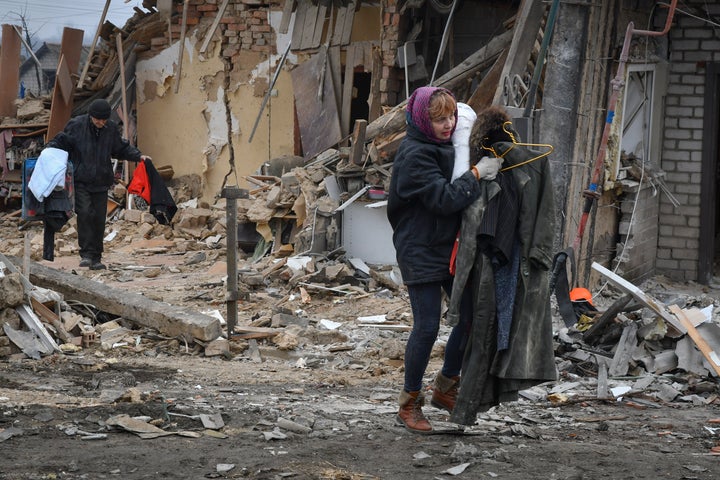 Seven drones were shot down over the southern Mykolaiv region, according to Gov. Vitali Kim, and three more were shot down in the southeastern Dnipropetrovsk region, Gov. Valentyn Reznichenko said.
In the Dnipropetrovsk region, a missile was also destroyed, according to Reznichenko. He said that energy infrastructure in the region was being targeted.
Ukraine's Air Force Command reported Monday that 39 Iranian-made exploding Shahed drones were shot down overnight, as well as two Russian-made Orlan drones and a X-59 missile across Ukraine.
A blistering New Year's Eve assault killed at least four civilians across the country, Ukrainian authorities reported, and wounded dozens. The fourth victim, a 46-year-old resident of Kyiv, died in a hospital on Monday morning, Klitschko said.
Multiple blasts rocked the capital and other areas of Ukraine on Saturday and through the night. The strikes came 36 hours after widespread missile attacks Russia launched Thursday to damage energy infrastructure facilities, and the unusually quick follow-up alarmed Ukrainian officials.
Russia has carried out airstrikes on Ukrainian power and water supplies almost weekly since October, increasing the suffering of Ukrainians, while its ground forces struggle to hold ground and advance.
In Russia, a Ukrainian drone hit an energy facility in the Bryansk region that borders with Ukraine, Bryansk regional governor Alexander Bogomaz reported on Monday morning. A village was left without power as a result, he said.
Follow the AP's coverage of the war at https://apnews.com/hub/russia-ukraine
Popular in the Community