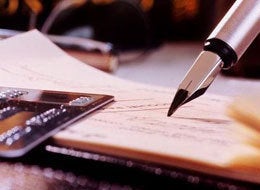 Political campaigns and advocacy groups reported receiving $70,023 from unemployed people during the third quarter, according to the Federal Election Commission.
Big Unemployment larded political coffers with $105,792 in the first quarter and $87,923 in the second. The putative jobless have given $6.9 million over the past 15 years.
But the donors described by campaigns as "unemployed" hardly represent a unified interest group advocating for policies to help the jobless. The biggest donations come from people listed as unemployed housewives. While some of the donors are recent layoff victims, many are retirees or students. Some are self-employed. They give to Republicans and Democrats alike.
An "unemployed" New York resident who gave $500 to the campaign of Rep. Kendrick Meek this summer told HuffPost on Friday, for instance, that he is actually a self-employed investment banker. He said he may have written "none" when prompted to describe his employer.
"Ultimately it's the campaign's responsibility to accurately represent who their donors are. Sometimes the reporting is misleading or even incorrect," said Dave Levinthal, spokesman for the Center for Responsive Politics. "Of course this is a snapshot in time, too. Somebody who made a donation two months ago and it's not being reported until now, that person may have a new job, that person may have lost his job."
Some "unemployed" donors are the real deal: Layoff victims who give what they can because they think it's important to do so. "That involvement keeps you feeling whole, keeps you feeling engaged and having an impact," jobless donor David Tulin told HuffPost in May.
Jeffrey Dismukes of Arcata, Calif. told HuffPost on Friday that even during five years of unemployment, he would make small contributions to MoveOn.org from his $1,714 monthly Social Security Disability benefit (he said that he is legally blind). MoveOn reported he made a much larger $200 contribution in September. The FEC identifies him as "unemployed/computer scientist" -- Dismukes said he has a job now and the description might be left over from previous contributions he's made. He said he credited President Obama's stimulus bill with contributing to his hire at the National Oceanic and Atmospheric Administration.
"What motivated me to contribute is basically because I totally believe that what's been going on with the stimulus money and the stimulus plan is what led to the temporary employment I have now," said Dismukes, 50. "I don't like the attacks on the Social Security Act and the attacks on government spending itself. I don't think it's time to cut taxes on the richest one percent of Americans."
Another unemployed donor is also a candidate: Lon Cecil, Libertarian for Congress in North Carolina, who gave his own campaign $83 in June. He told HuffPost he lost his job as an electronics engineer in March 2009.
"I've been on a one-year long job hunt with this here campaign," Cecil said, adding that his campaign has received a lot of donations from friends, family, and acquaintances. "A lot of people around here now, they are unemployed. A lot of 'em aren't in a position to contribute to you.... Starting in January I'm gonna get myself a real job."
REAL LIFE. REAL NEWS. REAL VOICES.
Help us tell more of the stories that matter from voices that too often remain unheard.