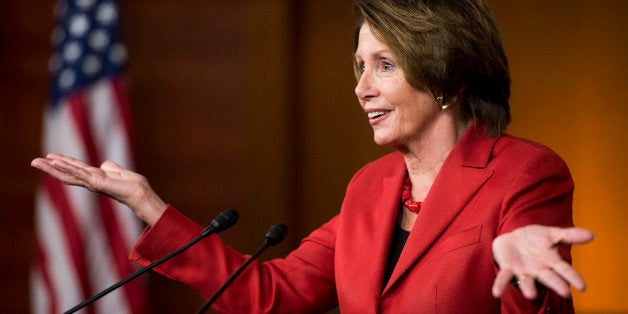 WASHINGTON -- An event highlighting unemployment insurance was overshadowed on Tuesday by partisan sniping between House Democrats and their Republican colleagues over the use of a hearing room.
Democrats accused Republicans of barring them from using a committee hearing room for the purpose of talking about legislation to extend unemployment insurance. The move prompted Democrats to address the press from the front steps of the Capitol, flanked by several out-of-work Americans who shared their stories.
"Last week, when we sent out the notice for this meeting today, it was thought that we would be there to listen to the voices of those who have lost their jobs through no fault of their own," House Minority Leader Nancy Pelosi (D-Calif.) told reporters.
According to Pelosi, Republicans informed Democrats on Tuesday morning that they would no longer have access to the room to discuss lapsed unemployment benefits.
"Perhaps they thought we would cancel the meeting. Instead, we have taken to the steps of the Capitol," Pelosi said. "They don't even want to hear the truth -- that's why they kicked us out of the Rayburn room in the People's House on Capitol Hill."
Alexandra Haynes Sollberger, a spokeswoman for House workforce committee Republicans, said it's Democrats who pulled a fast one. Sollberger said committee Republicans agreed to a Democratic request to use the hearing room for an event that would not include the press -- but then Democrats changed their minds and wanted press included.
"At the last minute, the Democrats changed significantly the format of their event that no longer complies with the terms to which they originally agreed," Sollberger said. "At no time did we deny their request to hold an event. In fact, we have communicated to Democrat staff that we are more than willing to accommodate the event they now wish to hold -- all they have to do is ask."
Sollberger shared a copy of a Democratic room request in which a staffer for Rep. George Miller (D-Calif.) described the event as a members meeting.
Sollberger deemed the Dems' griping "partisan political shenanigans at its best."
Michael Steel, a spokesman for House Speaker John Boehner (R-Ohio), also disputed Pelosi's version of events. "Washington Democrats ought to be working with us on the American people's priorities -- not ginning up faux outrage over their own scheduling mistake," he said.
The House Democrats' Steering and Policy Committee is an internal party committee, not a legislative committee, but Democrats had booked the Education & Workforce Committee Hearing Room on Monday. The Democrats' steering committee has previously been allowed to use hearing rooms for the same sort of event.
A Republican aide said, "When I worked on a committee staff and leadership in the minority in the House, I don't remember a single example of former Speaker Pelosi or any of her chairmen giving us a committee room for a partisan event."
Democrats have been trying to build pressure on Republicans over long-term unemployment insurance, which expired in December for 1.3 million Americans. The Senate passed a bill to restore those benefits, but Boehner has said he has no plans to take up their bill.
REAL LIFE. REAL NEWS. REAL VOICES.
Help us tell more of the stories that matter from voices that too often remain unheard.
BEFORE YOU GO
PHOTO GALLERY
Conservatives Pointing Fingers