David Dao being violently dragged off a United Airlines flight was plainly reprehensible. But despite the temptation to neatly attribute the incident to racism, it probably wasn't an example of "flying while Asian." (And let's all agree he is not the "Asian Rosa Parks.")
United has taken responsibility after it required passengers to de-plane and give their seats to four crew members who needed to board. But the airline said its system for selecting David Dao and the three others is an IT algorithm that takes into account issues like disabilities and connecting flights. This means there's no real evidence of racial bias.
So why were Asians quick to label the United incident as discriminatory? It's probably because we could conceive of a reality in which this could happen ― and it's a different reality than that of those who see Asians only as "model minorities."
And Dao himself concluded as much. A passenger told The Washington Post that the doctor from Kentucky said, "I'm being selected because I'm Chinese," though reports have stated he is both Chinese and Vietnamese.
That comment hit Asians and Asian-Americans where it hurts. And the fact that the incident set our community off to the extent that it did speaks volumes.
The reaction comes from a complicated place in which many Asians feel the push-and-pull of latent discrimination, and an inability to sound off about it. That's enough to amount to jumping at the chance to speak out because we typically feel we can't, or we don't, or both.
Asian-American advocacy groups told HuffPost that the outcry among the community over the United Airlines incident indicates that we have strong feelings about discrimination bubbling beneath the surface that we feel we have to suppress.
"We've seen more and more Asian Americans coalesce around individual cases involving AAPI folks because many of our own unjust experiences have been silenced or shrugged off."
"I think we've seen more and more Asian-Americans coalesce around individual cases involving AAPI folks because many of our own unjust experiences have been silenced or shrugged off," Kham S. Moua, Senior Policy and Communications Manager of OCA – Asian Pacific American Advocates, told HuffPost.
The reality is that we Asian-Americans will complain about a lot of prosaic things — the sun, perceived price gauging, a freaking dirty floor. But we rarely complain openly about overt racism. So when we do, it's safe to assume our feelings about it are a big deal.
Each Asian nationality experiences racial discrimination to varying degrees, but it happens to all of us. Historically speaking, a commonly held belief is that the lack of outcry about racism is, in part, a result of mainstream society labeling Asians the "model minority," and granting us somewhat of a white privilege card following the Chinese Exclusion Act. A hesitancy to speak out might also be attributed to the fact that immigrants are made to feel their survival is dependent on appeasing mainstream society, so they don't want to complain.
"The acquiescent Asian stereotype is becoming increasingly disavowed in the U.S. as a result of Asian-Americans speaking out."
But that's changing, and we live in a time in which there is greater galvanization of Asian-Americans and identity-specific activism than ever before. The acquiescent Asian stereotype is becoming increasingly disavowed in the U.S. as a result of Asian-Americans speaking out more loudly and in greater numbers.
So it makes sense that we all saw something of ourselves in the Asian man who was expected to be a pushover and then refused to leave his seat — only to suffer a broken nose and missing teeth as a result.
Tung Nguyen, chair of The Progressive Vietnamese American Organization, explained to HuffPost why he believes that people might have attributed the incident to race-based bullying.
"Because we have been bullied," he said. "Asian American kids are frequently bullied — the White House Initiative on AAPIs under President Obama even created a campaign Act to Change to address this."
He pointed to other examples of Asian discrimination including the "bamboo ceiling" in corporate America, or the disparity in Asian leadership, as well a lack of representation in mainstream media. Nguyen also cited a legacy of institutional anti-Asian racism in the U.S., such as the Chinese Exclusion Act and Japanese internment.
Another reason Asians may have been quick to label the United incident as racism is because we rarely feel entitled to do so. And part of that feeling is that other Asians might hold the belief that we don't experience real discrimination, or that "Asians are basically white," advocates say.
"Why do Asians believe we don't experience racism? It's varying degrees of privilege and disparate backgrounds, experts say."
Neither of these assertions is true, of course. But the belief that we don't experience discrimination is likely a result of privilege and disparate backgrounds within the Asian-American community, which maintains an even larger wealth gap than whites.
"Many Asian Americans who are highly acculturated or privileged will say that they have not experienced discrimination," Nguyen said. "This may be true because they are privileged. Even if a person has never faced discrimination, that doesn't mean it doesn't happen to other people. If an Asian-American is fortunate enough to have never faced discrimination, I think that person should help those who have."
Nguyen also pointed to a "If you don't speak of it, it doesn't exist" phenomenon.
"Many Asian-Americans have experienced racism directly, but have felt uncomfortable talking about it," he said. "It may also be a psychological trick—pretending that discrimination does not exist may be necessary to give a person the belief that the only thing that matters for success is one's own merit and hard work. I am old enough that I have seen many Asian-Americans change their position on this—as they rise, they begin to see how their background is used against them, subtly or otherwise, and how their own efforts are not enough."
And in a climate in which anti-Asian hates crimes are on the rise, Nguyen said a positive upshot is that more Asians are speaking out.
"[Dao's] action and our responses will go a long way toward removing the stereotype that we are docile, and that's a good thing.""
"Others may not have experienced racism until now, with the current mood and environment since Trump's election," he said. "What is new is that many of us are no longer afraid to speak out. We do not know whether Dr. Dao was picked because he was Asian, but if they did because they thought he would go quietly, his action and our responses will go a long way toward removing the stereotype that we are docile, and that's a good thing."
Before You Go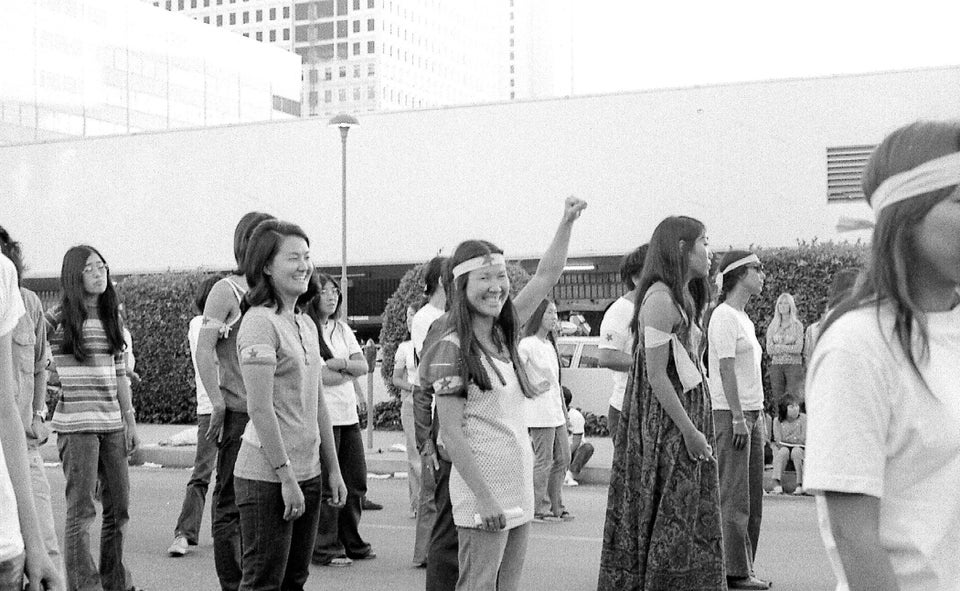 Asian Americans' Political Protest After The Vietnam War
Popular in the Community