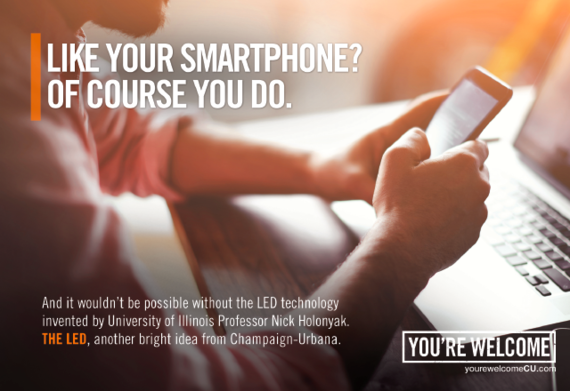 We've all heard the old English proverb, "Necessity is the mother of invention," meaning difficult or impossible scenarios prompt inventions aimed at reducing the difficulty.
A new effort called "You're Welcome" by the University of Illinois and the cities of Champaign and Urbana appears to throw the region's hat into the ring in an attempt to claim the "mother of invention" title. And realistically speaking, it's not that much of a stretch.
After all, have you ever used an Internet browser, central air conditioning, the iPhone's Siri function, whip cream in a can, or had an MRI? Or ever wondered where the minds who created Yelp, YouTube, Paypay or even "Crouching Tiger Hidden Dragon" were educated?
Yep. In the middle of farmland a few hours south of Chicago.
"Champaign-Urbana is one of the most talent-dense, well educated, and diverse regions in the U.S.," said Laura Frerichs, director of the Research Park at the University of Illinois, which is home to software engineering hubs for companies like Yahoo, Anheuser-Busch, John Deere, Caterpillar, Dow Chemical, Raytheon and the award-winning EnterpriseWorks startup incubator. "The university's top ranked engineering, informatics and computer science programs have created a robust pipeline of innovators with technical skills to fuel an unusually large technology community that is balanced by an outstanding quality of life."
But why beat on the region's collective chests? It's so anti-Midwest, no? An ironic necessity, it would seem.
The university has long had one of the top computer science programs, often competing with the likes of MIT, Harvard, Cal Tech and Stanford. It's legacy has produced minds like Marc Andreessen, who was there building what would become Netscape (the aforementioned first Internet browser), YouTube founder Steve Chen, Mortal Combat creator Ed Boon, Oracle founder Larry Ellison - see where this is headed?
Smart minds, however, bring companies knocking on the doors. The region saw tech hubs opened by Raytheon, Intel, Yahoo, Anheuser-Busch, John Deere, Caterpillar, Dow Chemical and more.
Thus "You're Welcome" - a double entendre as in, "Yo, you're welcome for that MRI machine after you busted up your knee kicking your car," as well as, "You are so very welcome to come to our amazing Pygmalion music festival while enjoying a local craft beer."
It also should be noted that it's not just about tech for Champaign-Urbana. The endeavor goes out of its way to outline the region's cost of living, commitment to farm-to-table, a broad LGBT community, as well as the university's footprint in film and television.
"The University of Illinois is a great school, to be sure," said Nick Offerman, a U of I graduate. "But when combined with the rich cultural opportunities available in Champaign-Urbana, like the local theaters, Japan House, and the Champaign-Urbana Woodshop, not to mention its proximity to the idyllic Sangamon River, it becomes a downright magical place to spend one's collegiate years."
Mother of invention? Perhaps. As long as you know you're welcome.