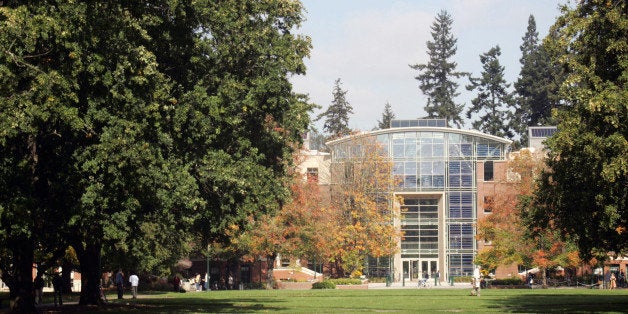 UO sparked outrage among students and faculty this month when it filed a counterclaim against a lawsuit from a current student known only as Jane Doe, demanding that she or her attorneys pay for the university's legal fees and any other damages the court is willing to issue. Last month, Doe filed a lawsuit against the university and against men's basketball coach Dana Altman, alleging that they'd recruited a student athlete despite knowing about his previous sexual assault allegation, and that they'd later created special arrangements for the accused assailants based on their athlete status.
In its updated response to Doe's suit, the school maintains that it did not know about the athlete's previous sexual assault case during recruitment, and says it did not violate any laws in how it responded to Doe's sexual assault report. However, UO retracted the line that her "claims are frivolous, unreasonable, and without foundation," and is no longer suing Doe.
"Today I decided that it is in the best interest of the university community to file an amended answer to the lawsuit that withdraws the counterclaims," Scott Coltrane, UO's interim president, said in a statement Thursday. "The university never intended to seek costs, fees, or damages against our student. With this action, we make that clear."
More than 2,100 people had signed a petition asking the university to drop the suit against Doe.
Thursday's filing from the university keeps the language that "plaintiff's counsel's false allegations threaten to harm not only Oregon and Altman, but all sexual assault survivors in Oregon's campus community." In an email to the UO administration, three faculty members -- law professor John Bonine, media studies professor Carol Stabile and psychology professor Jennifer Freyd -- expressed disappointment that the school kept some of the "most victim-blaming language."
"Someone has confused a legal filing with a press release," the professors wrote to the administration Thursday night, according to a copy of the email shared with The Huffington Post. "A response to the court is no place for public relations talk about the University's supposed devotion to women and Title IX. It is a place to admit or deny factual allegations."
Last week, 12 faculty members, including five law professors, sent a letter to the UO administration objecting to the university's having accessed Doe's therapy records, which it did in December 2014. The school has insisted it acted legally in handling her records, but the professors said even if that was true, "that would not make this action right," according to a copy of the letter obtained by HuffPost.
The university said that after the 12 faculty members sent their letter, school officials met with them to discuss their concerns. It also said that it only collected Doe's records and has not viewed them. UO is also planning a campus event Monday to discuss sexual violence.
Doe says the three athletes sexually assaulted her in March 2014. In June, all three athletes were found responsible for sexual misconduct and were suspended from campus for a minimum of four years.

Calling all HuffPost superfans!
Sign up for membership to become a founding member and help shape HuffPost's next chapter