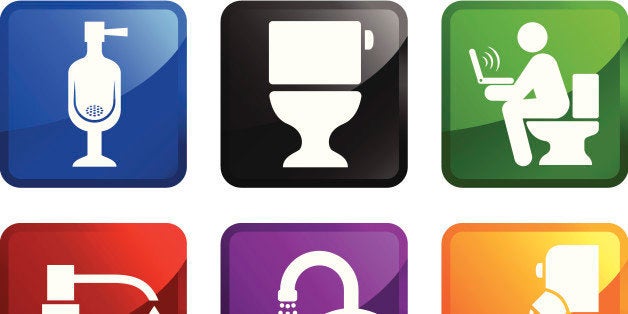 Home builders and designers are looking down the road at what midlifers might want in their future retirement homes. And they may have hit the porcelain on the head with this one: Urinals.
While hardly a standard feature in today's homes, the installation of urinals in private residences has "absolutely grown in popularity" over the past five years, said Travis Rotelli, a senior interior designer with Kohler. No one is counting numbers here but even AARP agrees that urinals make perfect sense for retirees hoping to age in place.
AARP spokesman Nancy Thompson says the installation of urinals is one of the home design trends that are occurring as people look toward their retirement. The reason is simple: Use of a urinal can curtail falls. And falls among the elderly are often the start of a slippery slope that ends in the loss of their independent living.
Many falls occur when a person transitions from a seated position to standing upright -- as in standing up after using the toilet. It's why hand rails are already a standard feature in handicapped bathrooms -- so that people have something to grab on to to hoist themselves up.
"So by allowing men to stand," notes Rotelli, "we are reducing fall risk." Urinals can be installed at different heights as well.
And these are not your standard gas station urinals by a long shot. Home urinals come in various shapes and colors, intended to blend with the design of the home. Some, such as the ones featured on Houzz.com, are whimsical, and many work with home styles as varied as Mediterranean, modern and mid-century.
Mary Jo Peterson, a Connecticut-based designer who consults for AARP, sees changes in bathroom features as being key to allowing people to stay in their homes as long as possible. In addition to home urinals, she said that the manufacturer Toto has a toilet line with a built-in bidet system. This improves hygiene, she said. New toilets come with heated seats, a self-washing action, seats that open and close automatically and many are self-flushing -- all aids for the elderly.
She said that many younger people today are installing waterless urinals in their homes as money- and energy-saving devices. That, and it's bound to be a conversation piece.
Here's just one home urinal on the market.
REAL LIFE. REAL NEWS. REAL VOICES.
Help us tell more of the stories that matter from voices that too often remain unheard.
BEFORE YOU GO
PHOTO GALLERY
Multigenerational Homes: From The Accessible To The Extravagant