 This summer we are suffering through one of the worst droughts in the last half century. As of late June, over 55 percent of the country was experiencing moderate to extreme drought. The map below illustrates the drought's far-reaching impacts. While the most extreme effects are being felt in the middle of the country, even regions that typically have greater rainfall, such as the Great Lakes, Southeast and Northeast, are also parched. Although a drought of this magnitude is not entirely predictable, its consequences are. Farmers across the country are losing crops, fish are dying, businesses are losing revenue, communities are scrambling to compensate for dwindling drinking water sources and neighbors battle over access to scarce water supplies.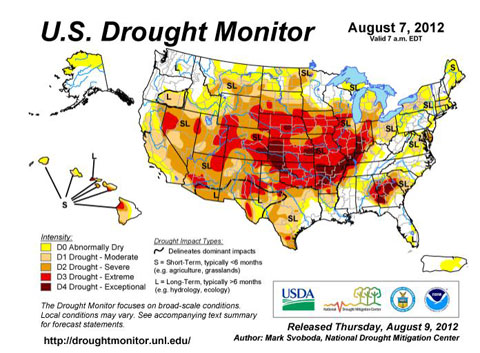 The drought's consequences are being felt across the country. For example:
Unusually high temperatures and drought conditions are present throughout the Great Lakes region this summer. Traditionally a region of abundant rainfall, the Great Lakes, our largest source of freshwater, and rivers and streams in the region have experienced increased water temperatures and lowered water levels which has had negative effects on both humans and fish. Warm water temperatures are breeding grounds for algal blooms, which are a human public health risk and can be detrimental for cold-water fish.
The Rocky Mountain West has also experienced a catastrophic drought. After record-breaking fires blazed across the region this spring, many areas are now experiencing a serious

water shortage

. The two main reservoirs along the Colorado River -- Lake Powell and Lake Mead -- are only at 64 percent of their capacity and the prospect of continued drought threatens to further reduce lake levels.
In the Corn Belt region of the Midwest, farmers have been hit hard as many watch their crops wither and die due to lack of water. Both The Washington Post and The New York Times have highlighted the impacts of the Corn Belt drought, including significantly lower yields which are predicted to push up the price of food and products made from corn and other crops.
In the Southeast's contested Apalachicola-Chattahoochee-Flint basin, the state of Georgia put a moratorium on agricultural withdrawal permits in the lower Flint and Chattahoochee basins due to prolonged drought conditions and extremely low river flows.
While this year's drought may be the worst in 50 years, indicators suggest that this may be a harbinger of things to come, with more frequent and extreme droughts of this magnitude in the future. While drought in any particular year may not be attributable to global climate change resulting from human activities, it is now abundantly clear that climate change makes drought and other extreme weather events more likely.
The U.S. Global Change Research Program found that droughts -- such as the one we are experiencing now -- are likely to become more common and intense as precipitation patterns change. We can expect longer and warmer dry spells between rain events that will dry out soils and intensify drought conditions. In 2011, the Intergovernmental Panel on Climate Change (IPCC) released a report on managing extreme events and disasters, which predicted that in the U.S. the most noticeable changes we will see are in the number and intensity of extreme drought events.
We all need clean water. The prospect of more frequent and extreme droughts across the U.S. challenges us to find new ways to secure reliable clean water supplies for today and the future. While we cannot make it rain, we can manage the water we have in ways that make our communities and rivers more resilient in the face of extreme and frequent droughts that accompany climate change.
Here are some proven, reliable and cost-effective strategies to enhance resilience of water supplies, including our rivers, streams, and groundwater, in the face of climate change and increased occurrence of drought:
Changing our homes and habits saves water and, taken in the aggregate, stretches water supplies. Fixing toilet leaks or dripping faucets, taking shorter showers, reducing or eliminating landscape irrigation, and replacing old showerheads, sink aerators, toilets, dishwashers, washing machines with newer, more efficient models can go a long way towards reducing water demand and stretching water supplies during critical drought periods.
Water in rivers, streams, and underground aquifers is a finite resource. There are limits to how much water we can extract. Droughts bring those limits into sharp focus. Recognizing these limits will compel us to be better water stewards.
By adopting measures like the ones outlined above, communities will become more resilient to the impacts of climate change, better able to withstand droughts, and can ensure the continued health of their citizens and nature.
Related
Popular in the Community