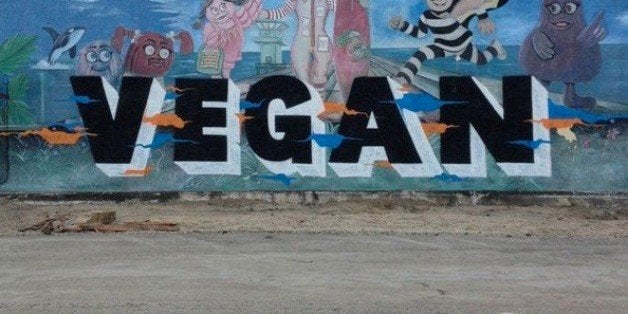 Vandals for veganism struck a blow against a global fast food corporation -- but in the process, they destroyed a storied local landmark.
McDonald's workers in Huntington Beach, Calif., discovered the graffiti in October, when the restaurant was undergoing a renovation. The word "Vegan" was painted in black block letters over a mural of classic McDonald's characters at the Huntington Beach pier. Efforts were made to save the original painting at first, but eventually officials determined it could not be restored. The mural is gone now, completely painted over.
Chris Epting first reported on the damage Monday in an op-ed column for the The Huntington Beach Independent.
"We were heartbroken when we came in the next morning and saw this," restaurant supervisor John Patterson said to Epting. "In 20 years, we had never had any graffiti vandals touch the mural."
Epting has a special connection with the work of art; two years ago, he wrote a column about the mural and its creator, Iranian-born artist and scholar Saeed Danosian. Danosian moved to Orange County, Calif. in 1987 and worked at the McDonald's while teaching art classes on the side. He painted the mural at the request of the restaurant owner (in between shifts) and went on to do other murals around town. Danosian died suddenly in 2008 at 54 and left behind his wife, Yeganeh Danosian.
Yagenah Danosian spoke lovingly about her late husband to Epting:
Saeed, he was a very kindhearted person and a great human being. At his funeral, which was held on Christmas Eve, there were hundreds of people present and numerous speeches given about how much Saeed had touched their lives. Irvine's then mayor, Beth Krom, said, "He was always willing to give, with no expectations of getting anything in return."

...

He donated so much of his time and worked with so many nonprofit organizations. The last 10 years, he taught as a professor at Westwood College, and in 2008 (only six months before his death), he was selected as national instructor of the year. We have received so many letters from his students and their families saying how much Saeed changed their son's/daughter's life. My daughter and I are truly proud of him.
Patterson is planning to restore the mural in memory of Danosian.
The graffiti statement may end up attracting the wrong kind of attention for the vegan cause. Vegans and vegetarians went on the defensive in a local Reddit forum, disavowing the graffiti.
Reddit user "nubbinator" wrote, "I dislike McDonalds and am myself a vegetarian, but that's some serious bullsh*t. You don't vandalize historic art. I hope the people who did this get caught and are forced to pay the cost of restoration and have the book thrown at them."
"ComradeArmona" pointed out, "While I too think this is an absolute shame (I remember it fondly from my childhood as well) its worth noting that this isn't necessarily done by vegans and maybe just someone trying to make a controversial 'statement.' "
Back in August, another fast food restaurant became a target for statement graffiti. Los Angeles-based artist Manny Castro vandalized a Torrance, Calif. Chick-fil-A in protest of the company president's denigration of gay marriage.
Castro came forward to The Huffington Post on the day the graffiti was discovered, claiming that the "Tastes Like Hate" graffiti was a statement for equal marriage rights.
"I'm against what these people stand for, what this company stands for," said Castro to HuffPost. "They're trying to take away what little rights we already have."
In a second statement, Castro emphasized that his graffiti was an artistic expression meant to "further a discussion about tolerance and acceptance."
Castro pleaded no contest to a misdemeanor vandalism charge last Friday, for which he was sentenced to three years probation, barred from possessing vandalism tools and ordered to pay $819 in fines and fees, reports Redondo Beaach Patch. Castro was also ordered to perform 200 hours of community service and to stay away from all Chick-fil-A restaurants during the probation period.