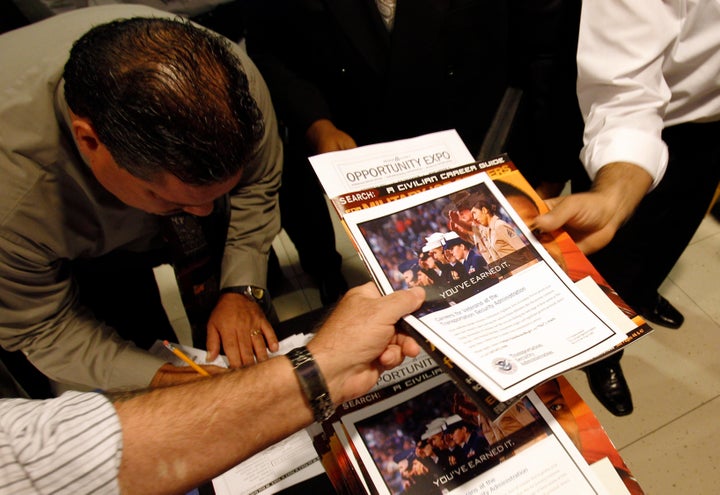 While President Obama's hiring incentives may eventually bring down the 13.1 percent veteran unemployment rate, a foundation is filling in the information gap that often interferes with vets getting jobs.
When Obama signed the "VOW To Hire Heroes Act" in November, to be implemented by the VA, he promised tax credits for those who hire unemployed and disabled veterans. But, many of those veterans looking for work say that they feel left in the dark when it comes to learning about the benefits they are entitled to for their job search.
"The VA is awesome, and they're working very hard to be more responsive to the needs of veterans," Karen Fleener-Gould, director of St. Vincent de Paul's Veterans in Progress program, told The Register Guard. "But a lot of vets just don't know what's available to them."
To clarify exactly what is available to them, the Disabled Veterans National Foundation announced Wednesday that it will connect unemployed vets with the career resources that have come out of the VOW Act.
"We are working diligently to help disabled and underserved veterans, including our women veterans, access the benefits created under the new law and connect them immediately to the training, financial assistance and secure jobs they need and deserve," wrote Raegan Rivers, Chief Administrative Officer of the Disabled Veterans National Foundation, in a press release.
U.S. Army Spc. Alan Kelley Jr. is one such unemployed veteran who could very well see his life turnaround after learning about the benefits he to which he's entitled.
After serving three tours in Iraq, Kelley is now homeless, jobless and has been living in his truck for the past two months, according to The Register Guard.
Kelley, who told the news source that he feels qualified to get a job as a truck driver, said he didn't know that VA case managers could connect him with job and housing options.
Dottie Guy, 29, is another Iraq War Veteran who said that her health and job prospects suffered because she didn't know how to access her VA benefits.
When Guy, now unemployed, returned home from Iraq in 2003 with an injured ankle and severe anxiety, she stayed at her job so that her insurance could cover her surgery. Once her anxiety attacks became incapacitating, Guy learned how much more the VA owed her.
"When I got home, we were just discharged and told to pretty much fend for ourselves," Guy told the Huffington Post. "I didn't know about PTSD. I could've taken time off."
But Obama and the Disabled Veterans National Foundation are confident that, together, they can get unemployed veterans hired.
"Just as they fight for us on the battlefield, it's up to us to fight for our troops and their families when they come home," Obama said after signing the VOW To Hire Heroes Act. "Today, a deeply grateful nation is doing right by our military and paying back just a little bit what we owe our veterans."
Popular in the Community