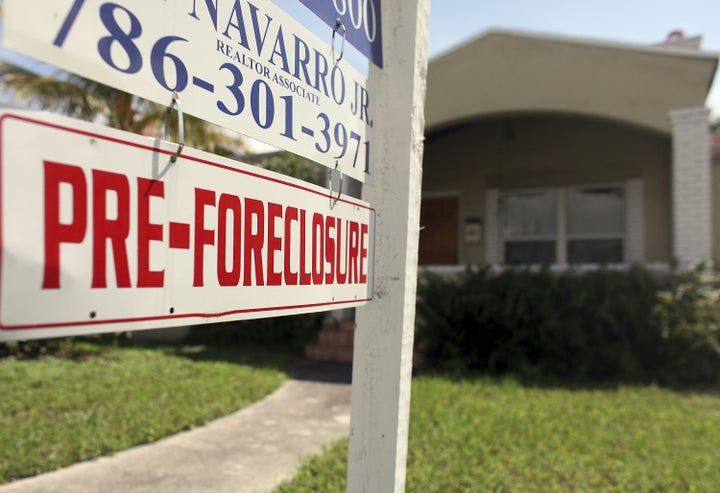 It's a no-brainer: As people lose their jobs and struggle to pay the mortgage, they are increasingly vulnerable to those looking to make a quick profit off their troubles.
The Huffington Post Investigative Fund would like to shine a light on real estate schemes going on around the country. How widespread are these activities? Who is behind them? And who is getting hurt?
Consumer groups, federal authorities and state officials say that some of the most common practices that prey on desperate homeowners include:
House Flipping -- An old real estate tactic that has been resurrected in the current financial crisis, with some tweaks. Typically, speculators push distressed homeowners into selling on the cheap and then immediately resell the house to someone who, quietly, has agreed to pay a higher price.
Loan Modifications - Many people have been lured into paying upfront fees to companies or agents who promise to negotiate with lenders for lower mortgage payments. The California State Bar says it is investigating more than 300 lawyers accused of making such promises without following up.
Foreclosure 'Rescue' -- Once families are past the point of modifying their loans, there are plenty of traps around the foreclosure process itself. Homeowners are sometimes tricked into forfeiting their home equity, unknowingly entering bankruptcy or paying thousands of dollars in fees without receiving anything in return.
Federal investigators say some versions of these practices operate within the confines of the law, some are in a legal gray area and others amount to clear-cut fraud. In January, the FBI was investigating nearly 3,000 mortgage fraud cases, up more than 300 percent from five years ago.
"The fraud schemes have adapted with the changing economy and now individuals are preyed upon even as they are about to lose their homes," John S. Pistole, the deputy director of the FBI, told the House judiciary committee last year.
The Huffington Post Investigative Fund wants to take a broader look at real estate schemes around the country: Have you seen signs of profiteering where you live? Have you been caught up in a scheme? Do you know someone who has? Share your story below, and we may publish your response in an interactive map.
Calling all HuffPost superfans!
Sign up for membership to become a founding member and help shape HuffPost's next chapter