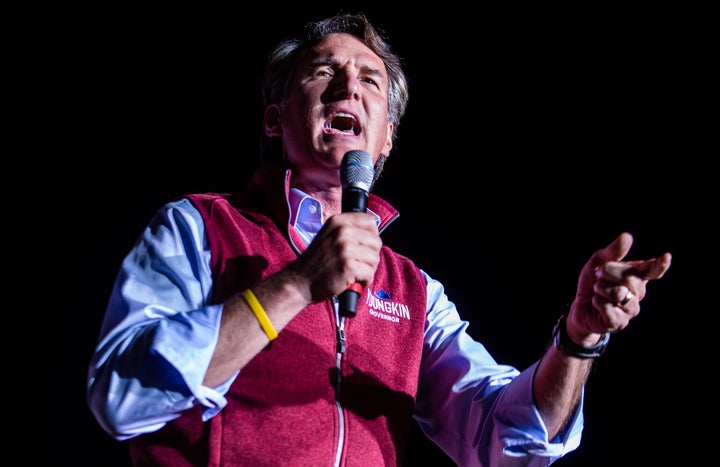 Democrats flipped a critical Senate seat in the Virginia legislature on Tuesday, likely safeguarding the state from enacting a 15-week abortion ban.
Aaron Rouse, a former NFL player and Virginia Beach councilmember, won a tight race against Republican Kevin Adams, a Navy veteran. The special election was held to fill a swing-district seat vacated by Republican Jen Kiggans after she was elected to the U.S. House in November.
"THANK YOU! With your support, and the support of voters from across Virginia Beach and Norfolk, we have won this Special Election," Rouse tweeted on Tuesday night. "No rest for the weary – tomorrow, we head to Richmond to get to work for Virginia families."
The election attracted big money from both sides of the aisle because its outcome could have an outsized impact on the fate of abortion rights in Virginia. Rouse is pro-choice and promised to "fiercely protect the right to an abortion," while Adams opposes abortion and supported a 15-week ban with exceptions for rape, incest and the life of the pregnant person.
Gov. Glenn Youngkin (R) first hinted at the possibility of a 15-week abortion ban in December when he proposed allocating $50,000 to establish such a ban in the state budget. Youngkin, a potential 2024 presidential candidate, painted himself as a moderate on abortion rights on the campaign trail in 2021 but quickly changed his tune once in office.
"I'm proud to be a pro-life governor and plan to take every action I can to protect life," Youngkin said in a statement less than an hour after the Supreme Court repealed Roe v. Wade's federal abortion protections last summer.
"Any bill that comes to my desk, I will sign happily and gleefully in order to protect life," Youngkin told a group of supporters days later.
Rouse's win solidifies a 21-18 Democratic majority in the state Senate. One of those Democrats, state Sen. Joe Morrissey, has said he would be open to supporting abortion restrictions, making the Rouse win all the more important for protecting reproductive rights.
While a 15-week abortion ban may seem moderate in a post-Roe world where nearly a dozen states have near-total abortion bans, it would have huge consequences for Virginians and other people seeking care from neighboring states. Currently, Virginia allows abortion through the second trimester of pregnancy and into the third if the mother's life is at risk. In addition, it's one of a handful of states that allows abortion through the 28th week of pregnancy, making it a safe haven for abortions later in pregnancy.
"We are thrilled to congratulate Sen.-elect Aaron Rouse who valiantly and unapologetically made this special election about protecting abortion rights," Jamie Lockhart, executive director of Planned Parenthood Advocates of Virginia, said in a Tuesday night statement.
"The voters of SD-07 responded loudly and clearly that they want to see abortion protected, not banned ― as do the majority of Virginians all throughout the commonwealth. When our rights are on the line, voters show up in support of reproductive freedom," she continued. "This is a critical victory for health care access and the future of abortion rights in our commonwealth, and we look forward to working with Sen.-elect Rouse and all of our allies in the General Assembly who will boldly champion Virginians' freedom this legislative session."
Popular in the Community