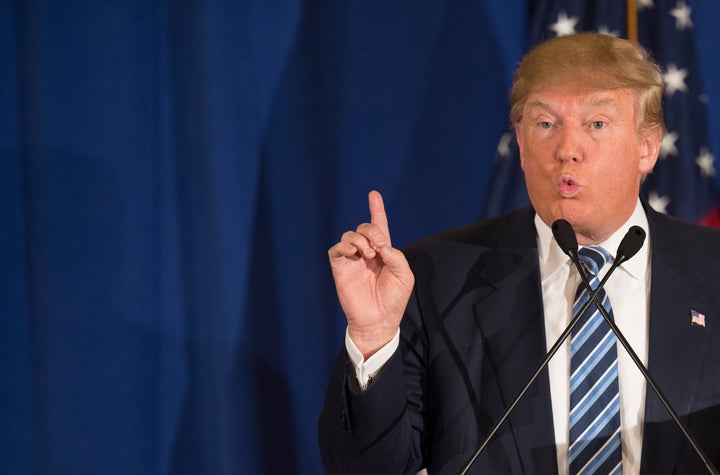 Judging by the relentless coverage he gets, you'd think Donald Trump had this whole president thing sewn up by now.
In fact, more than twice as many voters say they're scared of a Trump presidency than actually support the reality TV star's bid for the Republican nomination, according to a new USA Today/Suffolk University poll.
Thirty-eight percent of voters said they would be "scared" if Trump scored the GOP nomination, with another 18 percent saying the prospect would leave them "dissatisfied," according to the survey, which was conducted between Feb. 11 and Feb. 15. 
Trump had the highest "scare" score of all the leading contenders. The runner-up was Hillary Clinton, with 33 percent of voters fearing the former secretary of state winning the Democratic nomination.
For those who find the prospect of a completely inexperienced, racist demagogue landing arguably the most important job in the world, a look at the poll results may come as somewhat of a relief.
You are not alone. There are a lot of other people who do not want to build a wall between the U.S. and Mexico, ban Muslims, "bomb the oil" and generally isolate America from the rest of the world.
Indeed, a stunning 60 percent of Americans view Trump unfavorably, according to Gallup's polling. That figure makes him more unpopular than either party's nominee, going back to 1992.
"The bottom line is that Trump now has a higher unfavorable rating than any candidate at any time during all of these previous election cycles," Gallup Editor-in Chief Frank Newport wrote in a January blog post. What's striking about that is that Newport looked at favorability ratings during entire presidential campaigns, and candidates tend to do worse on favorability as more and more voters get to know them in the general election. We're months away from the general election, and Trump is already wildly unpopular.
Still, these are polls, and things change.
Back in July, only 20 percent of Americans viewed Trump as a serious presidential candidate, according to HuffPost/YouGov polling. By December, that number had more than doubled to 42 percent. 
That makes sense. As time passes and Trump doesn't go away, more people have been forced to reckon with the fact that he's actually for real.
However, Trump's favorable ratings probably won't move as significantly as his "serious" ratings have. Conventional polling wisdom holds that the more well-known a candidate is, the less likely his or her favorability ratings are to change, notes GOP pollster Matt Dabrowski. "When everyone has an opinion about a candidate, those who don't like him aren't voting for him, full stop," he wrote for The Huffington Post recently.
It's pretty hard to find someone these days without an opinion about Trump.
This should all be comforting, until you remember that majority vote doesn't decide presidential elections in the U.S. Because of the way the system is structured through the electoral college, it is possible to win the presidency without winning the vote of the majority of the population.
And when you look at the latest poll numbers for the Republican primary on Saturday in South Carolina and see Trump blowing away his competitors, well, that's enough to scare a lot of people. 
Calling all HuffPost superfans!
Sign up for membership to become a founding member and help shape HuffPost's next chapter