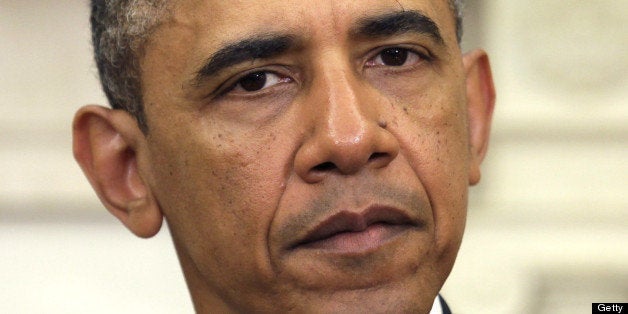 The leading lobbying group for coal companies has acknowledged that the industry's relentless "War on Coal" mantra used to attack the Obama administration has been a failure politically.
In a screed against alleged regulatory overreach by federal judges in Washington, Luke Popovich, spokesman for the National Mining Association, writes that the "War on Coal" refrain used to criticize environmental regulation simply failed to resonate with voters during 2012. In the May column in the industry publication Coal Age, Popovich attributes the disconnect in part to the obtuseness of the electorate:
Anyway, 'war on coal' never resonated with much conviction among ordinary Americans. For them, the EPA keeps the air and water clean, their kids safe. The Appalachian permits the EPA held up, the Spruce Mine permit the agency yanked, the regulatory standard it proposed to slow greenhouse gas emissions and stop new coal plant construction -- all that flew over the head of most voters who, let's face it, know far more about the Kardashians than they do about coal.
Throughout last year's campaign, the coal industry inundated voters with advertisements claiming that the White House and the Environmental Protection Agency were strangling coal mines and killing jobs through needless regulation. In fact, the "War on Coal" campaign has lived well beyond the 2012 election; billboards in coal country still accuse the administration of creating a "No Jobs Zone" through environmental oversight.
Of course, the "War on Coal" line wasn't enough to tip the presidential election in Republican presidential candidate Mitt Romney's favor, but the campaign was probably more effective than Popovich lets on. As Charleston Gazette coal reporter Ken Ward, Jr., has noted, Romney managed to take most of the big coal-producing states -- clobbering Obama in West Virginia -- and Kentucky Democrat Rep. Ben Chandler lost his reelection bid likely in part to the onslaught of coal ads there.
In his Coal Age column, Popovich doesn't call for ditching the "War on Coal" slogan, even if it's been unsuccessful; instead, he suggests expanding it, to encompass all industries and regulation.
"Given the larger factors at play, do coalfield communities in Appalachia really need another divisive campaign built around calling political and regulatory matters a 'war'?" he asks on his Coal Tattoo blog. "Or would the people here be better off if elected officials, business lobbyists and other leaders tried to bring people together to build the future?"
In an email to HuffPost, Popovich took issue with Ward's characterization, saying that a less divisive campaign is essentially what he's calling for. Popovich clarified that he still believes the administration has waged a "war on coal," but he thinks it's time that coal communities "tone down their rhetoric vis-à-vis coal."
"We're not the only industry hit hard by intrusive federal regulations, though at times it may seem like it," Popovich wrote.
This post was updated with Popovich's comments.
Support HuffPost
The Stakes Have Never Been Higher
Popular in the Community