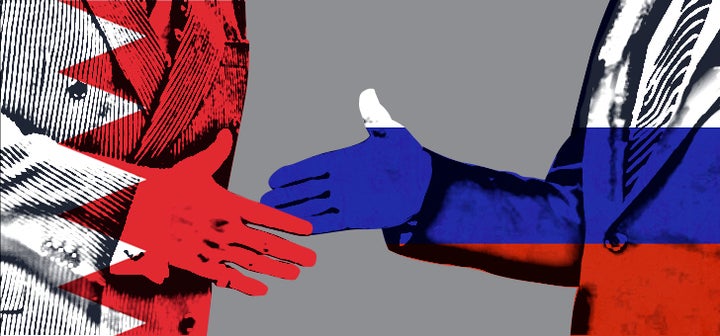 The first Trump cabinet discussion on Russia should be fun. Quite apart from the question of what role Russia played in the presidential election, nominees for top posts have said very different things about President Putin.
Trump has expressed admiration of the Russian president and several of his close circle have links to the Kremlin. Other cabinet nominees, including Trump's pick for Defense Secretary, General James Mattis, are clearly not fans of the Russian president.
Some senior Republicans in Congress are also alarmed at a Trump Administration becoming too close to the former KGB officer, with serious consequences for Ukraine, Syria, the European Union, and elsewhere.
While the new administration figures out if it wants to be friends with Russia, Washington's erratic military ally Bahrain has already decided to snuggle up to Putin.
In 2014 Bahrain's Crown Prince visited Moscow to strike a series of military and economic deals with the Russian government. The visit secured a new contract with notorious Russian arms supplier Rosoboronexport, opened direct flights from Manama to Moscow, announced the easing of visa restrictions for Russians doing business in Bahrain, and signed a memo of co-operation between the cities of Manama and St. Petersburg.
Then things got even creepier. This year, while Putin's regime committed war crimes in Syria, the king of Bahrain visited Russia twice. During his February trip King Hamad presented Putin with a sword made from Damascus steel. "We called it the sword of victory," explained the king. "For imminent victory, God willing."
It's an odd move for Bahrain's Sunni government to make, given that in the proxy war in Syria Russia is aligned with the Shia-dominated regimes of Assad and Iran against forces backed by Gulf monarchies.
But during his September visit to Russia the king stressed "the significance of benefiting from the Russian military experience," visited a weapons exhibition, and said, "we would like to get a closer look at your modern products, your arms manufacturing complex."
This week Manama's crush on the Kremlin took an extraordinary new turn. First, the Russian-controlled news agency Sputnik reported that Bahrain has created a list of companies ready to invest in Crimea, which Putin annexed from Ukraine in March 2014, and that a "delegation from the Gulf country is expected to visit the [Crimean] peninsula in 2017."
But perhaps most astonishing is the Bahrain regime's response to the slaughter in Aleppo, enabled and supported by its friends in the Kremlin. Following the weekend's attacks on civilians, Bahrain's government reacted on Tuesday by calling on "the international community to assume its responsibilities towards the great humanitarian tragedies that the people of Syria are facing, especially in the city of Aleppo, and work towards ending all kinds of violence and fighting."
The Bahrain regime has invited Putin to visit Manama to strengthen the alliance. Like its friends in the Kremlin, the Bahrain monarchy threatens, intimidates, and jails peaceful dissidents. Repressive regimes might make natural partners, but the Trump Administration need to decide soon if that's the team it really wants to be on.
Popular in the Community