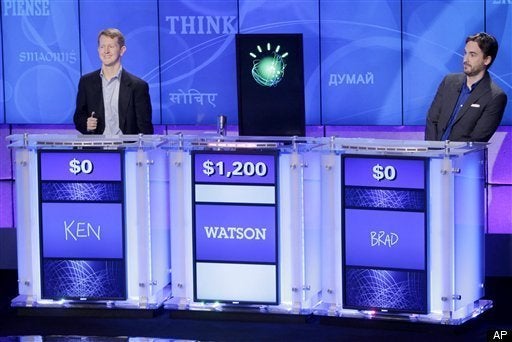 IBM's Watson, a Jeopardy playing computer, has garnered a lot of attention, but hasn't really been seen in action. Until now.
Watson showed exactly what he was made of in the practice round for a special Jeopardy Champions round, which featured the machine alongside previous Jeopardy winners Ken Jennings and Brad Rutter.
Watson won the round with $4,400, according to ZDNet. Jennings finished second with $3,400, and Rutter trailed with $1,200.
Today's demonstration of the artificially intelligent Jeopardy question answering machine is a precursor for the first-ever real "man vs machine" Jeopardy competition, which will air on February 14, 15, and 16, according to Mashable.
IBM's machine aims to show the future of artificial intelligence, interpreting human speech and spitting out answers based on how it interprets what it hears, similar to the way humans do. According to ZD Net, who posed questions to the machine's creators after the demonstration, the quiz questions hit Watson's chips at about the same time it would take the human retina to interpret the questions displayed on screen.
Watson's biggest advantage? According to Rutter it's Watson's ability to weigh risks and make accurate wagers on "Double Jeopardy" question.
Is Watson the future of AI? Watch the video below and decide for yourself.
Popular in the Community