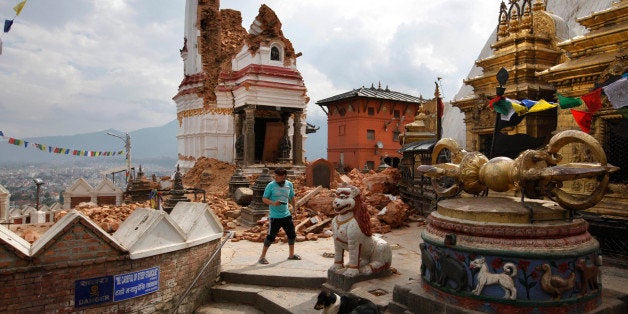 We, in Nepal today, are injured people. We are all injured -- some through bodily damage, many through the loss of loved ones, and many more through the loss of properties -- even more through the shock of the ongoing earthquakes.
We have lost much. But not all. And to heal, we must get in touch with that portion of our lives that is not yet broken. What is not broken?
Solidarity in our community, and relief response from well-wishers.
1. We are alive with care.
We are committed not only to protect ourselves but also to help others. Can the media cover these stories of community coming together to volunteer and help each other (and not only of human insecurities and pettiness that too can come as a shock response)?
Well-wishers have sent prayers and help, and aid workers are busy with activities. Can the media highlight these stories of sincere and transparent efforts? Sure, there are corrupt people everywhere, and they have received ample media in the past. This time can we refocus on successful stories of sincere activists and aid workers?
Publish a list of stores that will pledge not to hoard to create artificial shortage and price hike of necessary goods (those who pledge should be open to transparency (verification through citizens' inspection).
Publish a list of volunteers or group with pledge specific resources and skills they can provide (those who pledge should be open to transparency.
And publish a list of PR persons from aid agencies and their specific mandates (the PR persons should be willing to engage transparently in public forum.)
Most importantly, in choosing your editorials and content, consider how you might be able to facilitate healing.
Money does not solve a problem, though it may serve if used in the right idea. In corrupt or ineffective hands, it becomes counter-productive. Hence, do more than just give money, communicate!
We are shaken up not just by the earthquake, but the uncertainty and fear from the unending series of aftershocks. In this, like in the case of how to manage relief-work, we have much to learn from the Haiti earthquake, where the largest aftershock came eight days after the main earthquake. We too should expect these aftershocks, with a sense of relief that they will fade out eventually.
Let not these aftershocks make us even more vulnerable to gossip and fear. Instead, we should pick up the pieces and start resuming our lives, instead of waiting for another earthquake or another truck-load of relief-aid.
In summary, let me borrow an old jehudi saying: "Let us have the courage to change what can be changed, the humility to accept what cannot be changed, and the wisdom to know the difference."
A version of this post originally appeared on KGNepal.com.
Related
Popular in the Community