Putting a film festival together is never an easy task. There are flight and hotel arrangements to be made, films to secure from their sales agents, celebrities to invite and locations to be booked. In the summer of 2010, I collaborated in putting together the program of the Engendered I-View Film Festival in NYC and remember that even with my limited responsibilities, it turned out to be a stressful and unpredictable run.
But organizing a film festival during times of war and with access to very limited finances is like a cinematic miracle in the making. Yet Julia Sinkevych, Executive Producer of the Odessa International Film Festival, someway, somehow managed to pull it off for a sixth edition, which will run in the Ukrainian seaside city from July 10th to the 18th, 2015.
Highlights of OIFF this year will include a special "Lumière" screening presented and with live commentary by Cannes chief Thierry Frémaux -- a collage of restored films by Louis Lumière; a special Digital Media Day, hosted by Sergey Petrenko, founder of the coworking space in Odessa, Terminal 42, where the summit will take place; select films from both the recent Festival de Cannes lineup and Berlinale -- including personal favorite and Golden Bear winner Taxi, by Jafar Panahi; a special retrospective of the works of filmmaker Jim Sheridan which will include My Left Foot and In the Name of the Father; and an "Odessa in Fiamme: Occupation/Liberation" program to highlight films from Ukraine but also the constant struggle faced by the Ukrainian people.
At a time when works like Myroslav Slaboshpytskiy's The Tribe and Sergey Loznitsa's documentary Maidan are bringing timely attention again to the once thriving cinema culture of Ukraine, it's not only the perfect moment for a film festival, but one of those times when such an event becomes a weapon of peace.
I caught up with Julia Sinkevych to learn more about this important festival and her personal favorites, but also to gain insight into the situation in Ukraine, now that the media has moved on to different headlines.
I know this is a bit commonplace but what are the biggest challenges of holding this year's Odessa International Film Festival?
Julia Sinkevych: For each festival organizer each edition is challenging and special. The situation in Ukraine didn't improve since last year, in fact the level of inflation and economic crisis put a question mark at each cultural event. So I'd say the budget is the biggest challenge knowing the circumstances.
Last year, you held a successful crowdfunding campaign to finance some of the expenses of the festival. What has happened since then?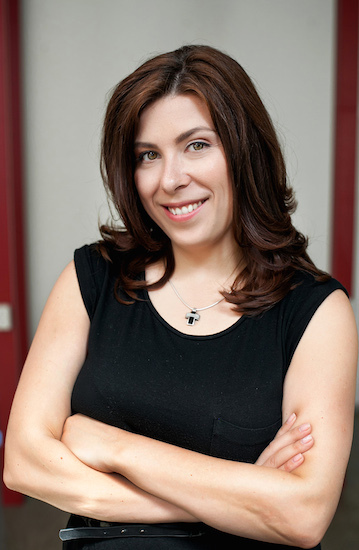 Julia Sinkevych: Last year we were getting much more international support, sales agents felt solidarity and were giving us better conditions in terms of screening fees, we felt more support. Now we see that despite of the fact that the war is not over in Ukraine there is less information in the international media and therefore the issues we're having here are in the background. At the same time, we see that there is a big wave of new, interesting Ukrainian filmmakers who are making documentary films, finding their own language and being passionate about the subject.
For a while, there was a lull in cinema from Ukraine, but lately Ukrainian films have been getting a lot of attention. Do you think it is directly related to the festival and its showcasing power, and what are the future "hits" you foresee from this year's lineup?
Julia Sinkevych: This is true. Last year was successful for Ukrainian films. Because of The Tribe by Myroslav Slaboshpytsky with three awards in Cannes or Maidan by Sergei Loznitsa which was also a festival hit, many festivals have been organizing special programs dedicated to Ukrainian filmmakers. This year many productions were stopped due to the lack of finances so completing a National Competition program was a challenge. However, in my opinion we have several great Ukrainian films like Song of Songs by Eva Neyman and Captum by Anatoliy Mateshko, which will have its world premiere in Odessa, and Living Fire by Ostap Kostyuk. I think that these films will do well internationally.
What is your own background in film, can you talk a bit about that?
Julia Sinkevych: Since I was little I loved films. I remember that we had a cinema next door and at the age of 7 or 8 I would watch one film many times, over and over again. The line-up in cinemas back then wasn't that rich, but I found it so intriguing. I didn't know or ever planned that I would ever be organizing a film festival however my career was always in the field of culture -- organizing various art and cultural events (music, theatre, contemporary arts). When Odessa IFF was established, they were looking for someone who had such experience and could join the team. Since then, watching films has stopped being a hobby and has turned into my everyday work and life which I enjoy very much.
What are some of the highlights of this year's OIFF?
Julia Sinkevych: We're very happy that this year we will host Michael Nyman who will perform during an open-air screening at Potemkin Steps. He composed a soundtrack to the greatest film by Dzyga Vertov Man with a Movie Camera. We were in talks for more than two years and finally this has come true. I am sure that it will be an unforgettable experience both for us and for Mr Nyman. Moreover this year Potemkin Steps will be awarded with the Emblem "Treasure of European film culture" an initiative of the European Film Academy and the emblem will be installed during the festival.
Also we're happy that we will hold a screening of "Lumiere!", the first after its premiere in Cannes and Thierry Fremaux will be presenting it himself.
For the first time in the history of Odessa IFF a woman filmmaker will preside over the International competition jury -- Jeanne Labrune.
An interesting program "Way to Freedom" will take place for the second time showcasing films connected with the topics of human rights, justice and democracy. Also we will present a 20 minute work-in-progress of the documentary film about Ukrainian director Oleg Sentsov who has been kept in a Russian prison for more than a year.
And what should visitors to the festival do when they are not watching films? The best that Odessa has to offer?
Julia Sinkevych: Odessa is a great city with a very special atmosphere and sense of humor. I think that one should definitely visit Odessa Film Studio and walk the Potemkin Steps towards the beautiful Opera House and Deribasovskaya Street; then stop for lunch at one of the restaurants which offer the best cuisine and try famous Odessa "forshmak" (pickled herring) and "okroshka" (summer soup). If you want to know all the news in the city you should go to the Privoz Market and meet a lot of local celebrities there. Since it's summer, one should definitely take a boat trip along the seafront and then always come back to cinema, because Odessa IFF is an important part of the city's life.
All images courtesy of the Odessa International Film Festival, used with permission.
REAL LIFE. REAL NEWS. REAL VOICES.
Help us tell more of the stories that matter from voices that too often remain unheard.