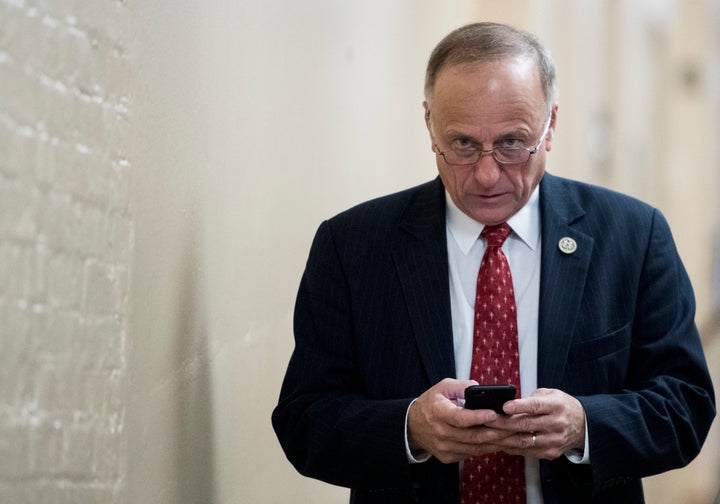 TOP STORIES
Good morning! A technical glitch with our email sender meant today's earlier edition misdirected the links. We apologize for the inconvenience, and the corrected version is below! Thanks as always for being loyal readers.
WHEN A CONGRESSMAN RETWEETS A NEO-NAZI Rep. Steve King (R-Iowa) has been endorsing tweets from a guy who rants about Jews and the fall of Western civilization. [HuffPost] [Tweet | Share on Facebook]
REMEMBER THE HEPATITIS A OUTBREAK LAST YEAR? NOW, IT'S SO MUCH WORSE Cases of the potentially deadly liver disease have nearly doubled as outbreaks spread nationwide. [HuffPost]
EVEN SCOTT PRUITT'S MENTOR IS THROWING HIM UNDER THE BUS In his defense, the mounting pile of corruption scandals involving the EPA chief will do that to you. [HuffPost]
A MOTHER SAYS AUTHORITIES TOOK HER BABY AS SHE WAS BREASTFEEDING AT AN IMMIGRANT DETENTION CENTER Approximately 1,800 families have been torn apart since October 2016. [HuffPost]
THE GRENFELL TOWER WAS LIT UP GREEN TO MARK THE ONE YEAR ANNIVERSARY Of the fire in the London apartment building that killed 72. [HuffPost]
MEET THE 28 "I started jotting their names down after the storm," Temple says, referring to Hurricane Katrina. "My manager would call and say, 'Jube, you hear about your ballplayer who got killed?' I'd say, 'Who?' He'd say, 'Tyrone.' He'd say, 'Jerry.' He'd say, 'Lil' Nathan.' All of a sudden, I end up with a list of 10 of them, then 14, then 16, 17, 18. I'm like, something ain't right here."  [Nola]
WHAT'S BREWING
ASHLEY FEINBERG: 'MY SUICIDE WEEK' "I had a father and a sister who killed themselves. I want to give you some idea of what it's like to exist on the internet on a day like last Friday — what it's like to work on the internet in the midst of the frenzied, all-consuming coverage of an event with personal resonances." [HuffPost]
THIS MAN IS TRAVELING TO ALL 50 STATES TO MOW LAWNS FOR THOSE IN NEED And even Queen Elizabeth II has noticed. [HuffPost]
YES, THE RENT IS TOO (YOU FILL IN THE BLANK) HIGH "There is not one U.S. state, metropolitan area or county in which someone working a 40-hour week on the federal minimum wage of $7.25 can afford to rent a modest two-bed apartment." [HuffPost]
DRAKE: I KNOW YOU WANT A DISS TRACK, BUT HERE'S A REUNION WITH THE 'DEGRASSI' CAST No one is mad about it. [HuffPost]
SCAMMERS GONNA SCAM The guy behind last year's disastrous Fyre Festival faces new charges for another fraudulent ticket scam. [HuffPost]
IT'S OFFICIAL We finally know for sure who bit Beyonce. [HuffPost]
BEFORE YOU GO
Calling all HuffPost superfans!
Sign up for membership to become a founding member and help shape HuffPost's next chapter