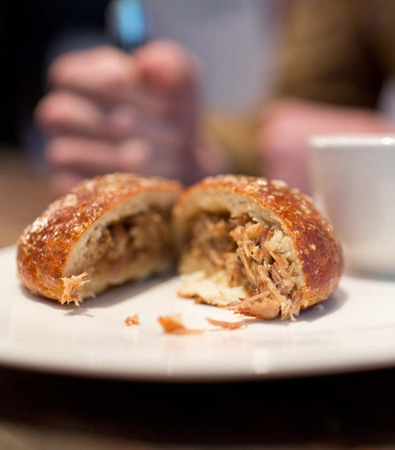 From Jared Leto at the Golden Globes to our very own Brad Leone in the test kitchen, we're seeing fashion-forward, top-knot-inspired Man Buns everywhere. Which got us thinking, if we could eat the food equivalent of the Man Bun, what would it taste like? Probably like beer, pretzels and pork, right?*
So we did the most logical thing we could think of: Braised some fatty pork shoulder in a few cans of beer, then stuffed it into a salty pretzel dough. And just like that, something really, really delicious was born. Perfect for your Super Bowl party or for a lazy weekend snack, this doughy, meaty wonder is beloved by men and irresistible to women. (Also: irresistible to men and beloved by women.) It's the BA Man Bun.
* Okay, truth time: The dudes around here at BonApp know this is a totally outdated, somewhat annoying stereotype -- and that while they certainly enjoy the beer-pork-pretzel trifecta, they're also quite happy luxuriating in radishes, fermenting their own sauerkraut, and counting the ways they love tofu. This "man bun" thing is just a bit of rhetorical hoo-ha we engage in cuz, like, we still find it kinda amusing.
This will make more pulled pork than you'll need, but who would be sad about that? Use the leftovers to make tacos, pulled pork sandwiches, pork stew--whatever your heart desires, really
BEER-BRAISED PORK SHOULDER FILLING
2 lb. boneless pork shoulder (Boston butt)
2 teaspoons kosher salt, plus more
Freshly ground black pepper
2 tablespoons vegetable oil
1 medium onion, thinly sliced
2 12-oz. cans light or dark beer
1 cup milk
1 1/4-oz. envelope active dry yeast (about 2 1/2 tsp.)
1 tablespoon light brown sugar
3 cups all-purpose flour
2 teaspoons kosher salt
1 teaspoon baking powder
1/4 cup unsalted butter, room temperature
Nonstick cooking oil spray
3 tablespoons baking soda
1 large egg, beaten to blend
Flaky sea salt (such as Maldon)
Dijon mustard, cornichons, and cold beer (for serving)
BEER-BRAISED PORK SHOULDER FILLING
Preheat oven to 325 degrees. Season pork with pepper and 2 tsp. salt. Heat oil in a medium Dutch oven or other heavy pot over medium high heat and cook pork until golden brown on all sides, 8-10 minutes. Stir in onion to coat, then add beer and bring to a simmer.
Cover and cook in oven until pork is falling apart, 2 1/2-3 hours. Let cool slightly. Shred pork with 2 forks, mixing with braising liquid and onion; season with salt and pepper.
DO AHEAD: Pork filling can be made 5 days ahead. Let cool; cover and chill.
Preheat oven to 425 degrees. Gently warm milk in a small saucepan over medium heat until warm (do not let it get hot). Transfer to the bowl of a stand mixer and whisk in yeast and brown sugar. Let sit until yeast starts to foam, about 5 minutes. Add flour, salt, baking powder, and butter and knead with dough hook until dough is smooth and elastic, about 5 minutes. (Dough should not be sticky or tacky.)
Lightly coat a medium bowl with nonstick spray and transfer dough to bowl. Cover with plastic wrap and let stand in a warm, draft-free place until doubled in size, 1 1/2-2 hours.
Alternatively, cover dough and chill overnight.
Divide dough into 10 pieces. Using the palm of your hand, gently roll pieces on an unfloured surface into balls. Loosely cover with plastic wrap and let stand 10 minutes.
Using the palm of your hand, flatten each ball into 3"-diameter rounds. Place 2 Tbsp. pork filling in the center of each round. Bring up edges and pinch together to create a parcel. Gently roll buns, seam side down, to close.
Bring 2 quarts salted water to a boil and add baking soda.
Line a rimmed baking sheet with parchment paper and spray with nonstick spray.
Working in batches, boil buns 2 minutes (they will puff up and float, so don't crowd the pot). Using a slotted spoon, transfer to prepared baking sheet, spacing about 1 1/2" apart.
Brush buns with egg and sprinkle with sea salt. Bake, rotating halfway through, until golden brown, 20-25 minutes.
Serve immediately with mustard, pickles, and beer.
See more from Bon Appetit: