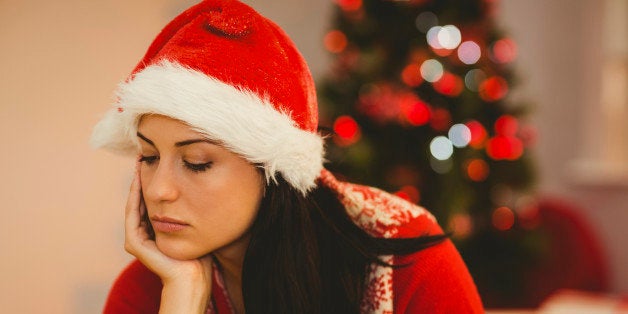 While everyone seems festive and joyful, you're feeling blue -- downcast and sad -- weighed down by grief. It can feel extremely lonely when your heart is heavy with sorrow but those around you are expecting you to smile and be happy. If you're grieving the loss of a loved one, it is anything but "the most wonderful time of the year."
There may be many reasons to feel stressed during the holidays, but grief brings its own brand of challenges. If you're grieving this year and are wondering how you'll survive the season, use the following six suggestions to ease the way.
Just Say "No"
Although friends and family members may expect you to be the same this year, clearly you are not. That means you need to reflect on your traditions and - for this year, at least - say 'no' to anything that feels too overwhelming or painful. You may not want to put up a tree. You may be unable to send holiday cards. You may be completely unmotivated to bake your holiday cookies. It doesn't matter if your loved ones understand. You need to take care of yourself. Give yourself a break this year and only do things that provide some comfort. You have permission to say "no, no, no" instead of "ho ho ho".
That said, if you have to carry on with some customs for the sake of others, ask for help and make easier choices like shopping online or purchasing baked goods.
Breathe
Never underestimate the calming power of a long, low, deep breath with a long, low exhale. Taking a deep breath activates the parasympathetic nervous system (the calming device in our bodies). Try taking a deep breath every time you wash your hands. Thread your days with restorative breaths. Remember that time is marching on and this holiday season will eventually be over.
Let Yourself Feel Your Feelings
You're grieving so let yourself feel the sadness. Grief is a process and must be honored as such. Perhaps you need to excuse yourself from family gatherings to have a cry, take a quiet walk, or even nap. While grief takes up energy and will leave you exhausted, stifling the grief takes up even more energy. So let your pain find its expression.
Know that You're Not Alone
Millions of people are grieving every year and are missing the presence of their dear ones. Connect with others who understand and on-line support sites.
Donate a Gift in Honor of Your Loved One
Consider shopping for and donating a gift in memory of your beloved one who is physically gone from this planet. Hospitals, shelters, schools, charities, libraries, would be grateful for gifts in honor of your loved one.
Keep Connected To Your Loved One
Don't be afraid to share memories of your loved one (even if it provokes tears). Sharing memories is a healthy way to keep an ongoing connection with your loved one. Honoring them with a lit candle at the holiday table or putting a new ornament on the tree will stimulate reminiscence and allow their presence in the room. Remember that love is eternal.
With these six survival strategies, hopefully you'll find a little more hope and healing through the holiday season.
This post is part of Common Grief, a Healthy Living editorial initiative. Grief is an inevitable part of life, but that doesn't make navigating it any easier. The deep sorrow that accompanies the death of a loved one, the end of a marriage or even moving far away from home, is real. But while grief is universal, we all grieve differently. So we started Common Grief to help learn from each other. Let's talk about living with loss. If you have a story you'd like to share, email us at strongertogether@huffingtonpost.com.
Related