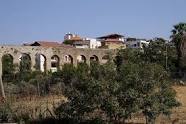 The other day, I sat with my friend, Jumana, in her kitchen when I heard the egg man make his way through her village which sits across the road from my village in northern Israel. "Bade taza!" he shouted in Arabic into his megaphone. "Fresh eggs!"
Well, it wasn't Eddie the Good Humor man whom I used to wait for when I was a little girl back in Great Neck, New York. But I felt a similar excitement: I'd never bought eggs from a traveling salesman before.
I'm always up for an exotic adventure, for diving head first into a postcard. Even when I was twelve, I felt compelled to embellish my boring life in suburbia, and wrote to a Midwestern pen-pal that I lived on a farm with six siblings, horses and cows. My imaginary life trumped my real life, in which I had only one sister, a mother who sold antique jewelry, and a father who worked in what he called shmatehs in the New York Garment District.
My parents instilled in me a belief in civic participation -- my mother even encouraged me to miss school to attend demonstrations against the Vietnam War -- and they often talked about Israel, where our cousins had lived since right before the World War I. When I decided to move to a small beach village on the Mediterranean coast in Northern Israel in 1991, I packed that optimism along with me.
Over the years, I raised four children and two stepchildren, did freelance journalism, and clung to my American-born confidence in civic discourse, the conviction that dialogue and compromise can untangle even the knottiest disagreements. But Middle Eastern reality hit me hard. Nobody shared my sense of urgency to end the ever-widening conflict. If it took a couple more decades to establish a lasting peace and economic and social stability, it was no big deal. These clashes have a long shelf life. Like more than a millennium.
It's not as if I didn't try. I convinced Jumana to help start a local Muslim-Jewish women's peace group and we organized a walk for a battered women's shelter housing both Arab and Jewish women. One of our group's most memorable meetings was when a Muslim woman shared her memories growing up among Jews in the nearby town of Akko, and then a Jewish woman spoke about her childhood among Muslims before her family fled Cairo. The group met every now and then until it fizzled out, mostly from apathy. And Jumana's had it tough. About fifteen years ago, her husband squabbled with her father. She sided with her father and then her husband moved out.
"Just because your husband left you doesn't mean your life is over," I told Jumana, not for the first time, that morning as we drank sweet Turkish coffee in her kitchen.
"But in this village, my life is over," she said.
"Why don't you get a job? Go back to school?"
She answered with an upward tilt of her chin. "I already tried that."
Then the egg man appeared. Every day, vendors wind through the village hawking their wares because many of the older women don't drive. The drive-by merchants sell fruit, clothes, and now eggs, which I wanted to buy.
Jumana walked to the window. "We'll wait until he circles around and then we'll go downstairs," she said.
I joined her and looked out. I could see the flat roofs of white and pastel-colored houses, laundry lines, and the minaret of the mosque. The village is only a mile from my house but each time I visit, its traditional, conservative way of life pulls me like a time traveler back into the past.
The egg man pulled up with eggs in flat, open cardboard cartons in his trunk. They were so fresh, those eggs, they still had feathers clinging to them.
After I paid and he drove away, Jumana said, "He charged you less because he's a Jew and so are you."
"I don't think so," I said, but I hadn't paid attention to the change. Then I thought of buying spices in the Akko souk with one of my sons; he said that because I was a Jew, the Muslim vendor charged me more.
Jumana got a towel and wrapped up my egg carton, swaddling it like a newborn. I placed it in the back of the Kymco scooter I use to get around. As I made my way down the street, people turned to stare. With my bright blue motorcycle helmet on, I can never blend into this village where you rarely see a girl on a bicycle. I crossed the main road and was home within minutes.
Some of the eggs had broken, and as I cleaned up the mess, I thought of Humpty Dumpty. Of course, it's only a nursery rhyme but I couldn't ignore the symbolism. It's tough to stick to my idealistic principles in the Middle East these days, when so many lives are broken and can't be put together again.
Calling all HuffPost superfans!
Sign up for membership to become a founding member and help shape HuffPost's next chapter