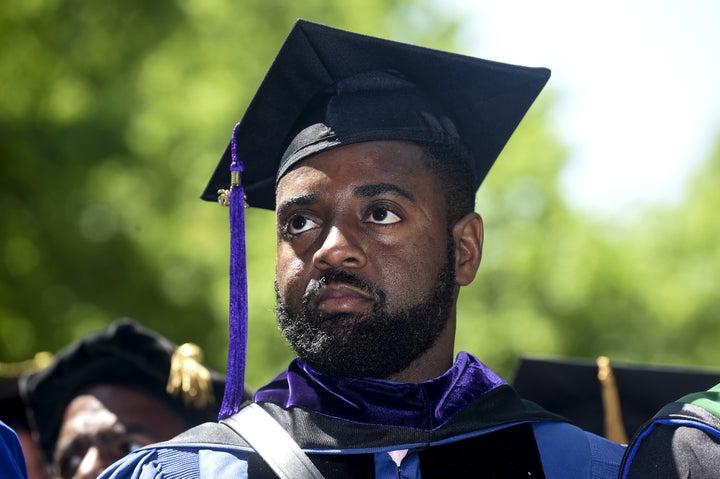 When Dwayne Betts was 16 years old, he was involved in a carjacking with a friend. He received three felony convictions and went to prison for eight years.
After prison, Dwayne became an award-winning poet and author, graduated from the University of Maryland, held a Radcliffe Fellowship at Harvard University, and graduated from Yale Law School. His book "A Question of Freedom: A Memoir of Learning, Survival, and Coming of Age in Prison," won a 2010 NAACP Image Award.
Not only did he accomplish all of these things after nearly a decade in prison, he became a husband and father of two sons. He has been working for the state public defenders' office in New Haven, CT and most recently, he passed the Connecticut state bar exam in hopes of practicing law in the state.
With a system stacked against the formerly incarcerated, Dwayne did everything right and more.
Somehow, that's not enough. Because of his nearly 20-year-old conviction, Dwayne was not admitted to the bar. Instead, the Connecticut Bar Examining Committee is now reviewing whether he has the "good moral character" to be admitted and will hold a hearing in September. While Connecticut does not prohibit felons from becoming attorneys, applicants must demonstrate "clear and convincing evidence" that they are fit to practice law.
When Leif Dautch, a prosecutor and Commissioner for the San Francisco Juvenile Probation Department, heard Dwayne's story he decided to launch a Change.org petition to rally support for Dwayne's admission to the bar. His petition already has over 50,000 signatures.
In his petition, Leif writes:
"As a fellow Yale graduate and a Commissioner for the San Francisco Juvenile Probation Department, I know that what Dwayne has accomplished is no easy feat. He took advantage of every opportunity we give juvenile offenders to help them make positive choices. But instead of celebrating his accomplishments, he's being told he can't become a lawyer because of a mistake he made 20 years ago."
Leaving prison is a challenge. Formerly incarcerated people are practically setup to fail. A U.S. Sentencing Commission study showed that among 25,400 federal prisoners, nearly half were arrested again within eight years. Dwayne, on the other hand, made the most of opportunities provided to him as a juvenile offender. And while formerly incarcerated people shouldn't have to accomplish the incredible number of things that Dwayne Betts has in order to be given a second chance, it's a mistake to not immediately recognize these achievements.
It's hard to see what more the Connecticut Bar could ask of Dwayne Betts or how his accomplishments up to this point aren't enough to allow him admission to the bar without having to jump through hoops to prove himself worthy. But if his track record thus far tells us anything, he will be practicing law soon enough.
You can add your name to Leif Dautch's petition here.
Jonathan Perri is Director, Campaigns & Partnerships at Change.org. Follow him on Twitter @_jonperri
REAL LIFE. REAL NEWS. REAL VOICES.
Help us tell more of the stories that matter from voices that too often remain unheard.