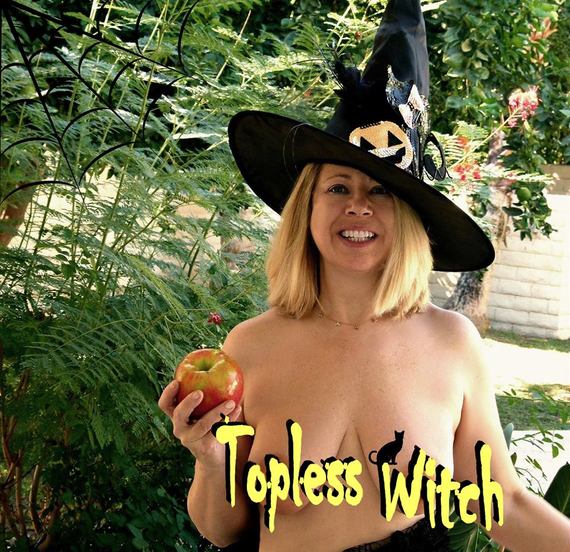 Boo!! Halloween's the scariest time of year for kids and the sexiest for adults. There'll be fun, sexy Halloween parties all over the U.S. starting this Saturday October 26th and of course on the actual day of Halloween, Thursday October 31st.

According for Forbes.com one of the reasons Halloween is so popular with adults is "there's the fantasy, role-play element" to it. At least six million adults will dress as witches and 3.2 million as vampires for Halloween. Of course topless witch costumes are popular with or without pasties and the cover of Rolling Stone Magazine even featured naked vampires.

Halloween is the one time of the year where adults become more daring and baring at parties. Last year, for instance, Lady Gaga went to a Halloween party dressed just as a topless mermaid.

The Daily Beast website reports this year's pop culture sexiest and most daring costume choice will be a Miley Cyrus naked wrecking ball costume. Just wear your birthday suit with a big grey spray painted ball and chain.

Where do you go to be your barest? The American Association for Nude Recreation lists over 260 nudist resorts and clubs all across the U.S. and Canada. Most are having nude Halloween costume parties. Many are in warm weather locations, like The Terra Cotta Inn clothing optional resort, located in sunny Palm Springs, California, and Cypress Cove, located in Kissimmee, Florida. At these resorts just body paint and a smile are always fun costume choices. And first timers are always welcome at Halloween or any time of the year.

Fantasy Fest in Key West, Florida is another fun destination to show off your sexiest and barest costume.

For the prudes out there that aren't into sexy costumes, here are five popular, non-sexy Halloween destinations:

1) Knotts Berry Farms, Buena Park, California

2) Salem, Massachusetts

3) New Orleans

4 Sleepy Hallow, New York

5) Orlando, Florida with Disney World's "Mickey's Not-so-Scary Halloween Party," SeaWorld's "Shamu's Halloween Spooktacular," the Central Florida Zoo's "Zoo Boo Bash," and "Halloween Horror Nights."