After the January 12 earthquake in Haiti, Western leaders announced bold blueprints for building a "New Haiti." This reconstruction, they emphasized, would be "Haitian-led," based firmly on the principle of respect for "Haitian sovereignty" and carried out through "full and continued participation" by Haitians, "consistent with the vision of the Haitian people and government." At the March 31 International Donors Conference Towards a New Future for Haiti at the UN headquarters in NYC, nearly 10 billion dollars were pledged for Haiti's recovery. Nicholas Sarkozy -- the first French president to visit Haiti since the latter won its independence from French colonial rule -- proclaimed during his historic February 2010 trip to Port-au-Prince, "International aid must be massive and be there for the long term."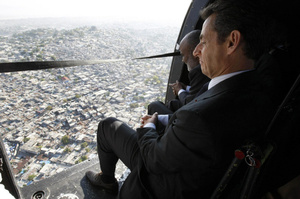 "Now is the time to step up our investment in Haiti," Clinton reiterated in April at an Inter-American Development Bank meeting in Washington, D.C. Yet six months after the earthquake, the plan for a "New Future for Haiti" (a "Haitian-led" effort which is curiously being funded under World Bank oversight, through a commission whose 20 voting board members include only seven Haitians) seems remote indeed.
A partial index of the West's "humanitarian efforts" in Haiti so far:
Amount pledged for Haiti's reconstruction over the following 18 months at the March 31 UN conference: $5,300,000,000
Percentage of this amount that has been paid: 1.9
Amount of pledged U.S. bilateral search and rescue assistance to Haiti that was delivered in the wake of the earthquake: $0
Value of the no-bid contract the U.S. government awarded the private prison group GEO in the month after the earthquake:$260,589
Ratio of U.S. pledges for Haiti's reconstruction to Venezuelan pledges: 1:2
Value of aid the French government has promised Haiti through pledged contributions to UN agencies, NGOS and the Red Cross: $180 million
Quantity of this aid that has been delivered: $0
Cost of the French secretary of state for overseas development's travel via private jet to a conference on aid for Haiti: $143,000
Estimated number of Haitians who remain homeless after the earthquake: 1,500,000
Amount that has been collected for Haiti relief by U.S. charities: $1,300,000,000
Number of Haitians without even tents or tarps for shelter: 232,130
Haiti's global ranking in terms of the number of NGOs operating in the nation, measured globally on a per-capita-basis: #1
Haiti's global NGO-per-capita ranking before the earthquake: #1
Ratio of Haitian-produced rice to U.S.-imported rice consumed in Haiti in 1985: 22:1
Ratio of Haitian to US-produced rice consumed in Haiti in 2000, 5 years after an IMF structural adjustment program went into effect reducing rice import tariffs: 1:2
Value of USAID's current contract with a subsidiary of the parent company of American Rice Inc., the corporation that is considered to have most benefited from the demise of Haitian rice production: $126,000,000
Value of total French humanitarian assistance to Haiti since the earthquake: $35,956,408
Estimated value today of the compensation Haiti paid France for lost French slave trade profits after Haiti, a former French slave colony, won independence: $40,000,000,000
Calling all HuffPost superfans!
Sign up for membership to become a founding member and help shape HuffPost's next chapter