A screenshot of the glitch, confirmed by HuffPost Politics, was posted to Twitter by a user named Bomani Buckhalter.
"The screenshot first appeared from a fellow Howard University alum in our alumni GroupMe. I tested it out myself, and it started to spread rapidly in the other Howard University/DMV area GroupMe," Buckhalter told The Huffington Post.
"It is location based, so [for] some of the students that are not currently in D.C., the search result was different. However, even if you're not in D.C., 'nigga house Washington D.C.' shows the same result," he added.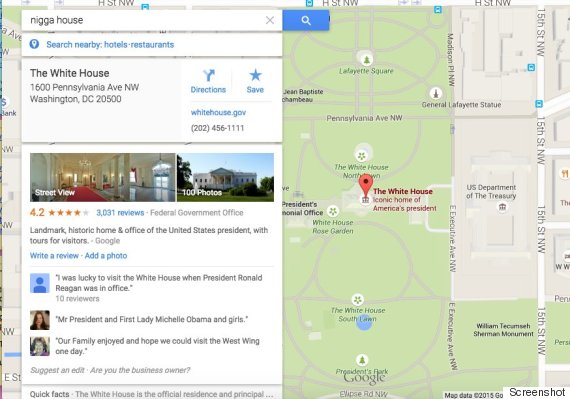 Dropping the "a" and opting for the proper spelling of the slur achieves the same results for users in the D.C. area: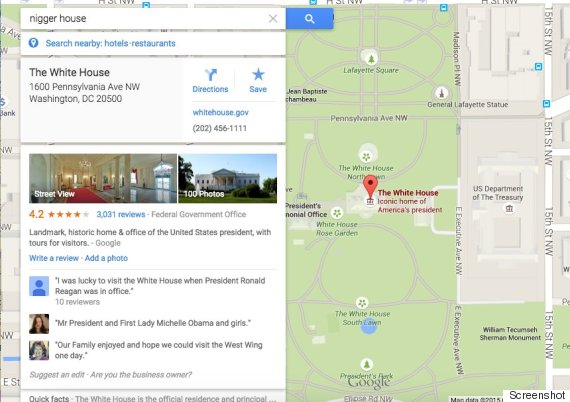 As Buckhalter noted, results can vary depending on a user's location. One Twitter user found that typing the term into Google Maps took her straight to a Waffle House.
Another user searched for a variant that led her to Howard University, a historically black university.
It's unclear exactly what's happening here. Reached for comment, a company spokesperson told HuffPost, "Some inappropriate results are surfacing in Google Maps that should not be, and we apologise for any offence this may have caused. Our teams are working to fix this issue quickly."
The spokesperson did not explain why the results are popping up.
Google Maps has fallen victim to pranks in the past. Bryan Seely, who has created fake listings for the U.S. Secret Service and the FBI in Google Maps, explained to Search Engineland how hackers typically create such listings:
You create a business in Google Maps at an address where you can receive mail and with a phone number you can receive calls to. You get Google to send you a verification postcard to the address. Once the business is verified, you delete it from your account. Then you use another Google account to claim this now orphaned business. You gain control over it by doing verification via phone. Once that's happened, you're free to move the business to anywhere you want, change the name and alter other details.
Seely used this scheme to create a fake Google Maps entry last month for Edwards Snow Den, a "snowboard shop" with the same address as the White House. As far as we know, the famed NSA leaker was not anywhere 1600 Pennsylvania Ave at the time.
This story has been updated to include further examples of Google Maps searches and comment from a Google spokesperson.
Support HuffPost
The Stakes Have Never Been Higher
Before You Go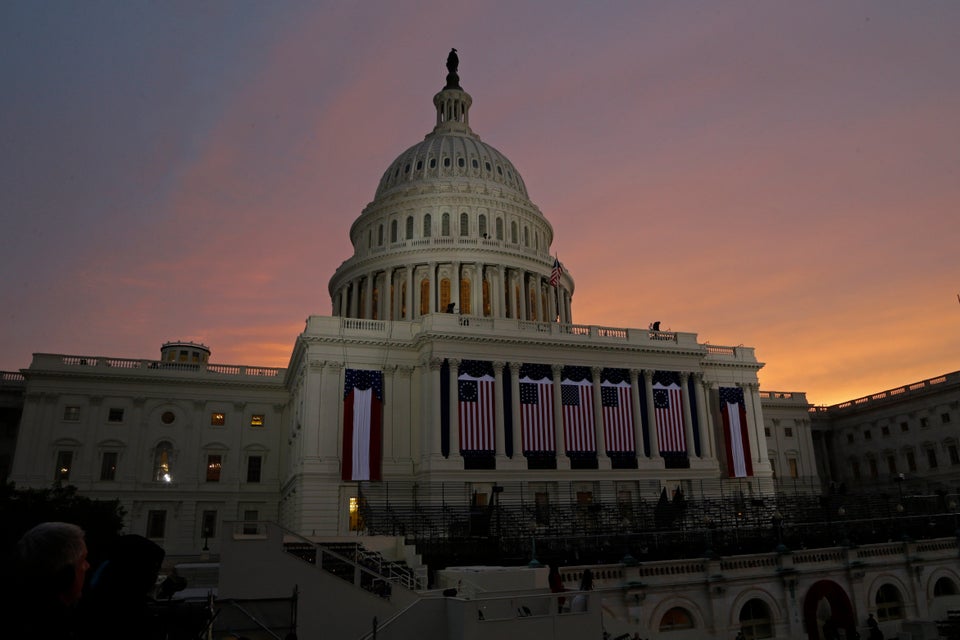 U.S. Capitol Photos
Popular in the Community