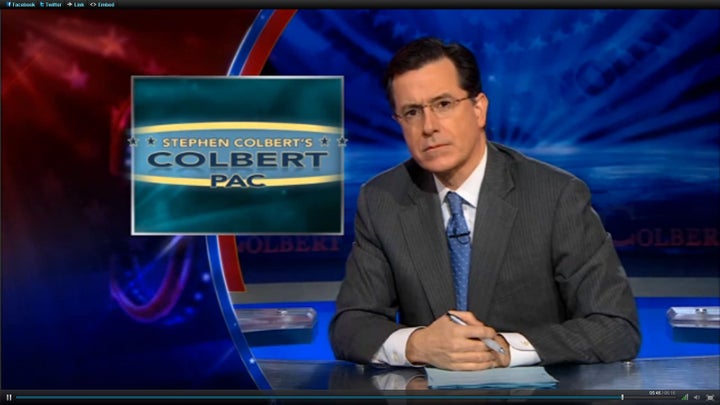 A Social Media Tale-of-the-Tape
Jon Stewart and Stephen Colbert have quite a bit in common. Both men are successful comedians and late night talk show hosts on Comedy Central. Both are award-winning left-leaning pundits. Both have a huge following online and offline. But who is more likeable? Who is the true man of the people? To find out the answer to this essential question, we turned to social media.
Facebook, the world's largest social network, boasts over 500 million users worldwide. Both comedians enjoy popular fan pages, where daily posts for each draw hundreds of comments and Facebook applications drive user engagement and entertainment. Neither has the popularity of one of the world's most popular entertainers on Facebook, Vin Diesel (21 million fans), but both are at the top of their game. Nearly 2 million people "like" The Colbert Report, but over 2.5 million people "like" Stewart's The Daily Show. Edge: Stewart.
Next, we turned to Twitter, which recently topped 300 million accounts worldwide. Both show's accounts post daily highlights on Twitter, with video links to what's happened and happening on air. Neither comedian's show is amongst the world's top Twitter followings (Lady Gaga tops all Tweeters with over 10 million followers), but @TheDailyShow weighs in at 300,000+ followers to @ColbertReport's 70,000. Edge: Stewart
The final anaylsis portrayed a very different picture. A look at their personal social media use showed neither personality on Facebook. On Twitter, though, Colbert personally tweets from the @StephenatHome account, several times daily. His wisdom and wit (twisdom and twit, as they might be known on the junior social network) have earned Colbert over 2.3 million followers . Colbert has even been presented on-air with the first Golden Tweet award from Twitter co-founder Biz Stone.
While Colbert is a golden tweeter, Stewart has remained silent on the sidelines. He has never sent a tweet, and as of now, has no personal Twitter account whatsoever. At a time when everyone from journalists to athletes to congresspeople are tweeting away, Stewart, one of the world's most popular entertainers, is tweetless.
That brings the Facebook-plus-Twitter follower counts to: Stewart: 2.8 million, Colbert, 4.3 million. Until Jon Stewart begins tweeting, Stephen Colbert must be crowned the most likeable man on Comedy Central between 11:00 and midnight each night. With a combined following of over 4 million, he's no Lady Gaga or Vin Diesel, but Stephen Colbert is the king of late night television and social media.
Calling all HuffPost superfans!
Sign up for membership to become a founding member and help shape HuffPost's next chapter