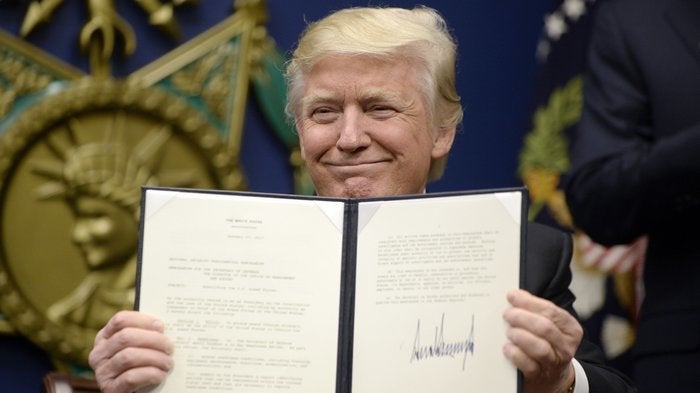 Several months ago, the University of Virginia chapter of College Republicans released a joint statement with the UVA University Democrats criticizing President Trump's controversial executive order that suspended the entrance of refugees into the U.S. for 120 days and barred immigration from seven nations. Since that statement was issued, I have been called a "RINO" (Republican Only In Name) and told I've "betrayed" the Republican Party and that I should've shut my "yap."
Why was I moved to oppose a president of my party?
I am close to two people who come from some of the seven countries included in this policy. One is my roommate from last year, a graduate student from Iran, holding a green card and studying architecture. The other is a professor I've studied with for almost three years, a citizen of the United States who emigrated from Yemen.
I don't blindly support my party or any action undertaken by a member of my party. When I decided to register as a Republican, I didn't sign a contract promising my fealty. I joined the party because I believed, more often than not, that they represented the values important to me. We made a fair exchange: I gave them my vote on the condition that they promised to represent me, our country, and our Constitution. If they violate the terms of the agreement, I'm free to take my vote somewhere else. Protecting true American values and the rights of individuals will always be more important to me than the temporary success of my party.
I have been called a 'RINO' (Republican Only In Name) and told I've 'betrayed' the Republican Party and that I should've shut my 'yap.'
These women are not a threat to our country. To reduce them to that is an immense disservice. They are kind, fiercely intelligent, dedicated and passionate. We aren't merely allowing them to take up space in our country. We are lucky they chose to come here and to bring their talents and contributions to us. Thanks to the change in policy, much of my old Iranian roommate's family can't visit her in the United States, and she can't return to Iran with any guarantee that she'll be able to come back to her studies in the United States. My professor, who has had to hear about the destruction of her birth country only from the news, knows that refugees ― who could have been her under slightly different circumstances ― are not welcome in her new home country.
I wish these were the worst repercussions of Trump's order, but they're not. Refugees and immigrants who've waited years to properly attain the documentation to come to the United States and to escape dangerous and war-torn countries are being turned away at the last moment. Even worse, people who took risks to serve as interpreters and translators to our nation ― and who are now in danger because of this very same sacrifice and bravery ― are being denied admission to the country they tried to help.
What makes a Republican a Republican should be that we don't judge policies based on their intentions, no matter how good they may be. First we look at constitutionality, then practicality and efficacy ― Trump's executive order fails on both counts. Trump's executive order discriminates based on country of origin, if not religion. In all of the confusion, we are mistakenly detaining people who weren't even the intended targets of the order. We are providing fodder for ISIS recruitment propaganda ― not making America safer.
Calling all HuffPost superfans!
Sign up for membership to become a founding member and help shape HuffPost's next chapter
BEFORE YOU GO