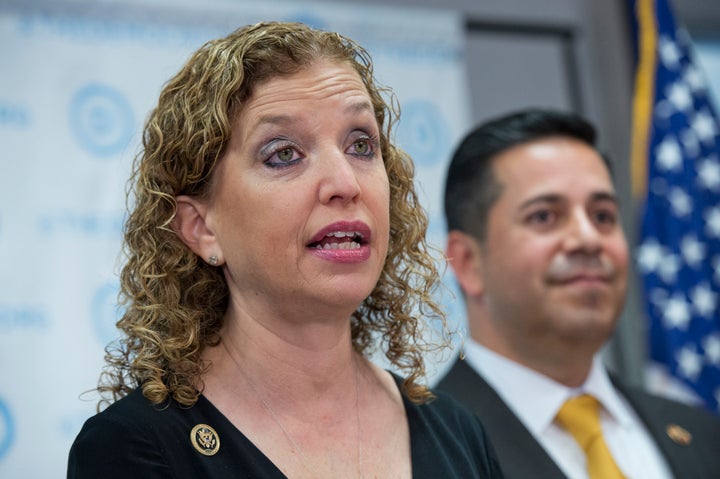 On July 22, 2016 WikiLeaks released around 20,000 emails apparently from top DNC officials, illustrating that Democratic officials favored Hillary Clinton over Bernie Sanders. The email release, only days away from the Democratic Primary, shed light into potential election fraud (the DNC hasn't confirmed the accuracy of the email release) and questions regarding how Clinton won the presumptive Democratic nomination. Bernie's faith and belief in God was questioned by DNC strategists in one WikiLeaks email, as illustrated in a Washington Post article by Tom Hamburger and Karen Tumulty titled WikiLeaks releases thousands of documents about Clinton and internal deliberations:
One email written May 5 to DNC communications director Luis Miranda from another party official suggests looking at Bernie Sanders' faith.

[WikiLeaks: Democratic Party officials appear to discuss using Sanders's faith against him]

"It might may [sic] no difference, but for KY and WVA can we get someone to ask his belief," the email from "marshall@dnc.org" says. "Does he believe in a God. He had skated on saying he has a Jewish heritage. I think I read he is an atheist. This could make several points difference with my peeps. My Southern Baptist peeps would draw a big difference between a Jew and an atheist."

It was well known that there had been friction between the Sanders campaign and an ostensibly impartial party apparatus.

The emails detail how bitter the relationship became, as the senator emerged as a real threat Clinton — the Democratic establishment's pick…
With the Democratic Nomination upon us, it's clear that questions remain regarding the legitimacy of fair elections. Targeting Sanders as being an atheist, in order to gain votes, is something that presumably Bill Maher, and other American atheists would find reprehensible.
Like The Washington Post, the DNC's possible favoritism is highlighted in an ABC News piece by Alana Abramanson and Shushannah Walshe:
Just days before the Democratic National Convention, Wikileaks has released emails from topDNC officials that appear to show the inner workings of the Democratic Party and what seems to be them attempting to aid the Hillary Clinton campaign during the primaries.

Several of the emails released indicate that the officials, including Chairwoman Debbie Wasserman Schultz, grew increasingly agitated with Clinton's rival, Bernie Sanders, and his campaign as the primary season advanced, in one instance even floating bringing up Sanders' religion to try and minimize his support.

"It might may [sic] no difference, but for KY and WA can we get someone to ask his belief," Brad Marshall, CFO of DNC, wrote in an email on May 5, 2016. "Does he believe in God. He had skated on saying he has a Jewish heritage. I read he is an atheist. This could make several points difference with my peeps. My southern baptist peeps woudl draw a big difference between a Jew and an atheist."

Amy Dacey, CEO of the DNC, subsequently responded "AMEN," according to the emails.

During the primary battle, Sanders and his supporters accused both the party and Wasserman Schultz of putting their thumb on the scale for Clinton and these emails may indicate support for those allegations…

After the Nevada Democratic Convention, where things got out-of-hand over a delegate fight, Wasserman Schultz called Sanders campaign manager Jeff Weaver a "damn liar." In another instance, she referred to him as an "a―," according to the emails.

The DNC did not respond to requests for comment. The Clinton campaign did not immediately respond to a request for comment.

The leak exploded on social media with Sanders supporters expressing anger and frustration that the emails appeared to suggest the party was colluding with the Clinton campaign and plotting against the senator. Some even called on Sanders to revoke his endorsement of the presumptive Democratic nominee.
When Wasserman is calling Jeff Weaver a "damn liar" and "a- - ", it goes without saying that the Democratic Primary was rigged towards one candidate.
Like The Washington Post and ABC News, an Observer piece by Michael Sainato highlights potential election fraud on a massive scale:
Wikileaks Proves Primary Was Rigged: DNC Undermined Democracy

20,000 freshly leaked emails reveal resentful disdain toward Sanders, as party favored Clinton long before any votes were cast

On July 25, the Democratic National Convention will begin in Philadelphia, Pa. To commemorate the event and its embrace of corrupt politician Hillary Clinton as the Democratic nominee, Wikileaks is releasing thousands of DNC/Clinton emails.

In its recent leak of 20,000 DNC emails from January 2015 to May 2016, DNC staff discuss how to deal with Bernie Sanders' popularity as a challenge to Clinton'scandidacy. Instead of treating Sanders as a viable candidate for the Democratic ticket, the DNC worked against him and his campaign to ensure Clinton received the nomination.

One email from DNC Deputy Communications Director Eric Walker to several DNC staffers cites two news articles showing Sanders leading in Rhode Island and the limited number of polling locations in the state: "If she outperforms this polling, the Bernie camp will go nuts and allege misconduct. They'll probably complain regardless, actually."

…Instead of treating Sanders with impartiality, the DNC exhibits resentful disdain toward him and the thousands of disenfranchised voters he could have brought into the party.

"Wondering if there's a good Bernie narrative for a story, which is that Bernie never ever had his act together, that his campaign was a mess," wrote DNC Deputy Communications Director Mark Paustenbach to DNC Communications Director Luis Miranda, in response to backlash over DNC Chair Debbie Wasserman Schultz shutting off the Sanders campaign's access to voter database files.

Another chain reveals MSNBC's Chuck Todd and DNC staff members discussing how to discredit MSNBC's Mika Brzezinski's call for Wasserman Schultz to resign.

Most of the emails released come from seven prominent DNC staff members: senior adviser Andrew Wright, national finance director Jordon Kaplan, finance chief of staff Scott Comer, Northern California finance director Robert Stowe, finance director of data and strategic initiatives Daniel Parrish, finance director Allen Zachary and Miranda.

The release provides further evidence the DNC broke its own charter violations by favoring Clinton as the Democratic presidential nominee, long before any votes were cast.
Contrary to assurances by Wasserman and other DNC officials of impartiality, the WikiLeaks email release today points to a completely different narrative.
Finally, the WikiLeaks release of DNC emails is also documented in a Heavy.com piece by Stephanie Dube Dwilson titled WikiLeaks List: Most Damaging Emails About DNC, Clinton, & Bernie:
WikiLeaks kept its promise to release a series of emails related to Hillary Clinton, Bernie Sanders, and the DNC. The emails show the DNC working against Bernie Sanders during the primary, with some startling tidbits such as how the DNC considered denying a Bernie delegate admittance to a fundraiser because she supported Bernie.

The DNC was also only concerned about reduced polling locations in Rhode Island because it might give Sanders' supporters more reasons to complain. Many of these emails are part of the emails discovered from a hack of the DNC by Guccifer 2. With 19,252 emails released from the Democratic National Committee, including 891 documents and 175 spreadsheets, it can be a little overwhelming to go through them all.

That's why we're providing in-depth coverage of the most interesting Hillary Clinton and Bernie Sanders emails in this gallery.
Needless to say, Bernie supporters around America and the world are frustrated, and profoundly disappointed by the revelations from WikiLeaks recent emails.
As for the impact of WikiLeaks on this Democratic Primary and the Democratic Primary, I echo the views of many Bernie supporters in my latest YouTube segment. If the emails are actually the emails of top Democratic officials working overtime to ensure a Clinton presidency, we know that Bernie Sanders was never given a fair and equal opportunity to win the nomination. The fact that Clinton still needs super-delegates to secure the nomination speaks volumes, considering that Bernie Sanders battled all the way until California. Ultimately, while Bernie Sanders endorsed Clinton, his campaign is still alive. If Bernie makes the case at the Democratic Convention to become nominee, all he has to do is cite the WikiLeaks emails. If Clinton becomes nominee, Dr. Jill Stein of the Green Party is a refuge, and viable and powerful choice for president. Like Dr. Cornel West stated about Stein, "Sister Jill Stein, for me, is somebody that's worth fighting for."
Popular in the Community