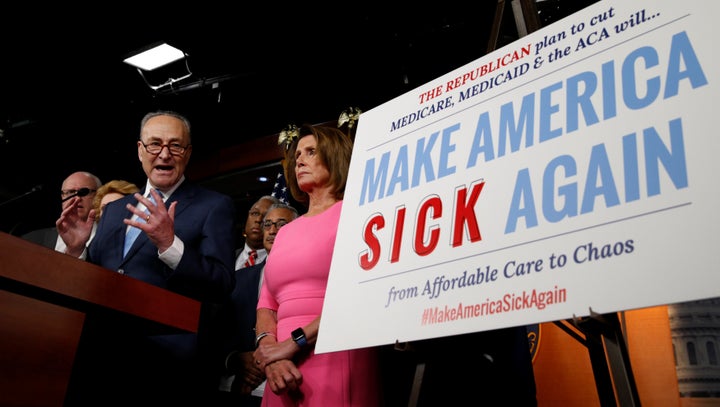 In its 125-year existence, Atlanta's Grady Memorial Hospital has weathered every stormy passage through our nation's fitful journey toward equal access to health care for all its citizens.
As Georgia's largest public hospital, Grady's very mission is to provide care to anyone who needs it, regardless of ability to pay. That, and the education it provides for doctors in training, makes it an essential player in Atlanta and Georgia's medical marketplace.
If you live in a major city in the U.S., there's a Grady-type hospital doing the same thankless job for decades in your community – rescuing Americans so they don't die on the streets – and taking the demand for charity care off of nonprofit and for-profit hospitals with much healthier bottom lines.
Pay attention to what might happen in these places over the next year or so. They could be in big trouble fast as the new Republican Congress and the president-elect make good on their plans to repeal the 2010 Affordable Care Act.
All of the proposals for replacing the Obamacare are designed to increase the responsibility of Americans to plan for, and pay for, much of their own care.
 At the heart of the upcoming debate about repealing Obamacare will be Medicaid, the single most important payer of health care services to poor patients at safety net hospitals like Grady. While much of the repeal and replace discussion has focused on people who have gained insurance through the public exchanges in recent years, it's important to remember that about 12 million of the 20 million Americans who qualified for new coverage were enrolled through the ACA's expanded Medicaid program. What happens to them – whether they are able to keep the coverage they have only recently received – will impact not just their health, but also the financial viability of the public hospitals that take care of them.
President-elect Donald Trump – never much for details – hasn't outlined his vision of what a replacement plan for Obamacare might look like. But Speaker of the House Paul Ryan and Health and Human Services secretary nominee Tom Price have a lot of ideas, even as they struggle politically within their GOP ranks over specifics.
All of the proposals for replacing the Obamacare are designed to increase the responsibility of Americans to plan for, and pay for, much of their own care.
Most would change the health insurance marketplace in a way that would financially benefit younger, healthier people so they could buy bare-bones coverage and pay much cheaper premiums with the tax credits Republicans propose to give them. At the same time, they would likely impose higher premium and out-of-pocket costs for older, chronically ill Americans who have not yet qualified for Medicare.
The uninsured elderly would also get a tax credit, but it may not be enough to buy the benefits they have now. That's the basic tradeoff for what might happen within the commercial market exchange.
Republicans promise these new plans don't necessarily return us to the bad old days of 2010 when the U.S. was approaching 50 million people without insurance and insurance carriers could reject applicants with pre-existing conditions. But independent analysis of the proposals also show they don't come close to covering as many people as the ACA has succeeded in getting signed up for insurance since if was implemented three years ago.
And, remember: Even with its success, the ACA has left between 25 and 30 million people without insurance. These people depend on public hospitals because they have no place else where their care is guaranteed.
Still hundreds of thousands of others left behind this time will likely come from among the 12 million new patients covered by Medicaid thanks to the ACA.
All the Republican plans want to fundamentally alter Medicaid – moving it away from a defined set of benefits, set by the federal government. Instead, Washington will send a lump some to each of the states to come up with their own plans. This is why the concept is more than a little worrisome for public hospitals.
The states already get to decide whom Medicaid covers and many of them, like Georgia, are notoriously stingy. Georgia is one of 19 states that have refused billions of dollars in federal funding to expand Medicaid as envisioned, and fully paid for, by the ACA to anyone living below the poverty level. It already has Medicaid payment limits for doctors and hospitals that are well below their actual costs and not even close to what they get for taking care of Medicare patients.
Under the GOP proposals, the states could now also decide what services would be covered and whether Medicaid patients will have to pay premiums, deductibles and out-of-pocket charges when they need care. Miss a premium and you'd be kicked off the Medicaid rolls, at least temporarily to return to the ranks of uninsured.
Additionally, if states continue to set Medicaid reimbursement rates below actual costs, public hospitals would not just eat the loss, they could also absorb the unpaid bills of Medicaid patients who can't afford their deductibles or out-of-pocket expenses when they need hospital care.
Whatever happens, the result of this upcoming effort at health care reform will no doubt stir the waters once again for America's public hospitals whose mission – we should keep reminding ourselves – is to not let people die in the streets.
The big question is whether those same hospitals will sink beneath the latest waves of change.
If they do, who will rescue them? That's why it's worth paying attention.
Mike King is a health policy journalist in Atlanta and author of "A Spirit of Charity: Restoring the Bond between America and Its Public Hospitals."
REAL LIFE. REAL NEWS. REAL VOICES.
Help us tell more of the stories that matter from voices that too often remain unheard.
BEFORE YOU GO