When I wrote five years ago that the San Jose Mercury News was in trouble, I had no idea what trouble was. The peril for the paper of Silicon Valley has certainly intensified since then.
The talented staff continues to dwindle. (It's roughly one-quarter of the size it was at the newspaper's peak.) The Mercury News' printing presses have been dismantled. The building that housed the operation for nearly 50 years has been sold. The newspaper itself is for sale, as are 75 other related newspapers, which operate under the Digital First Media banner and which are largely controlled by a hedge fund called Alden Capital.
The newspapers' management prefers to say it's exploring the possibility of a sale, but make no mistake, Alden wants its money and if someone comes up with a reasonable offer, some or all of the newspapers are as good as sold.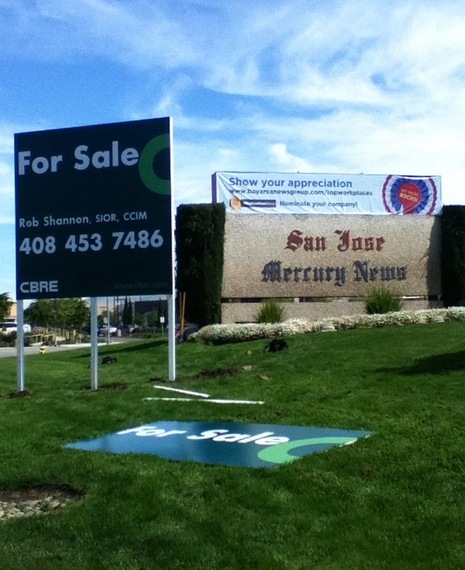 And yet, amid the turmoil, the Mercury continues to bring vital information and welcome entertainment to the citizens of one of the wealthiest and most innovative regions in the country.
That said, it is hard to see how the Mercury News survives without a mini-miracle. The Mercury and perhaps the Bay Area News Group, of which it's a part, need a hero, a savior, a high-tech mogul who has the money, the vision and the guts to take on a struggling enterprise with an obsolete business plan and once again change the world.
More on that in a minute. But first, how did the Merc end up where it is? Since the paper's parent company, Knight Ridder, dissolved in 2006, the Mercury News has seen a successive series of owners and ownership schemes, each worse for the journalism practiced there than the one before.
The Mercury, of course, is not the only paper that has taken a devastating financial blow. The switch to digital advertising has replaced dollars with dimes in newspapers' revenue streams. Overall, print advertising revenue for newspapers in the United States has plummeted from $49.4 billion in 2005 to $22.3 billion in 2012, according to the Newspaper Association of America. Meantime, online advertising revenue increased by only $1.4 billion over the same period.
But the Mercury holds a special place for me. It is not only my daily newspaper, it is the place where I worked as a reporter and columnist for 28 years.
The owners and managers of the Mercury and its sister papers, the Contra Costa Times and the Oakland Tribune, in the Bay Area News Group, have trimmed their newsrooms to the bone and beyond. Digital First and Alden have sold off acres and acres of real estate. Operations have been combined. Pay has been cut; benefits curtailed. The financial standing of the company and of the Mercury News is murky at best because Digital First is a privately held company.
So what to hope for? First, don't hope that one of the usual suspects buys the Mercury or the Bay Area News Group. Ken Doctor, one of the sharpest newspaper analysts around, wrote a detailed piece outlining the possible sale scenarios. Doctor mentions Halifax Media, which specializes in making its employees' lives miserable, Gatehouse, an outfit that recently emerged from bankruptcy and has announced it will spend up to $300 million to buy up newspapers, and Warren Buffett's Berkshire Hathaway Media Group, which might be better than the other two options for the health of Bay Area journalism.
But the Mercury News and its sister publications don't need another newspaper company to save them. They need something entirely new. They need a billionaire bailout along the lines of the rescues Jeff Bezos, John Henry, Glen Taylor and Alice Rogoff have pulled off in Washington D.C., Boston, Minneapolis and Anchorage. (I'm not the first to suggest that a wealthy white knight ride to the rescue.)
Doctor refers to such saviors as 50/50 buyers, purchasers whose motivations are divided between making money and doing civic good (though not necessarily in equal measure). The Bay Area, and Silicon Valley in particular, have a significant roster of potential 50/50 buyers.
Start with Bezos, a citizen of Silicon Valley by association. Why not supplement his east coast Washington Post with a west coast outlet to expand his reach? Consider Google chairman Eric Schmidt, who has said that Google "has a moral responsibility" to help newspapers survive. Or Marc Andreessen, who famously published a treatise on the future of news, an industry he says will grow 100 times in the next 20 years. Why not invest in the idea and reap the rewards of a rapidly growing field? Mark Zuckerberg has shown he is interested both in communication (Facebook) and civic good (donating hundreds of millions to public schools and $25 million to fight Ebola). Or maybe Zuckerberg confidant Sheryl Sandberg would like to lean in to the problem. Yahoo CEO Marissa Mayer already runs one media company. Why not another? Sun Microsystems co-founder Scott McNealy rarely passes up an opportunity to criticize the media. Maybe he'd like to try his hand from the inside.
And why not the most likely candidate of all, Pierre Omidyar? The eBay founder once talked about merging his company with the Mercury News' parent company, although at that time, in the mid-1990s, it was the Mercury News and Knight Ridder that would have come to eBay's rescue.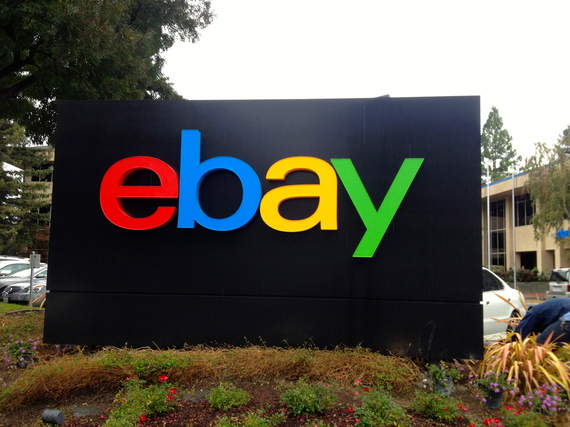 Omidyar has shown a keen interest in journalism, first by launching Honolulu Civil Beat in Hawaii and most recently by teaming with journalist Glenn Greenwald and putting up $250 million to start First Look Media, an operation initially launched to work on investigative pieces primarily around government surveillance. There has been a lot of chatter about how First Look and its flagship website "The Intercept" have not been going quite as Omidyar had envisioned. Omidyar has recently written that he's now prepared to conduct "multiple experiments with existing digital communities rather than trying to draw a large audience to yet another omnibus site."
Yes, it's possible that I've seen one too many Disney movies. I get that these wealthy tech founders didn't get rich by investing in troubled businesses.
Michael S. Malone, an author who worked at the Mercury News in the late 1970s and early 1980s, understands Silicon Valley entrepreneurs as well as anyone. He pointed out that there's no reason to believe that just because someone was able to change the world with technology, that he or she would therefore be able to revive a newspaper.
"Basically, all the progressives think that these guys are going to come in and save newspapers and it's going to be 1895 again and it's going to be muckraking journalism," says Malone, who's written extensively about Silicon Valley. "This is a 'West Wing' fantasy, that if just an enlightened person went in and ran the deal, it could save newspapers."
If a Silicon Valley billionaire had $100 million or so to buy a newspaper or a group of newspapers, Malone says, he or she would be far more likely to invest the money in several startups.
"They can understand investing $100 million in a tech company, even though it may not have very good prospects, because they understand the technology. They understand the industry," he says. "I think when they look at newspapers, they go, 'I have no idea how to turn this thing around.'"
But who knows, Malone adds? Maybe some billionaire out there has a soft spot for newspapers. Maybe a cherished relative once worked at a newspaper. And then there are the 50/50 billionaires, to use Ken Doctor's phrase.
"We see very wealthy people buying newspapers in the last two years," Doctor wrote in an e-mail response to my questions. "One ingredient here is clearly outsized wealth, the kind of wealth that makes a $100 million investment a minor one, as part of a portfolio. The other is quite intangible: What would drive an individual to buy a newspaper company? For some, Henry or Taylor, it's the civic sensibility of the newspaper company's community contribution, combined with a sense that it could be a good long-term investment. For Bezos, it's more trailblazing, proving out a model that no one has yet done."
What the Bay Area papers could use is someone who has the money and the vision to accelerate the move to the digital future, one that includes broad and in-depth reporting and a viable business model, Doctor says.
Omidyar is probably not that person, he argues. His Hawaiian enterprise has shown him how difficult it can be to run a local news operation and his ambitions appear to be national and even international.
But why not buy the Mercury News, which at this point is essentially the people producing the content? Why not leverage their expertise and journalistic chops to make a national impact, while at the same time attracting other talented journalists from around the world who would see the purchase as a measure of Omidyar's commitment to his vision?
I've heard of crazier ideas. Consider a website on which complete strangers sell each other the junk they never use that's lying around the house.
Mercury News sign photo by Mike Cassidy; eBay sign photo courtesy of eBay.
Related
Popular in the Community