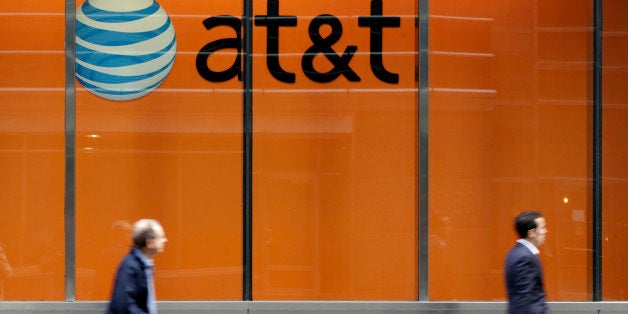 Rumors are flying that the proposed AT&T-DirecTV merger is a done deal. And yet, it appears that the FCC ignored our complaint, which outlined that AT&T may have committed perjury during the previous AT&T-BellSouth merger. In 2008, AT&T claimed it had fulfilled a merger commitment to have 100% of their 21 state territory covered with broadband, (albeit slow at 200 Kbps). Based on US Census and FCC data, this would mean that AT&T would have had about 77 million 'locations' -- i.e., businesses and residential customers, covered in 21 states.
But, as we pointed out, over the last 5 years, in statement after statement, AT&T claimed it did not have 100 percent coverage of broadband -- and we believe that the FCC must investigate this BEFORE any new merger is consummated.
Allowing the company to con the FCC is one thing. But, the bottom line is -- There are no 'commitments' in place to make sure that AT&T does anything whatsoever after the ink is dry on the agreement. And history shows that AT&T may, can and will simply walk away from anything they said they would be doing, just to get this deal through.
And this is also an important issue now as the FCC's leadership, including Democrat Chairman Tom Wheeler, and Republican Commissioner Ajit Pai each claim that they have the right plan to make sure that rural areas get broadband. Ironically, they both just want to throw money, read your tax dollars and fees, at the problem instead of asking --Wasn't AT&T supposed to have upgraded rural areas? Neither regulator mentioned AT&T's requirement, of course. Moreover, all of the major incumbent phone companies, AT&T, Verizon and Centurylink, had commitments to do upgrades in most states, which included rural areas, which were never done, even though customers were hit with rate increases and the phone companies got tax perks to do the work. And the FCC has never investigated any state commitments for broadband upgrades, much less rural areas.
But I digress, as this is about the fact that AT&T's own statements condemns AT&T's actions. As we discussed in our complaint, AT&T claims it still does NOT cover 25 percent (or 15 million locations) with broadband -- and that's one of the reasons it needs to merge with DirecTV.
"AT&T intends to expand its plans to build and enhance high-speed broadband service to 15 million customer locations, mostly in rural areas where AT&T does not provide high-speed broadband service today."
The Data of AT&T's Failure Keeps Coming.
The FCC has done no surveys to find out what AT&T has deployed (or not), but the data about AT&T's lack of ubiquitous broadband and holes in deployments keeps coming. After Ars Technica published an article about our complaint, it received emails from customers who couldn't get the service. This was on top of the hundreds of others that chimed in, including follow ups on Reddit, who also never got or can't get broadband from AT&T. And this is as of June 2015.
We just filed the Ars Technica article as an enhancement to our complaint.
Adding insult to injury, this is DSL we are talking about, which is slow and relies on the existing copper utility network wires. In fact, AT&T only recently started to deploy a token amount of fiber optic services; U-Verse is based on the existing, legacy, copper utility networks, commonly known as the "PSTN", Public Switched Telephone Networks.
Let us be clear; this verbal con game about broadband extends back a decade+. AT&T (then-SBC) told the FCC that they would be deploying fiber-to-the-home back in 2002, and this time the 'broadband carrot' was used to close their networks to direct competition and have the government protect their monopoly over the phone wires.
Case in point? Then-FCC Chairman Michael Powell closed the networks to direct competition, (i.e. allowing the incumbent phone companies to block other ISPs from offering Internet services to customers using these customer-funded networks) because AT&T (then SBC) claimed it was going to offer 100 Mbps fiber-to-the-home services.
"In my separate statement to the Triennial Review Order and in countless other statements during my seven years at the Commission, I have emphasized that 'broadband deployment is the most central communications policy objective of our day'. Today, we take another important step forward to realize this objective.... By removing unbundling obligations for fiber-based technologies, today's decision holds great promise for consumers, the telecommunications sector and the American economy. The networks we are considering in this item offer speeds of up to 100 Mbps and exist largely where no provider has undertaken the expense and risk of pulling fiber all the way to a home.

"SBC has committed to serve 300,000 households with a FTTH network while BellSouth has deployed a deep fiber network to approximately 1 million homes. Other carriers are taking similar actions."
In the end it was all just made up hype to change regulations. Note: According to the FCC: "FTTH" is "Fiber to the Home", where "the fiber optic wire starts at the customer's location".
AT&T's Proof that AT&T Committed Perjury.
Proof that AT&T never completed the commitments can best be seen by these next statements where AT&T claims that if the AT&T-DirecTV merger is completed, AT&T, only then, will have 70 million locations covered (but they still won't have covered their original territories of 77 million 'locations' as told by the US Census and FCC data).
As part of the AT&T-DirecTV deal:
"When you put it all together, we'll be able to offer consumers greater value and convenience through: competitive bundles of pay TV, high speed broadband and wireless services to at least 70 million U.S. customer locations."
This next excerpt continues that thought and is from the AT&T-DirecTV SEC filing, dated June 2014. What it says is -- we will cover 15 million 'locations' with wireline and wireless services in parts of 48 states. At least 20 percent is in AT&T's territory and has NO broadband. And, an additional 27% has one provider, though the truth of the exact coverage is obscured as it combines 'cable modem service' (obviously NOT from AT&T but the cable company) with DSL, which may or may not be provided by AT&T.
"It also gives the new merged entity the economic incentive to significantly increase investment in broadband infrastructure

The combination of DIRECTV video and AT&T broadband, as well as the lower cost structure of the combined company, enables AT&T to commit to expand and enhance its deployment of both wireline and fixed wireless broadband to cover at least 15 million customer locations across 48 states - most of them in underserved rural areas - within four years after the deal closes.

"This will consist of an expansion of 13 million additional high-speed broadband locations with a fixed wireless broadband technology and an upgrade of 2 million additional locations to high speed broadband with AT&T U-verse® with GigapowerSM FTTP (fiber to the premise).

"Additionally, many of these locations are in rural areas with few, if any, high-speed broadband choices today.

"Almost 20 percent of the 13 million customer locations where AT&T's fixed WLL service will become available have no access to terrestrial broadband services today

"An additional 27 percent of the 13 million customer locations have only one terrestrial option today, and in most instances that single option is DSL or relatively slow cable modem service."
Conclusion: Another Sucker Punch.
The FCC has an obligation to investigate BEFORE the Agency signs off on this proposed merger. And it has an obligation because almost every document filed by AT&T from 2012-2015 details that it DOES NOT have 100% coverage of its territories with broadband, even slow broadband.
Let me repeat: Allowing the company to con the FCC is one thing. The bottom line is -- There are no 'commitments' in place to make sure that AT&T does anything whatsoever after the ink is dry on the agreement.
And history shows that AT&T may, can and will simply walk away from anything they said they would be doing, just to get this deal through -- Sucka.
Related
Popular in the Community