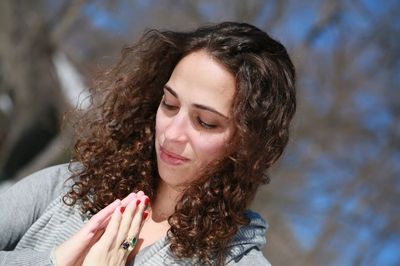 This is an interview with Lara Land, who was first introduced to yoga service in 2008, when she traveled to Rwanda with an organization now called Project AIR. For three months she worked with genocide survivors and their children using Ashtanga Yoga as a system for emotional and physical healing. Most of the students were HIV-positive; many had horrific scars from the war. From there she went to Mysore, India, to study yoga at the Shri K Pattabhi Jois Ashtanga Yoga Institute, and suddenly she saw all the service she could be doing in connection with yoga practice. She began volunteering weekly teaching yoga to the HIV-positive children in the waiting room of Asha Kirana Hospital in Mysuru, Karnataka. In March 2009 she returned to New York City determined to make a difference in her community.
In June 2011 she opened Land Yoga in Harlem, with the purpose of serving anyone in the community. Now she is working with schools, parks, small businesses, and with many of the local charitable organizations, especially the local Food Bank. Once a month Lara meets with seniors at the Food Bank to do gentle breathing and chair yoga.
Rob: What originally motivated you to do this work, and what continues to motivate you? How, if at all, has that motivation changed over time?
I was originally motivated by a desire for purpose, to share what I can offer. Now I'm more motivated by effectiveness: to teach and work in places and with people who can really benefit from what I do.
When I started working at the Food Bank I had to beg the seniors to participate. Most chose instead to stick with their crafting or coffee and conversation. A funny thing happened, though -- those who weren't participating were watching. They would chime in and correct the form of the participants. Often I would spin my eyes behind me in a twisting posture and see the "non-participants" actually doing yoga from the corners of the room. The real shift happened one session when they asked me why I don't come every week. That's when I knew I was in!
What did you know about the population you are working with before you began teaching? What were some of the assumptions you had about this population, and how have those assumptions changed?
I didn't know much about the seniors at the Food Bank at all, so I wasn't sure what to expect. They had limited mobility, and I assumed I would not see improvement, but would mainly be there to occupy their time, and perhaps bring them some joy along the way. On the contrary, I am slowly noticing some small but important changes as they breathe and stretch their bodies beyond what they themselves expected. Their strength is also increasing. And as their willingness grows their ability grows, and this in turn brings about more willingness. That's a magical thing.
What are two distinct ways that your teaching style differs from the way you might teach in a studio, and what are the reasons for these differences?
At Land Yoga, most (not all) of our students can move easily from standing to seated positions, and can sit effortlessly on the floor. This is not the case with the seniors at the Food Bank. Because of this we do most of the practice sitting in a chair, and the standing we do is with the use of the chair for balance or support. This has forced me to re-create standing or floor poses from a seated position. The second difference is the level of detail and correction. In these monthly classes I'm convinced that if the student is not going to injure herself, and is expressing the basic shape of the pose, that is success. I don't correct the seniors much, and focus instead on making sure everyone is breathing. It's important that my students feel supported, comfortable, and inclined to continue.
What has been the greatest challenge in your teaching experience, and what tools have you developed for addressing that challenge?
The environment is not ideal for yoga practice. There is a lot of distraction including a live kitchen, many people moving in and out, talking, and not participating. I have found, however, that as long as I stay focused and non-affected, my students will, as well. I also use variation in vocal tone, and speed of my voice to keep the seniors engaged.
What advice would you give to anyone who is going to teach in the population you work with?
The best advice I would give to others working with this group is to be patient, and to use humor. Staying in a fun mode and keeping things light, even to the point of making fun of myself, has really been key in getting the seniors to open up and trust me. Laughter is universal!
What are some of your ideas about, or hopes for, the future of "service yoga" in America in the next decade?
It's hard for me to believe that "service yoga" should be a term. Part of being in yoga is being in service. That does not mean teaching for free, but we can be an illustration of how yoga includes "service." That means giving as much as they can, in the way that they can. Some yogis don't do "service yoga," but live their lives as an example of yoga, spreading kindness wherever they go. That too is service. I have started a sort of movement to get that across called #alleightlimbs. We ask people to hashtag all examples of service yoga #alleightlimbs and share at @landyoganyc. This could be self-care, give back -- it all counts. Also, offering yoga in places like prisons and hospitals and food banks is increasing, and that is good. It shows that people are seeing it works, and there is some real acknowledgement and respect for what yoga can do.
How has this work changed your definition of service? Your definition of yoga? Your practice?
I'm so changed! I get so much more in my teaching than the seniors do. My Mondays are lifted up and transformed by them. I definitely have the tendency to be A-type, and they keep teaching me the real yoga. They hide nothing, say everything, and are the realest of the real. I am so fortunate to learn from my seniors, and incorporate those lessons now.
Editor: Alice Trembour
Image: Courtesy of Will Haraldson